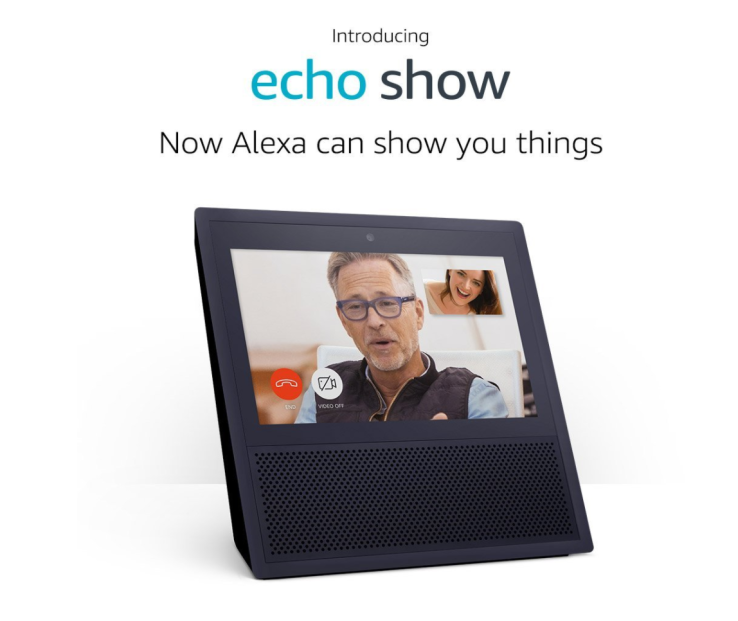 10 May 2017, USA:
Jeff Bezos-led Amazon today introduced Echo Show, a WiFi-enabled home device with a seven-inch touch-screen and a free Alexa voice-calling and messaging feature that will be available on the new device, Amazon's existing Echo and Echo Dot, and the Alexa smartphone app.
The customers can watch video flash briefings and YouTube, and see music lyrics, smart home cameras, photos, weather forecasts, to-do and shopping lists, and more.
The device, which comes in black and white versions, will cost $229.99 and will be shipped from June 28, with preorders available now. It appears that it will be available first in the U.S. only.
Also read- Amazon Patents Lane Assignments For Autonomous Vehicles
"Echo Show brings you everything you love about Alexa, and now she can show you things. Watch video flash briefings and YouTube, see music lyrics, security cameras, photos, weather forecasts, to-do and shopping lists, and more. All hands-free—just ask," Amazon notes in its blurb on its product page. You can use the device for video calls and it looks like it will also integrate and enhance skills that you already use on the existing Echo, for example, you can now see music lyrics for Amazon Music. It also has Dolby-powered speakers and eight microphones and lets you use existing Alexa skills that do not have a video component.
Alexa, Amazon's cloud-based voice service, already powers voice experiences on Amazon Echo, Echo Dot, Amazon Fire TV and all devices powered by the Alexa Voice Service. Alexa has over 12,000 skills created by developers like you.
All Alexa skills will automatically be available on Echo Show. Skills will display any skill cards you currently return in your response objects. This is very similar to how customers see your Alexa skill cards on the Alexa app, Fire TV, and Fire Tablet devices today. If no skill card is available, a default template shows the skill icon and skill name. (Images- Techcrunch)
Also read- Jeff Bezos Sells 1 million Shares from Amazon to Net Close to $1 billion!
Comments
comments