Amazon announced that it plans to invest 1 billion euros in electrifying its delivery fleet across Europe. By 2025, its fleet will be around 10,000 electric delivery vans and 1,500 heavy electric goods vehicles. The online retailer aims to have its facilities with 100% renewable energy by 2025. It plans to become net zero carbon by 2040.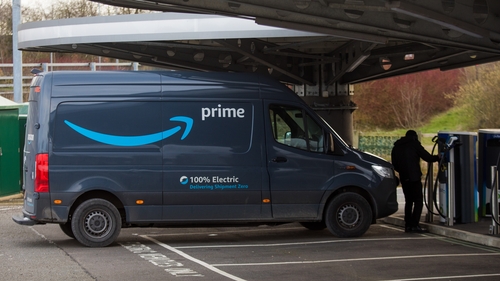 Amazon CEO Andy Jassy said, "Our transportation network is one of the most challenging areas of our business to decarbonize. Deploying thousands of electric vans, long-haul trucks and bikes will help us shift further away from traditional fossil fuels." Amazon's commitment to reduce net carbon emissions to zero is part of its Climate Pledge. Other companies, including Salesforce, Proctor & Gamble, Unilever, Uber, Best Buy, Philips, and global shipping giant Maersk, have also signed onto the pledge. The efforts to go carbon neutral come as climate scientists urge the world to stop burning fossil fuels in order to halt a catastrophic rise in average global temperatures. Rising temperatures have already increased the risk and intensity of drought, floods, storms, and wildfires as well as historic glacial melt.
Plans in Europe
Also, Amazon said it's hoping to double its "micro-mobility hubs" in Europe to 40 by the end of 2025. Located in congested European cities, these hubs allow Amazon to deliver customers' packages via e-bikes and on foot. The company's carbon footprint grew by 18% last year, according to its annual sustainability report. Attributing its failure to cut emissions to growing "at an unprecedented pace" to meet customer needs during the COVID pandemic, Amazon said it emitted 71.54 million metric tons of carbon dioxide equivalent during 2021. However, it noted its "carbon intensity", the amount of carbon generated per dollar of merchandise sales, decreased by 1.9%.
In the US, Amazon in July began deploying its fleet of Rivian electric delivery vans in cities including San Diego, Phoenix, Dallas, Nashville, and Chicago. The retail giant plans to have the electric vehicles delivered to more than 100 US cities by the end of this year, with a goal of having 100,000 Rivian Amazon electric delivery vehicles by 2030. Jassy said in a statement, "Deploying thousands of electric vans, long-haul trucks, and bikes will help us shift further away from traditional fossil fuels – and hopefully, further encourage transportation and automotive industries in Europe and around the world to continue scaling and innovating."
Amazon said that alongside EVs they will also invest in thousands of chargers at facilities across Europe. The company hopes to purchase more than 1,500 electric heavy goods vehicles for "middle-mile" shipments to package hubs. Last year, it was known that Amazon's largest electric van order is for 100,000 vehicles from Rivian Automotive through 2025.