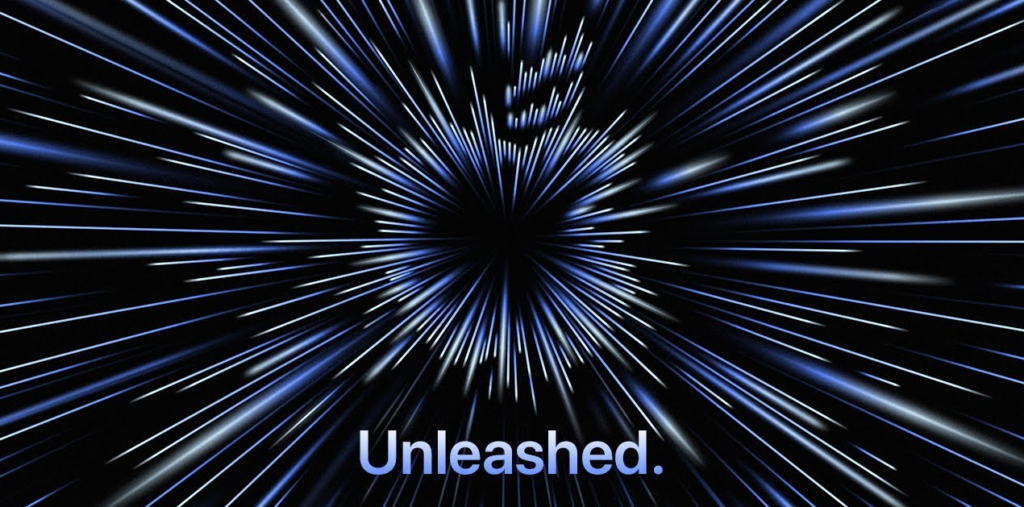 Apple is again up with a new launch event for this year! The event is scheduled for October 2021. This time Apple is speculated to feature and launch many of its new gadgets refreshing to the 2021 models.
The gadgets speculated for the launch include MacBook models, AirPods, and more. Check out our complete live blog article to know more about what Apple has been launching for this year. However, you get a refresh the article in intervals to get the latest updates first.
---
10:33 PM – Apple Music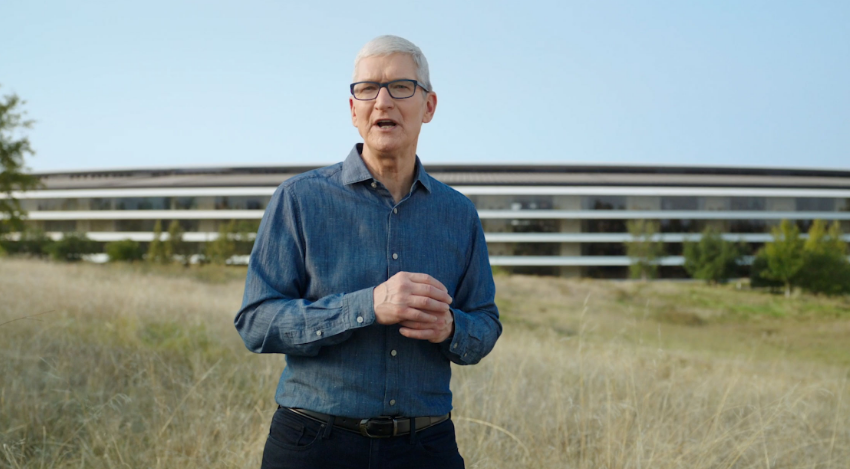 The Apple event is begun, and the company is kicking things off with a psychedelic music mix made up of all sorts of famous Apple noises. Apple is beginning with music, which means AirPods! But first, there are changes to Apple Music.
Apple is releasing new Siri-compatible playlists. Consider dinner parties, exercises, and other activities. A new Apple Music voice plan is also available. The monthly fee is $4.99. So it's for one person and is less expensive than the $9.99 individual plan.
10:36 PM – Apple HomePod Mini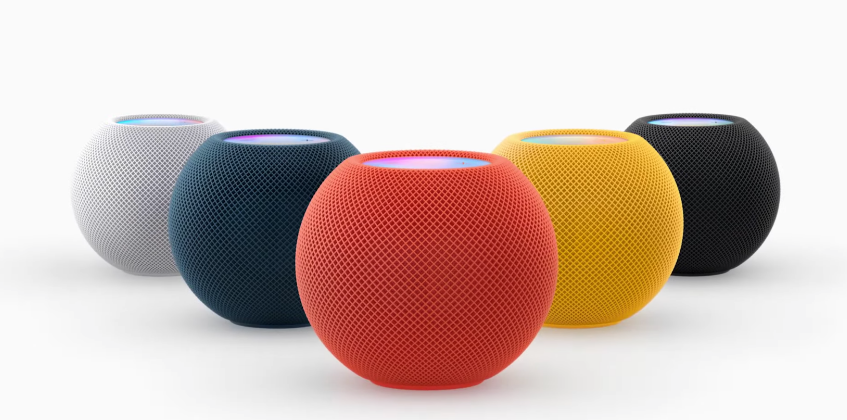 ---
Apple is discussing how the Apple HomePod small may be used to supplement your home. The speaker is available in yellow, orange, and blue. The HomePod mini can play music, set reminders, and use the Intercom function to notify everyone that lunch is ready. The price is $99, and the speakers will be available in November.
---
10:46 PM – Apple AirPods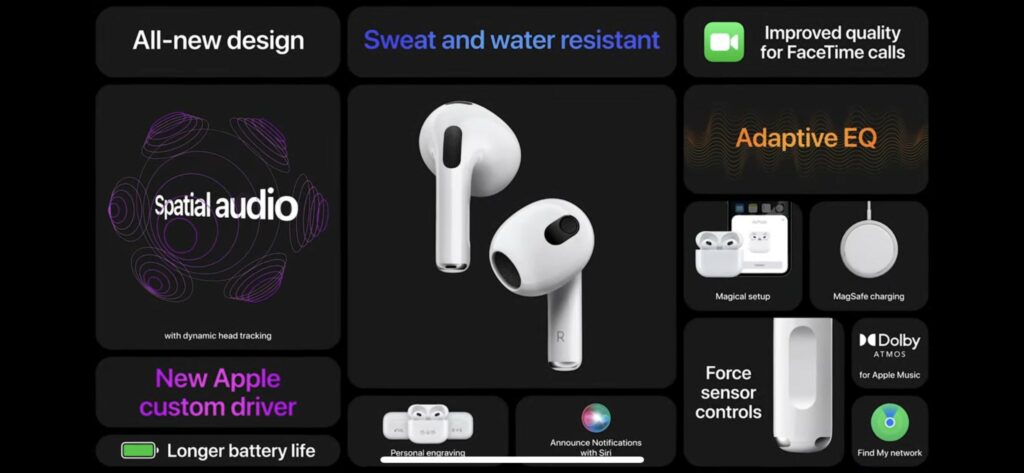 We've moved on to new AirPods. Apple is emphasizing the advantages of Spatial Audio, which provides a 3D-like audio experience. The AirPods 3 have been introduced, and they resemble the AirPods Pro.
A force sensor is used to manage your music and phone calls. There's also a low distortion driver for strong bass and crystal clear highs. The redesigned AirPods are also resistant to sweat and water.
The curved shape is intended for greater sound, and there is also Adaptive EQ. The battery is rated for 6 hours of use, and the charging case provides 30 hours of power. The AirPods 3 cost $179. Orders begin now, and delivery begins next week.
---
10:50 PM – Apple M1 Pro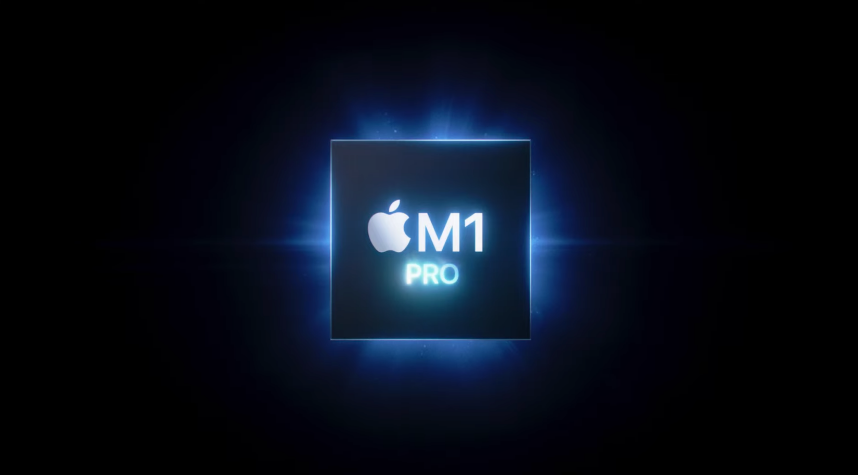 The M1 Pro processor is being introduced by Apple to power a new generation of MacBook Pro computers. Because of its increased power, the M1 Pro processor has been dubbed a Mac breakthrough. There is 200GB/sec memory bandwidth and up to 32GB of unified memory.
There are 33.7 billion transistors on board, which is twice the M1. You receive 8 high-performance cores and 2 efficiency cores, for a total of 70% quicker performance. There's also a 16-core GPU, which is eight more than the M1, which should result in double the graphics performance.
---
10:54 PM – Apple M1 Max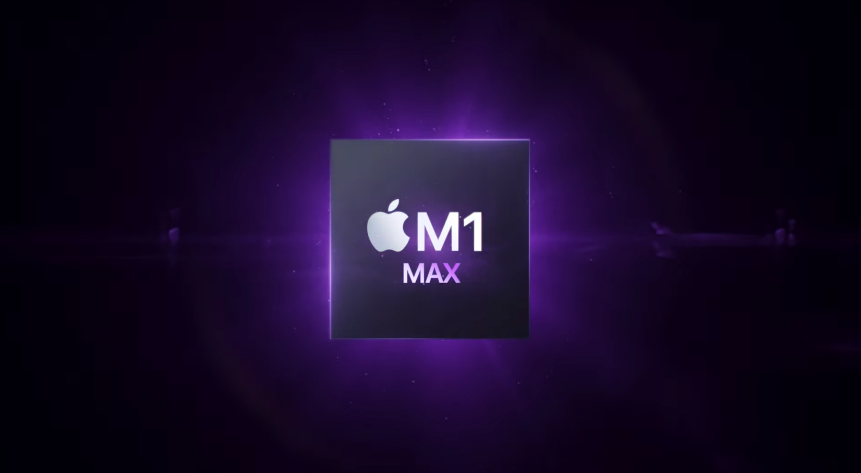 The M1 Max is today's second major chip. You can receive up to 400 GB/sec of bandwidth and 64GB of unified memory. The M! Max has a 32-core GPU, which implies it can outperform the M1 in terms of graphics performance. You may also anticipate video encoding to be up to 2X quicker.
At its peak, the M1 Pro is meant to provide better performance while using up to 70% less power than Intel-powered Windows laptops. The M1 Max consumes up to 40% less electricity. Even when comparing the M1 Max to Apple's most powered laptop, the M1 Max consumes 100 watts less electricity. So, what are the M1 Max's real-world advantages? According to Apple, you should be able to code and edit films faster. Machine learning is now 3x to 20x quicker than before thanks to Core ML improvements.
---
11:08 PM – Apple MacBook Pro Models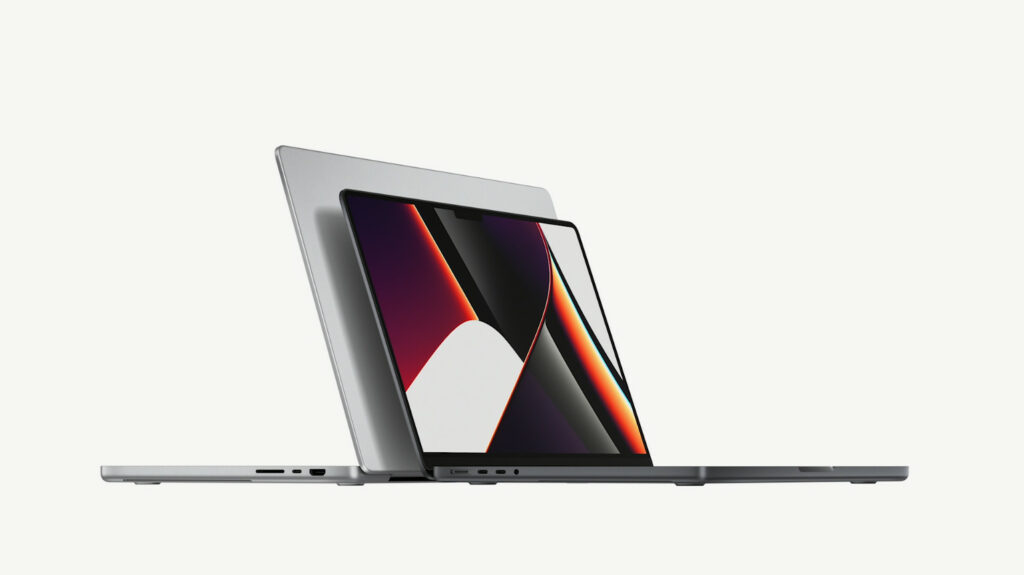 The new MacBook Pro is here. There's even a notch! For 2021, there will be 14-inch and 16-inch MacBook Pro models. The thermal design can provide superior cooling in a 16-inch variant that is 16.8 mm thin and 4.7 pounds, and a 14-inch model that is 15mm thin and 3.5 pounds.
The new keyboard replaces the Touch Bar with conventional keys, which will be welcomed by many. On one side, there's an HDMI port, a Thunderbolt 4 port, an SD Card slot, and a headphone jack, with two additional Thunderbolt ports on the other.
MagSafe charging has also returned, making it easier to refuel. The new MacBook Pro XDR display comes in two sizes: 16.2 inches with reduced bezels and 7.7 million pixels, and 14.2 inches with 5.9 million pixels. This is more pixels than the previous 16-inch MacBook Pro.
120Hz adjusts to the movement of your content. This makes scrolling more smooth. You may also choose the refresh rate. Micro-LED technology is used in the Liquid Retina XDR display to improve color, brightness, and contrast. There is 1,000 nits of steady brightness and 1,600 nits of peak brightness, as well as a contrast ratio of 1 million to 1.
With a 4-element lens and 1080p resolution, the new MacBook Pros provide better photos. As a result, pictures in low light should be improved.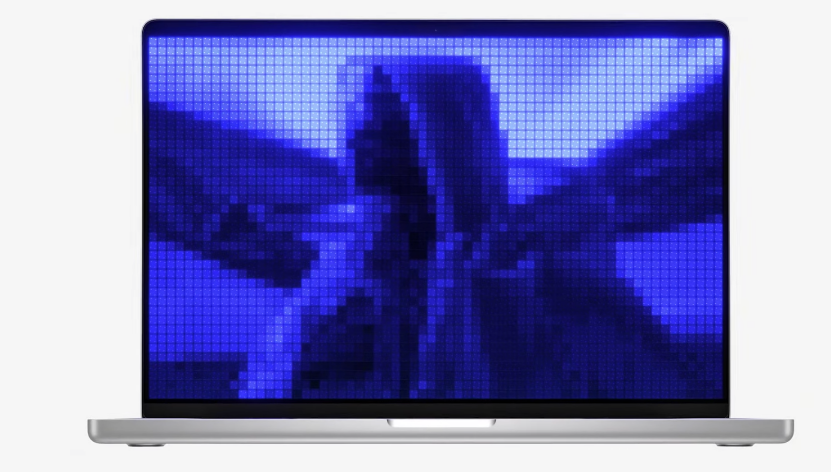 The studio-quality microphones are more sensitive, and there is a 6-speaker sound system with a wider range of motion. You receive 80 percent more bass and a half-octave deeper sound. This is available on the 14-inch and 16-inch MacBook Pros, as well as support for Spatial Audio.
The new MacBook Pro M1 Pro 16-inch graphics are up to 2.5 times quicker than the M1 Pro, while the M1X Max is up to 4 times faster. Machine learning can be up to 5 times quicker.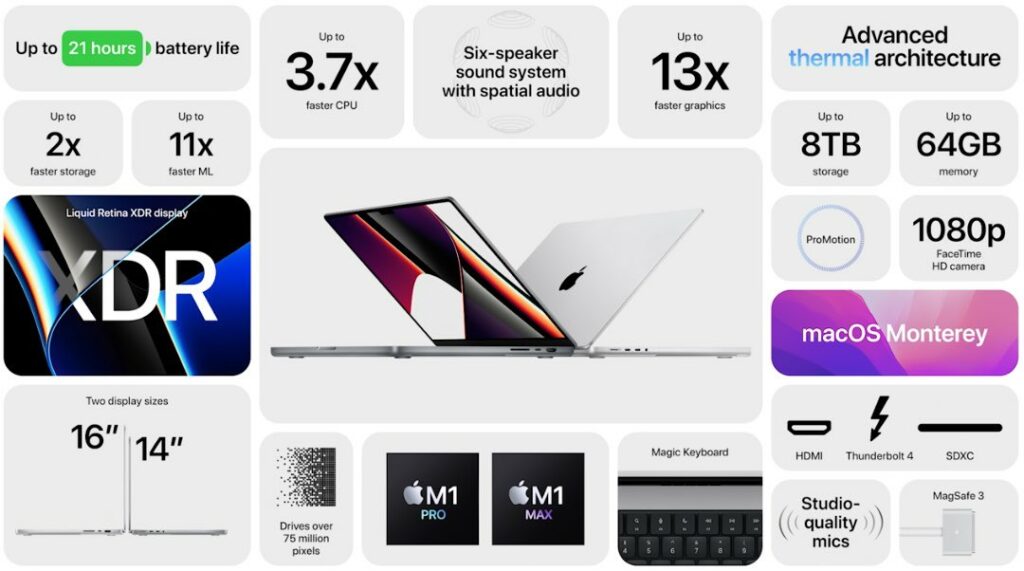 The CPU speed of the 14-inch MacBook Pro is up to 3.7x quicker, and the graphics performance difference is much bigger with the 13-inch MacBook Pro. SSDs are also becoming quicker, with read rates of 7.4GB/second.
Despite the increased power of the MacBook Pro and M1 Pro processor, Apple maintains that the battery life remains excellent. The 14-inch MacBook Pro has a video playing time of 17 hours and the 16-inch has a video playback time of 21 hours, which is the longest ever for the MacBook.
Another advantage. For the first time, Apple is introducing rapid charging. In 30 minutes, you'll have achieved 50% of your goal. The 14-inch Apple MacBook Pro is priced for $1999 and the 16-inch Apple MacBook Pro is priced for $2,499.