Around 40-50 million tons of e-waste is generated every year around the world. The global e-waste management market size is projected to reach USD 5.04 Billion till 2020 at a CAGR of 20.6% between 2015 and 2020 from USD 1.66 Million in 2014. 
India is the fifth largest generator of e-waste, it produced 1.7 million tons in 2014 and growing at more than 20% CAGR. Household appliances are the largest category of e-waste generator. On the brighter note, with awareness and emphasis on sustainable growth, the waste management systems across the country are witnessing new concepts being introduced to tackle the e-waste crisis. The whole value chain in the e-waste management consists of source for e-waste, collection process, recycling, and recovered material for sales. If you see, in India most of the recyclers are struggling with capacity utilization to an extent that some of them import e-waste. The largest source of e-waste generated is through household appliances but chances of a recycler sending a vehicle to collect one item are next to zero. In other words, as most of the recyclers are focused on bulk generators (B2B), individuals and households are not left with many options to dispose. Binbag is trying to fill in this void.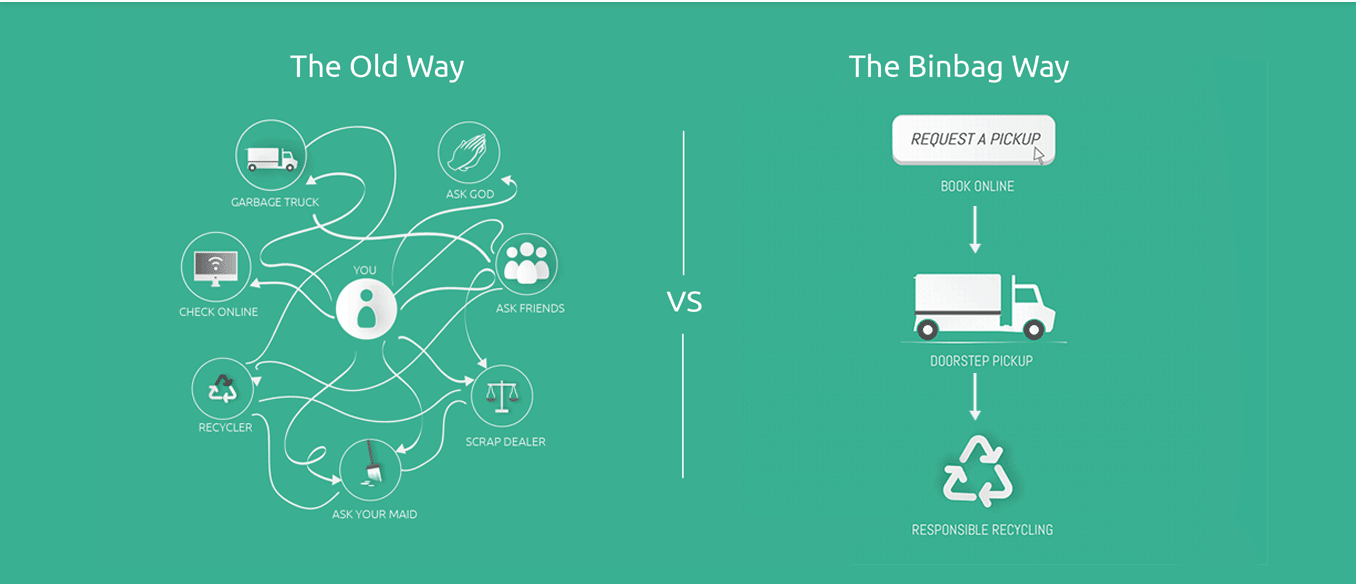 At Binbag, the team is focusing on the collection process – often the most difficult part. Binbag is an on-demand waste disposal service for individuals and households. They connect individuals to recycling companies through a network of collections agents. They started operations from Oct'14 and currently, are focusing on e-waste.
"It was a personal pain to dispose my old PC, geysers, etc. when I could not find anyone at the time and place where I wanted. Then looking at the larger picture and understanding the entire value chain of waste, you know that the pain exist in general" says Achitra Borgohain, Founder of Binbag.
This understanding of pain to everyone enkindled Achitra to found Binbag. He has over 12 years of professional and entrepreneurial experience and worked across business planning, buy and sell side, consulting. He has worked for 10 years in the corporate sector- venture capital and financial services domain. He has an educational background in Engineering and Management.
Achitra seeks to explain that the chances are of a recycler sending a vehicle to collect a laptop or a cell phone is next to zero. Hence, there is a need to decentralize waste collection. At the same time, there is a huge existing network of collection available through the informal sector, or 'kabadiwalas', as we call them. At Binbag, they are 'hacking' the system by leveraging the existing resources and because these people are hyper-local, they do not have problem collecting minimum quantity. This helps provide good customer experience.
Binbag perceives e-waste recyclers, refurbishing companies and NGOs and other sectors which are involved in the collection process, as their competitors. However, Binbag's value proposition enables them to partner with these organizations and thus leverage the opportunity of a 'win-win situation' growth.
Achitra started the venture alone from the incubation center of IIM Bangalore (NSRCEL). For six months, it was all about taking calls and emails, going door-to-door and collecting waste. It was also important to meet the early customers and get their feedback and suggestions.
The task is not a walk through park! Achitra recalls that the first challenge, especially in the initial days, was the constant doubt on what is he doing. And then, he wanted to do so many things. During these initial days, it was a constant discussion with his mentor and NSRCEL which helped in refining ideas and acted as a constant sounding board.
Also, it was a "launch first, learn later" case for them. "There was an article in The Hindu in the first week of our incubation which said this startup will help solve your domestic e-waste problem. We were flooded with calls and emails, and without having figured out how am I going to do that, I started door-to-door collection" Achitra sighs.
The next phase, as they moved from a pure idea to execution, was about finding the right team. Luckily for Achitra, it helped that all these people found Binbag instead of the other way round. Since then, Binbag has built a great team of 4 people from leading institutions who bring unbridled passion to solve this problem. They have also streamlined operations by engaging around 10 collection agents around Bangalore who are able to service their customers. Now with the team and systems in place, they have a good momentum going by serving close to 1000 customers and saving 4 tons of e-waste from landfills.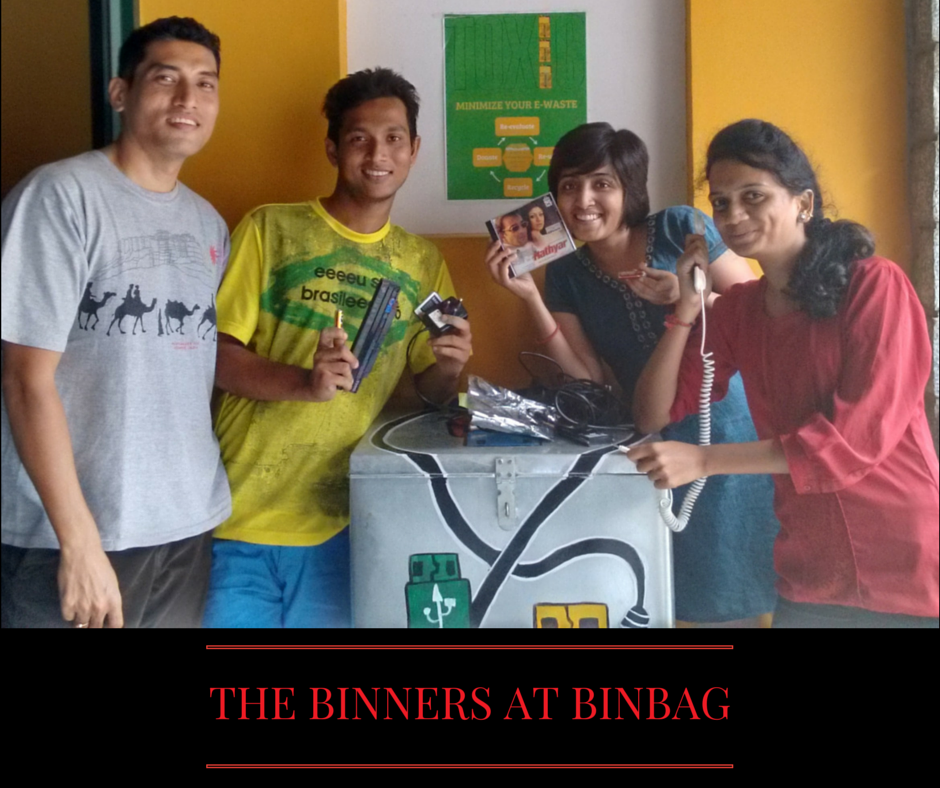 Binbag is now looking to enhance their focus on increasing the last mile network, marketing and increasing customer awareness about Binbag. Having done that, they would look at scaling to few other cities. They are also looking to raise funds and are in advance level of discussions with few institutional investors and HNI.
Learning of Binbag team in this 10 month journey:
Launch, there is no other way to get customer feedback and learn. No amount of research and study helps.
Have a plan, but be willing to change and iterate along the way. And do if fast. The only reason why startups are able to beat established companies is speed of execution. Not for lack of smarter people in these large organization.
Find people who believe in your idea and acts as a sounding board. It's a lonely journey and more often than not, you are likely to be distracted.
Comments
comments