Shou Zi Chew, the CEO of TikTok, will speak before Congress in March amid national campaigns to outlaw the app for social media among public servants and institutions on worries regarding security as well as its impact on children's mental well-being.
On March 23, Chew is set to testify before the Energy and Commerce committee of the House of Representatives.
The committee alleged that the app is linked to the Chinese Communist Party, and said in a statement, "Americans deserve to know how these actions impact their privacy and data security, as well as what actions TikTok is taking to keep our kids safe from online and offline harms."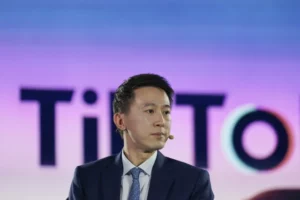 "We've made our concerns clear with TikTok. It is now time to continue the committee's efforts to hold Big Tech accountable by bringing TikTok before the committee to provide complete and honest answers for people," it added.
Since the Trump administration, when the former president signed an executive order to impose a statewide ban on the app, the app—owned by ByteDance Inc.—has come under assault. Nevertheless, ByteDance sued, and the executive order was never executed.
President Biden did, however, impose a ban on the application last month for all smartphones given by the federal government.
TikTok criticized the ban in a statement, arguing that the prohibition was "a political gesture that will do nothing to advance national security interests."
The Brookings Institution's Artificial Intelligence and Emerging Technology Initiative's head of research, Chris Meserole, highlighted that American-owned social media corporations must respond to the American government if they misuse consumers' data. In comparison, he stated that TikTok is managed by a Chinese company that is responsible to the Chinese Communist Party.
"What happens to your data, if it does leak out of the U.S., is kind of beyond the ability of the U.S. government to control or to influence," he said in an interview with NBC News.
The firm formed a new unit for trust and safety concerns in the United States last month in response to criticism by politicians and authorities.
China hawks in Congress have nonetheless attempted to restrict the influence of the trending video app. Last Monday, Missouri Sen. Josh Hawley, R-Mo., proposed legislation to outlaw the social networking app throughout the nation.
In a tweet, Hawley said that TikTok is "China's backdoor into Americans' lives," adding: "It threatens our children's privacy as well as their mental health. Last month Congress banned it on all government devices. Now I will introduce legislation to ban it nationwide."
A Senate measure to prohibit TikTok in the US was presented last month by Sen. Marco Rubio, R-Fla. Reps. Raja Krishnamoorthi, D-Ill., and Mike Gallagher, R-Wis. They presented a companion bill in the House.
TikTok, according to Meserole, places ordinary citizens' data safety at risk, not only that of public servants.
"It's not always clear who would be able to provide useful information to an intelligence service," he said. "I think what they're looking to do is hoover up all the information in case they need to find a needle in a haystack later."
The social networking app has recently been prohibited on state-owned computers and phones in a number of states. In several states, TikTok is prohibited for anyone who uses the campus Wi-Fi at state universities, such as the University of Oklahoma and Auburn University in Alabama, which comprise the majority of the app's users throughout the United States.