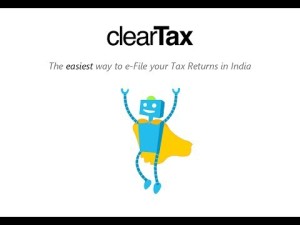 June 17, 2016:  ClearTax, an income tax returns e-filing website, has raised $12 million (about Rs 80 crore) in Series-A investment round. The funding round, was led by Ravi Adusumalli of SAIF Partners who will also be joining the company's board.
As a part of the deal, Ravi Adusumalli, managing partner at SAIF, has joined the board of ClearTax's Delaware, USA-based entity 'Software is Correct'.
Five year-old company Defmacro Software, which owns and operates ClearTax, will use the proceeds from the round to launch a slew of consumer-focused tax-saving products, including mutual funds and other equity-linked saving schemes, its cofounder Archit Gupta said.
"A typical agent is very bias. To solve for this, our products will be data driven, and completely transparent, to the extent that we will publish our commissions on the site itself," said Gupta who is also the CEO of the firm.
Adusumalli said, "We are very excited to partner with Archit and team as they translate their market leadership in tax filing space to become one of the largest fintech platforms in India."
According to Gupta, ClearTax has over 1 million consumers e-filing their tax returns, and the company is targeting bringing on board five million users, 75,000 CA firms and one lakh businesses by the end of the current fiscal year.
This move into online investment advisory will pitch it against startups like FundsIndia, backed by Inventus Capital and Faering Capital, and Aditya Birla Group's MyUniverse in which World Bank's investment arm IFC owns a stake.
ClearTax helps individuals file their income-tax returns online in less than 10 minutes by uploading Form 16. ClearTDS, a cloud-based platform for corporates to file TDS returns and generate Form 16 for employees, and TaxCloud, designed for chartered accountant firms to help their clients file tax returns and TDS returns are the other products sold by the company.
ClearTax was among the first domestic startups to participate in the prestigious Silicon Valley-based startup accelerator Y Combinator's programme in 2014 and counts PayPal cofounder Max Levchin, WhatsApp early member Neeraj Arora and Dropbox VP Ruchi Sanghvi among its investors. The Bangalore-based company was launched in 2011 and with this round of funding, Cleartax has raised over $ 15 million in the past three months.
Gupta founded ClearTax along with his chartered accountant father Raja Ram Gupta, Srivatsan Chari and Ankit Solanki.
Comments
comments