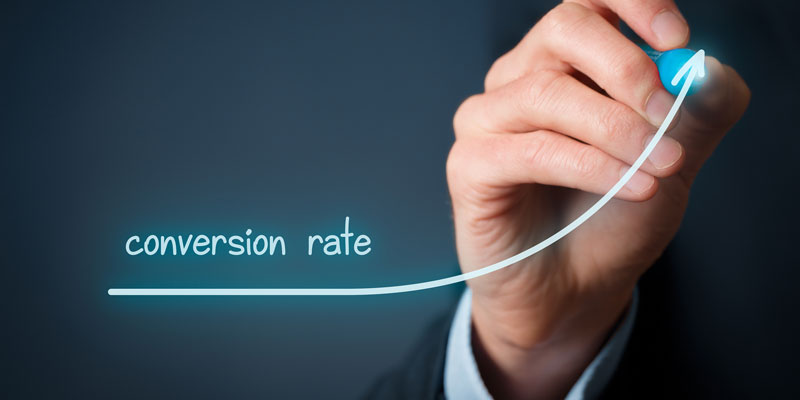 Image Credits: pointclickpro.com
The problem with landing pages is that there is no one-size-fits-all manual that guarantees (and fulfills) high conversions.
I have found that the easiest starting solution for small businesses, is to use a tool that creates landing pages. That's because the landing page templates that are available, are designed and tested for high conversions, even then, you will still need to test them yourself.
If you've created a landing page that's getting no action, it doesn't mean the whole thing should get scrapped; it just means certain elements need to be tested, and/or some conversion rate optimization principles implemented.
And then, the only way you're going to know if your changes have worked, is by testing them.
And testing.
Because quite frankly, the smallest change can produce dramatic results. But you won't know that until you test.
The good news is that although there is no landing page one-size-fits-all manual, there are certain principles that work in all industries and with all target audiences, and it's these principles that I'll introduce you to in this post.
Principle 1: Audience Persona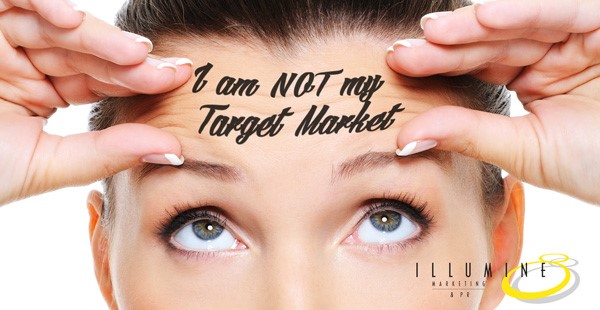 Don't make the common mistake of designing your landing page based on yourself
Image Credit: Woodst
Before you do anything, you need to understand your target audience.
Why?
Well, people are primarily driven to buy through emotion, and if you don't understand what makes your target audience tick, how can you create an effective, high converting landing page?
Don't try to be all things to all people, and sell to all people; it's simply not viable. You can create different landing pages for different people, but you can't have one landing page that will stir all people. You need to understand at least this about the prospects you are targeting:
What does your prospect want? How do they talk about it?
What are their pain points?
Where can you find them?
How old are they?
Once you know the answers to at least these few questions, you can build an appealing landing page with words that evoke emotion.
Principle 2: Loading Speed
The statistics have spoken: 57% of your visitors will abandon your landing page if it takes longer than 3 seconds to load.
How to increase loading speed:
First test to see how fast your page loads by using a tool like Pingdom.
One of the simplest and easiest tweaks you can make is to compress images. You can do this with Optimizilla before uploading to your website.
Use a caching plugin for WordPress websites.
Use a CDN like Incapsula.
Sujan Patel provides help on site speed and performance.
Principle 3: One Goal
One of the most common mistakes of landing pages is this need entrepreneurs seem to have to stuff as many call to actions on the page, for "just in case"…
Just in case the reader wants to follow you on Twitter, you add a Twitter "follow me" button…
Just in case the reader wants to like your Facebook page, you add a "Like me on Facebook" button…
Just in case the reader would prefer this other offer of yours, you add in another call to action for something else…
Don't do it!
Have one goal, and one goal alone, for one landing page.
Everything else you add on the page needs to support that one goal.
Principle 4: Be Clear
Don't assume your target audience understands your offer or what you're trying to tell them. Be clear and make it easy for your visitor to do what you want him to do.
Keep things simple and speak in the language he understands (i.e. language that does not involve industry terminology for example).
Lead your visitor in the way you want him to go.
Even more important, make sure that there are no mismatches from where your reader clicked from to get to your landing page: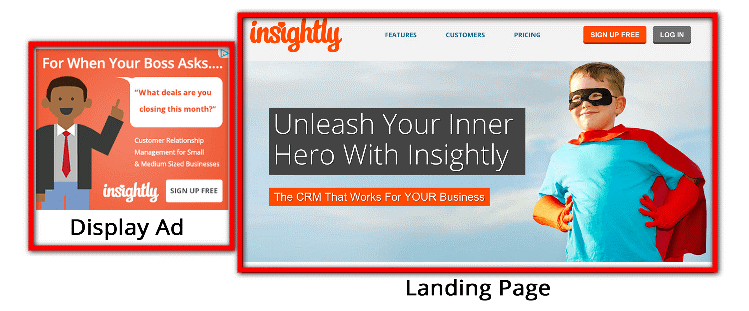 Example of a confusing mismatch between the display ad and the landing page
In the example above, it would be easy for a user to become confused, because the display ad is completely different to the look, feel and wording of the landing page.
Principle 5: Seize Attention
Your landing page has about 8 seconds to seize attention before your prospect clicks away, so you need to develop a gripping headline that compels them to keep reading.
Going back to principle 1; if you understand the people you're targeting, you'll understand better how to grip them through emotion.
In the headline, surprise them, relate to them, create curiosity or fear, ask a question or give them a solution for their pain point.
Pay attention to subheadings, as many people are scanners. Make headings and subheadings understandable and gripping even when read alone without the body text.
Principle 6: Channel Desire
Merely listing the features of your product or service is not going to cut it. Rather, it is desire for something that drives people to buy. The fear of "what happens if I don't buy this" is what compels interest.
When writing, you need to channel your reader's desire for something, and the fear of "what if I don't get it?"
Joanna Wiebe, master copywriter, explains it simply and powerfully… complete this sentence:
"I want…"
Whatever the rest of that sentence is, is what the entire page and the call to action should work to reflect.
Also add testimonials of satisfied customers, social proof and the logos of well-known clients.
Related Read: How To Create A Video Website Like YouTube And DailyMotion ?
Comments
comments