Bitcoin's price rose almost US$2,000 in a 10-minute period starting at 6:30 a.m. HKT Tuesday, reaching a high of US$44,198 before retracing to US$43,421. In the last 24 hours, Bitcoin has gained 15.6 percent. The price movement corresponded with Switzerland's announcement that it would impose sanctions on Russia, despite being historically neutral.
Bitcoin's price rose almost US$2,000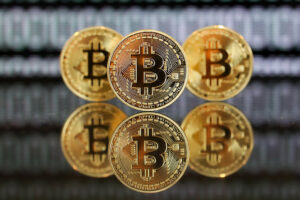 In light of Russia's ongoing military engagement in Ukraine, the Federal Council decided on February 28 to implement the EU sanctions packages issued on February 23 and 25. The assets of the individuals and entities mentioned have been frozen with immediate effect, as have the financial sanctions against Russian President Vladimir Putin, Prime Minister Mikhail Mishustin, and Foreign Minister Sergey Lavrov. Switzerland confirms its support for Ukraine and its people, and it will give aid to those who have fled to Poland.
The Federal Council decided to implement the EU sanctions against Russia and thereby intensify its impact at an emergency meeting on February 28. The Federal Council has directed the Federal Department of Economic Affairs, Education, and Research (EAER) to make changes to the existing ordinance in light of EU regulations.
Switzerland will carry out the sanctions in collaboration with the European Union. The majority of these are goods and money sanctions. The assets of the individuals and firms mentioned in the ordinance's annex are immediately frozen, and the prohibition on engaging in new commercial partnerships stays in place.
The invasion of Ukraine sparked a sharp sell-off in both traditional and crypto markets, but Bitcoin has taken on new responsibilities as a method of donation and exchange when banking facilities are constrained. Terra saw the highest gains among the crypto top 10, increasing 25 percent in that time span, overtaking Cardano and Solana to grab the seventh position based on market cap. Terra's price has risen about 90% from where it was just over a week ago, and it is currently trading at US$90.81 at press time.
If you find this article informative then do not forget to share it with your friends and family!
Also read: Ukrainian government has established a polkadot wallet
Comments
comments