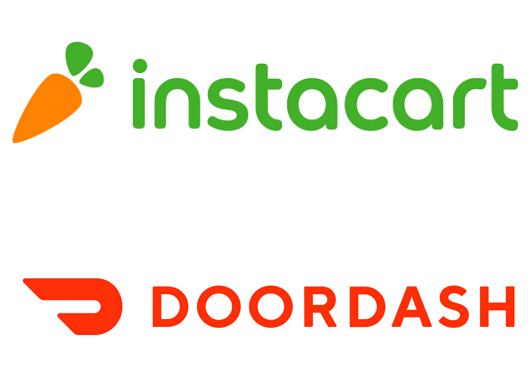 The COVID-19 pandemic has seriously impacted a lot of businesses, especially retail business with brick-and-mortar stores which had to be forcefully shut down because of the pandemic-induced lockdowns. Anyhow, the ones which were allowed to remain open during the lockdowns were stores that sold essential items like groceries. InstaCart and DoorDash have benefitted enormously during these past months during the home-delivery boom.
According to a recent report by Wall Street Journal, InstaCart and DoorDash are both looking out to launch their own credit cards with JPMorgan Chase & Co. as their chosen bank to issue these cards. The main purpose behind this new attraction is to maintain customer loyalty by providing them with frequent reward points.
DoorDash is also looking out to do the exact same thing but has not yet finalised the bank to go with and according to reports, the start-up is receiving offers from over 10 large banks and fintech firms to issue these cards.
The surging popularity of home deliveries during the COVID-19 induced nation-wide lockdowns have actually benefited both of these start-ups and it lays emphasis because simultaneously small, medium and large enterprises were going down in loses, some of them even had to cut their workforce in order to accommodate salaries while some had to completely shut down.
The demand for home delivery for meals and groceries have been spiking since 2020 when the lockdown began and these companies- InstaCart and DoorDash are certainly enjoying this high demand from consumers. Analysts say that they hope this demand continues to rise even after the pandemic is over and in order to make sure of that, they are introducing their own credit cards that will ensure customer loyalty and even attract new partnerships, as mentioned in a report by the Wall Street Journal.
On the other hand, banks are interested in this idea of issuing credit cards to these businesses because they aim to diversify their reward system from hospitality and airlines whose demand has significantly gone down because of the novel Coronavirus. Travel partners and airlines have literally been on standstill and because of this reason, banks are wanting to expand its reward system by issuing cards to these businesses.
JPMorgan Chase & Co. has a history of being very selective with its partnerships and they are in fact especially with airlines and top-class hotel chains. The bank has also issued credit card system for Starbucks Corporation and Amazon Inc. and its decision to pursue delivery service companies is clearly because of the high demand incurred by the pandemic.