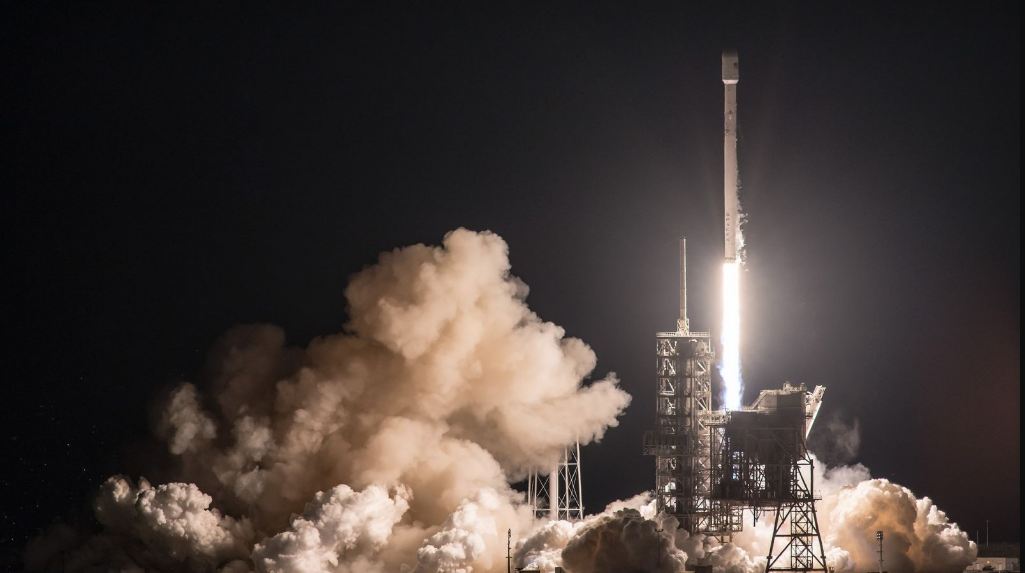 17 March 2017, USA:
SpaceX's Falcon 9 rocket delivered EchoStar XXIII, a commercial communications satellite for EchoStar Corporation, to a Geostationary Transfer Orbit (GTO). The EchoStar XXIII was launched from the historic Launch Complex 39A (LC-39A) at NASA's Kennedy Space Center in Florida.
The commercial EchoStar XXIII satellite mounted atop the Falcon 9 rocket weighed around 12,345 pounds (5,600 kilograms) at launch, according to its California-based manufacturer, Space Systems/Loral. The heavy weight of the spacecraft required all of the Falcon 9's lift capability, leaving no propellant left over to attempt a propulsive vertical landing on a barge at sea.
According to U.S. military satellite tracking data, EchoStar XXIII was placed in an orbit ranging between 111 miles (179 kilometers) and 22,309 miles (35,903 kilometers) in altitude, with a tilt of about 22.4 degrees to the equator. SpaceX and EchoStar officials did not disclose the altitude or inclination targeted by the Falcon 9's flight computers.
"This is the third satellite built for EchoStar by SSL to be placed on orbit since last June," said John Celli, president of Space Syestems/Loral. "I would like to thank EchoStar, SpaceX and our own engineers and technicians who all worked as a team to make this launch a success."
Successful deployment of @EchoStar XXIII to a Geosynchronous Transfer Orbit confirmed. pic.twitter.com/LpPWLo8YMN

— SpaceX (@SpaceX) March 16, 2017
"All future SpaceX rockets will utilize an Autonomous Flight Safety System which replaces the ground-based mission flight control personnel and equipment with on-board positioning, navigation and timing sources and decision logic," the Air Force said in a statement.
After launching International Space Station supplies for NASA last month, Thursday's mission was the first launch from the NASA spaceport of a commercial rocket carrying a commercial satellite. (Image- SpaceX)
Here's the launch video-