Edtech start-up, Unacademy, has recently come out to say that the company has decided to up their employee stock option plan pool by 20%. This is according to the papers that the company filed to the Ministry of Corporate Affairs, which is an agency of the government.
Originally, the total worth of the employee stock option plan of the company amounted to 238.7 million options, but now, the new and increased number stands at 286 million options. According to official numbers, the company also gave out a few extra shares in the month of April to employees who qualified for it, which upped their options from just over 99,000 options to the then 238.7 million options.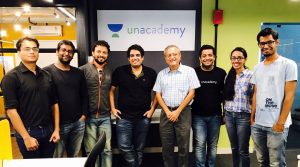 The new benefits for the employees has taken place at a time where the education tech unicorn recently laid almost 1000 employees. This was primarily done to cut their rising costs during a time when funding for Indian start-ups has been very dry. One of the founders of the start-up company, Mr. Gaurav Munjal who is also the chief executive officer of the company, penned an open letter to the employees saying that they will have to adapt and do their work under difficult constraints.
He also said that the benefits that are offered to the employees which are not part of the core will slowly be removed in batches as their prime focus now is to attain profits.
The company has also been expanding their offline presence heavily and have introduced many tuition and coaching centres, all around the nation. Their biggest one situated in Kota, Rajasthan, has shelled out over Rs. 100 crores to employ educators over the past 60 days according to official sources.
Recently, many start-ups in the country have come out to change their employee stock option plan, by either purchasing shares back or by upping their pool and options.  Companies like Swiggy also recently announced that they purchased shares back to provide an incentive to their employees and also upped their pull so all full-time workers can get a piece of the pie.
However, many start-up companies that went public and got themselves listed are finding it difficult to revamp their ESOPs as they do not see eye to eye with other major shareholders. Many companies are now looking to attain profits as quick as possible and are looking to go far to achieve this, as many investors are now looking at companies that are able to earn profits.
Comments
comments