eKincare empowers you to take charge of your health by enabling you to monitor critical medical info and make it available anywhere, anytime. They gather your results from a growing list of dental, body and vision health partners, update your profile and provide you a user-friendly platform to view them. They aim to identify potential health risks, inform you and motivate you to take necessary steps towards improving your health.
Today there are multiple Healthcare IT modules like LIMS, HIS, EHR etc. which have their own standards and protocols. For example, the standard reference lab ranges vary from lab to lab. This is going to evolve in the coming years, where there would be a single standard and protocols like in the west for capturing, storing the data ( like ICD10, LOINC Codes, HL7 etc.) which helps for better population analysis.
EHRs are going to evolve into PHRs for the above mentioned reasons, as today you might go into multispeciality hospital that has a EHR where your information is captured, but tomorrow if you go to a clinic close by house the continuity of information in Apollo's EHR is lost since the information from the clinic is not flowing back.
Voted as "Global Digital Health 100 companies" by the prestigious journal of mHealth, eKincare's patent pending technology enables users to easily consolidating an individual's medical history by simply taking a picture of their medical records! It then identifies potential health risks from the data and provides a personalized health plan to beat those risks.
The Need For Analytics In Healthcare
According to a survey by Willis Towers Watson 70% of Indians considering managing their health a top priority and the first step towards that is consolidating one's medical history. India Brand Equity Foundation, the total healthcare industry is expected to touch $160Billion by 2017 and currently has 400 Million Internet users.
Back in 2014, eKincare was started for NRIs to keep track of their parents' health and it wanted to leverage past health care data to aid them in their decision process. They wanted to focus on services and use existing technologies and when they scouted for one, they found that everyone was creating just another document repository systems and were not conducive for analytics.
Its founder and CEO Kiran Kalakuntla graduated fro Duke University graduate with over 10 years of experience in bringing complex technologies to market and launched more than 30 products for US. Dinesh Koka, COO, Co-founder, is an IIM graduate with 12 years at GE healthcare. Recently he served as Director for the west region clocking ~$75M in revenues.
[box type="shadow" align="aligncenter" class="" width=""]In eKincare's primary research they've learnt that 85% of Indians are interested in digitizing their medical history, 79% of them are interested in quantifying their health and 53% of them had undergone a preventive health check in the last one year.[/box]
After a lot of primary research in understanding the consumer pain points as to what would help them consolidate their medical history, they pivoted and decided to build their own platform with analytics at the core.
eKincare Platform
They are not just a medical record company. They are a healthcare technology and analytics company that aims to increase an individual's life span through personalized and preventive healthcare. Their approach of combining digitization with deep analytics and healthcare has the potential to offer tremendous value to end consumers and change the rules of the game. Be it digitization of your medical history and early detection of health risks based on strong technology driven data analytics to providing a personalized health plan, they, helps you lead a smarter way to your healthier future.
eKincare's health risk prediction models and wellness index are being used by healthcare poviders, large corporations for population risk analysis and to define effective disease management programs to lower their healthcare costs.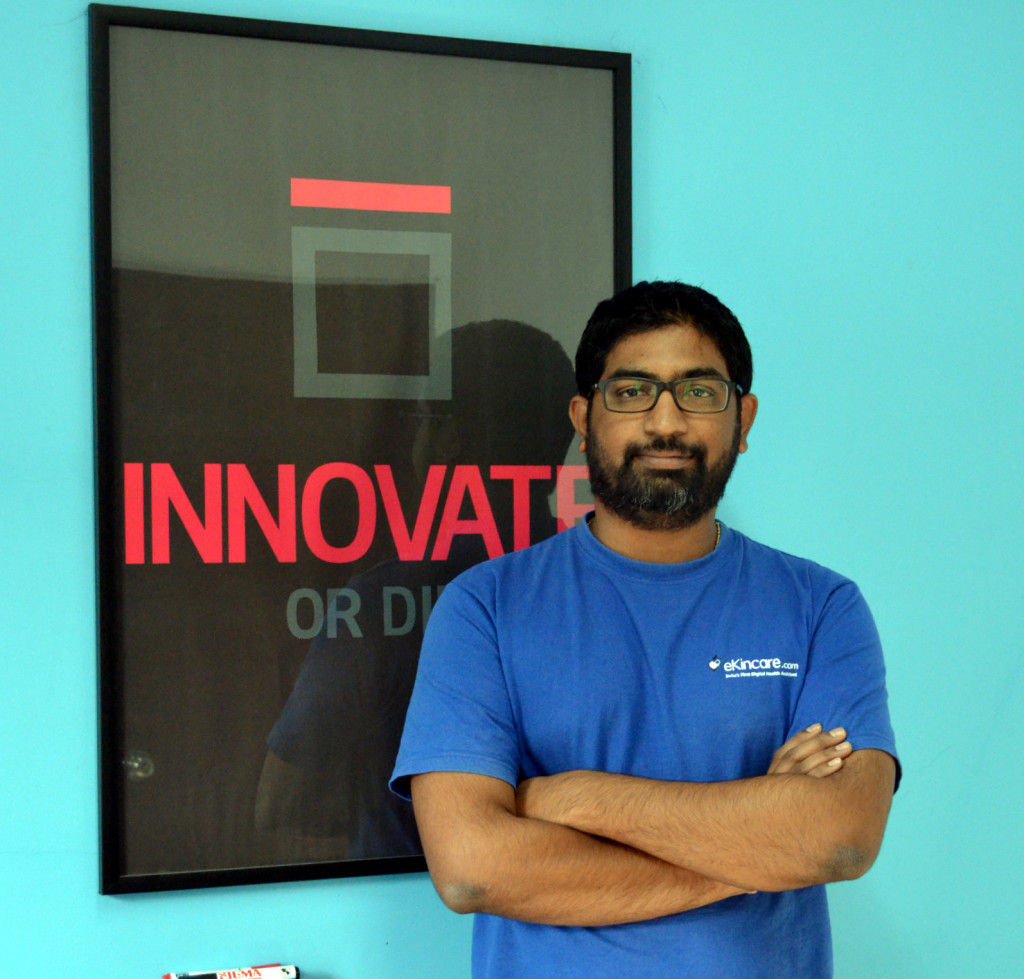 Kiran Kalakuntla, Founder & CEO, eKincare
"Unlike EHRs that are built for hospitals and doctors, PHRs are built for consumers. Just like consumers today use Youtube for videos, Flickr for pictures, iTunes for music, we see eKincare's cloud platform to consolidate medical history to be leveraged by every Indian." says Kiran.
The platform is free for the user with no limits on the data stored and allows multiple family members' profile management.
[box type="shadow" align="aligncenter" class="" width=""]Below are the 3 core areas where eKincare focuses to make medical data meaningful.
Now consolidating your and family's medical history with eKincare is as easy as taking a selfie and it's free! Access them anywhere, anytime or share with a doctor with a simple click
Personalized health assessment
eKincare's proprietary algorithm and process extracts, cleans and structures the data from those medical records to assess an individual's medical condition, prediction models spot health risks early and quantify an individual's wellbeing through a wellness index
Connecting to the right service provider
eKincare intelligence provides personalized recommendations for follow ups – whether be a health check, vaccination, medication etc. and connects the right service provider at the right time.[/box]
eKincare Challenges
It was a challenge in terms of scaling up, as consolidating one's medical records as a preventive measure requires a significant behavioral change and does not happen overnight. It takes time to make transition from reactive to preventive thought process when it comes to health; also the reason why health insurance penetration is only 5-6% in India. Healthcare is not an impulse buying process as it requires building a brand and slowly building the trust with the end user. Online banking, buying product online, using credit cards for online purchases were also unheard of several years ago.

eKincare is committed and confident of their long term strategy in adding value to the Indian Health care ecosystem by continuously innovating and providing a solution to the health related concerns of people in India. One such example of their exemplary commitment is, in the early days when Kiran was researching the market and experimenting various services to offer up to NRIs, the health check included a cab pick up and drop as part of the offer. For one such appointment, the cab driver backed out and Kiran drove the couple for their appointments.
eKincare Journey
They are growing at an average of 150% each quarter and have statistically valid data of more than 3.5 Million data points with continuity of several years of medical history which enables us to start building Indian specific preventive calculators for better prediction of NCDs before their onset. One such step in the direction is the launch of a wellness index which takes several data points to quantify an individual's health on a scale of 1 to 100.
The company aims to leverage both online and offline services across its 2000+ locations in India. In fact, they are also seeing tremendous excitement and interest from corporates to leverage our platform for their employees, keep track of the overall organization's wellness metrics and maximize the ROI out of their wellness budgets.

They have seen tremendous excitement and interest from corporates to leverage their platform for their employees, keep track of the overall organization's wellness metrics and maximize the ROI out of their wellness budgets. The current round of funding was raised to bring in few strategic investors on board and will be utilized to further improve the B2B offering, expand to other cities and hiring for operations in new cities and they will be looking for Series A in the coming 6 months.
[box type="shadow" align="aligncenter" class="" width=""]Related Read:
#VikasKaBudget 2016: Upgrading Indian Healthcare ![/box]
They will be adding several value added services to drive engagement with the users. They are taking necessary steps in that direction through patenting their technologies and receiving a ISO 27001 certification for information security management which is a huge feat for a young startup like them.
[box type="shadow" align="aligncenter" class="" width=""]Also Read:
Vinod Khosla Talks About Investment In Healthcare To Advance Global Health !
DocsApp – Making Healthcare Services Easily Accessible To Patients !
Global Video Telemedicine Market Brings Healthcare at Doorstep in the Rural Areas ![/box]
Comments
comments