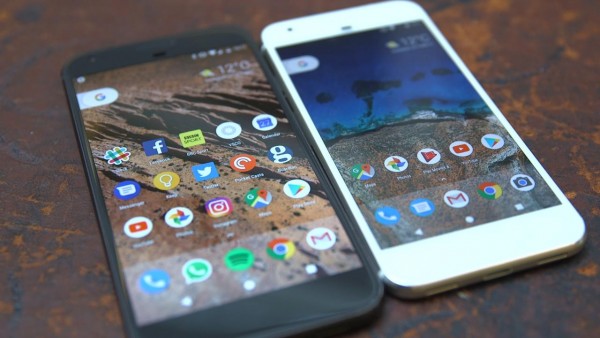 28 April 2017, USA:
Google Pixel 2 will be launched sooner than we what expected. The phone is already going through the hardware testing as per the reports by Android Headlines. Google Pixel 2 and Pixel XL 2 are codenamed as 'Walleye' and 'Muskie' respectively.
As Gordon Kelly mentioned in his report, Google has always used fish/aquatic mammals to both brand its smartphones and use them as hints to size:
2012 – 4.7-inch Nexus 4 (Mako)
2013 – 5-inch Nexus 5 (Hammerhead)
2014 – 6-inch Nexus 6 (Shamu)
2015 – 5.2-inch Nexus 5X (Bullhead), 5.7-inch Nexus 6P (Angler)
2016 – 5.1-inch Pixel (Sailfish), 5.5-inch Pixel XL (Marlin)

As the image suggests, at least one Google engineer has access to a physical Pixel 2. Google I/O 2017 conference takes place on May 17th, 18th, and 19th, 2017. Maybe, the company will reveal the plans of launch, but it is estimated that the phone will be launched exactly a year after the previous version that is in October.
Also read- Oh Not Again! Samsung Galaxy S8 Can Be Unlocked Using a Photograph!
Google Pixel 2 will have an upgraded Qualcomm's latest Snapdragon 835 processor. Apparently, this processor will be used in all three Pixel variants. The previous year the Pixel and the Pixel XL launched with the Qualcomm Snapdragon 821.
With Samsung getting back on track with Galaxy S8, S8+ and Apple iPhone 8 scheduled for Christmas, Google needs to make the most and capitalize the moment.
Meanwhile, Head of Google Pixel division David Foster quit the company to join his previous company Amazon as per the report by Bloomberg. David Foster joined Google back in October after having worked for Amazon's hardware division where he led the development of Kindle tablets, the Echo speaker, as well as other devices.
A Google spokeswoman confirmed Foster's departure but declined to comment further. At Amazon, he led the development of Kindle tablets, the Echo voice-activated speaker and other devices. He was a marquee hire for Alphabet Inc.'s Google, made just as the internet search giant unfurled the first wave of its own branded devices. (Cover Image- Trusted Reviews)
Also read-  Boston Dynamics Working on Robot Dog Who Can Deliver You a Parcel!