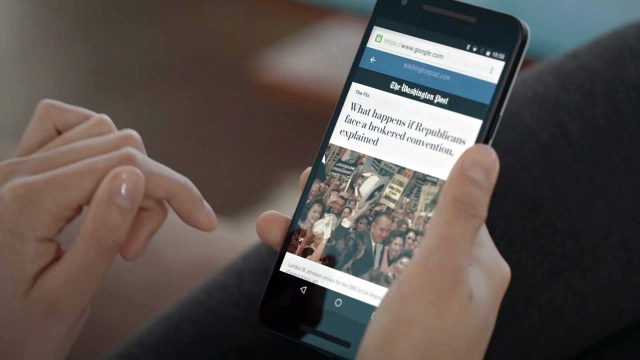 29 February, 2016, USA: As the world is advancing towards 4G from 3G, so there is a constant demand for faster connectivity and mobile uploads. But it seems like mobile web is still unmoved by the faster connectivity as it still drags on a slower track. That's largely thanks to all the ads and trackers that most sites now use (and maybe the abundance of large GIFs, too).
In order to curb this problem, few months back, Google launched Accelerated Mobile Page (AMP) project that works on the similar lines of Facebook's Instant Article. Starting today, Google will start highlighting AMP-enabled pages in its mobile search results.
In its current form, AMP is focused on accelerating news sites; this carousel is similar to what people have already seen for searches that prompted Google to show user a Twitter results carousel. The important difference, however, is that when the user will click on any of these links, the website will load instantly or with the smallest of delays.
Since this isn't magic, the AMP pages will still take a bit to load if user is accessing them from really slow connections but even then, they will load drastically faster than other mobile pages.
Image- inferse.com
Also Read-
From March 23 Google Compare Will Be Completely Off The Grid
Google Will Now Protect Media Sites And Other Organisations From Hackers
Google Unwraps Its Another Hi-Tech Feature; Allows Users To Edit And Format Text With Voice
Comments
comments