In a remarkable turn of events at the esteemed Gooding & Company auction, held during the Concours of Elegance at Hampton Court Palace, a 1961 Jaguar E-Type Series I 3.8-Litre Roadster was successfully sold for an astonishing £911,250 ($1,139,204 U.S.). This sale not only left many in awe but also established a brand-new global record for all production E-Types.
Jaguar and auction highlights
Diving deeper into the annals of automotive history, the particular Jaguar, with chassis 850004, is not just any regular E-Type. This venerable vehicle was once in the possession of none other than the iconic Le Mans team manager, Frank "Lofty" England, who also held the position of a Jaguar director. With the distinction of being the inaugural E-Type ever to be purchased and being the fourth right-hand-drive E-Type Roadster ever manufactured, this vehicle now proudly holds the title of the priciest production Jaguar E-Type ever auctioned.
The auction held at Hampton Court Palace isn't just a place for buyers; it's a gallery for enthusiasts, a place where automotive legends find new homes. This annual event in London saw numerous other iconic classic cars change hands. Highlights included the ex-Rubirosa Ferrari 166 MM/53 Spider, which stole the show by selling for a whopping £2,531,250 ($3,166,088 U.S.). Meanwhile, a highly coveted 1962 Mercedes-Benz 300 SL Roadster with disc brakes and an iron block secured a deal at £1,800,000 ($2,250,900 U.S.). Additionally, a rare first-generation, Lampredi V12-powered 1954 Ferrari 250 Europa was acquired for £1,518,750 ($1,898,794 U.S.). Collectively, the event witnessed transactions surpassing an impressive £9.8 million ($12,252,597 U.S.).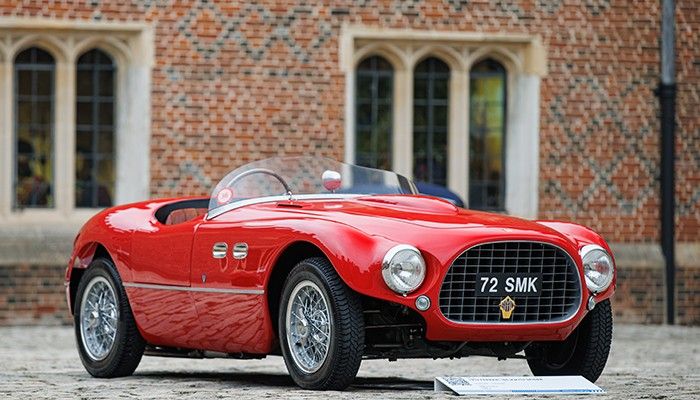 Embracing automotive heritage
David Gooding, the President and Co-Founder of Gooding & Company, expressed his pride in hosting another auction at the prestigious Hampton Court Palace venue. In his words, "This venue is where we've witnessed the transaction of some of the UK's most significant classic cars year after year." He further emphasized the importance of heritage and history, noting how cars like the ex-Rubirosa Ferrari 166 MM/53 Spider and the record-shattering Jaguar E-Type Roadster transitioned to their new caretakers. He also highlighted the impressive price points achieved for the Mercedes-Benz 300 SL Roadster and Ferrari 250 Europa, which reinforced the consistent demand for high-quality vintage automobiles. To top it off, many cars that had earlier been part of Gooding & Company's sales in both the UK and the US were showcased during the Concours, garnering significant attention and appreciation.
In the ever-evolving world of automobiles, such auctions not only celebrate the past but also set trends for the future, ensuring that historical masterpieces continue to be appreciated and cherished by generations to come.
Future of classic cars
While Gooding & Company is well-known for orchestrating prestigious sales, this event set a new benchmark. Their meticulous curation of cars, each chosen for its unique story and pedigree, made this auction a truly unparalleled experience. It's no wonder that collectors from around the world flocked to this event, armed with research, passion, and, of course, deep pockets.
The increasing value of these classic cars also points towards a broader trend: as the automotive industry rapidly shifts towards electric and autonomous vehicles, there's a growing appreciation for the craft, engineering, and soul of vintage machines.
Conclusively, the Gooding & Company auction at Hampton Court Palace was not just a sale; it was an ode to the golden age of motoring. It was a reminder of where we've come from and, perhaps, a hint of where we might be headed as collectors and enthusiasts navigate the evolving landscape of automotive passion and investment.