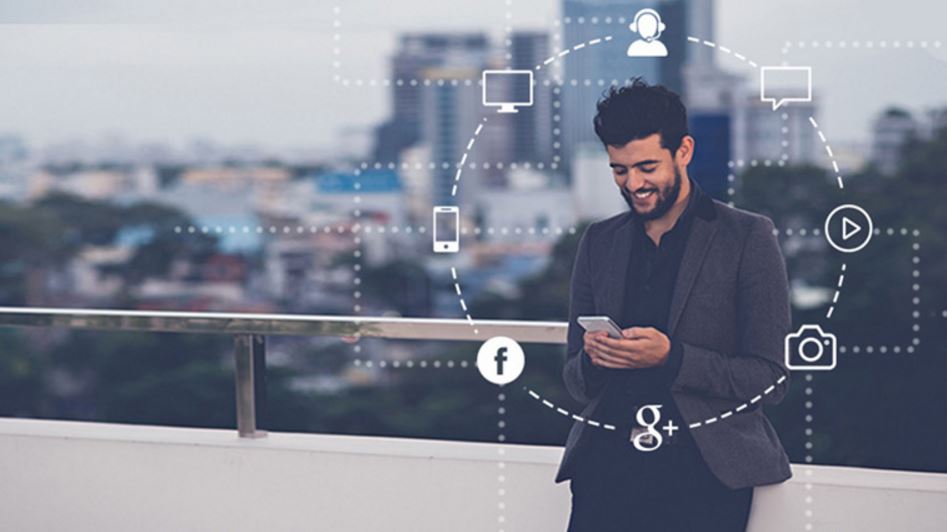 Until now companies had focused on listening to what customers want but with the dramatic shift to digital, serving customers is no longer that simple. Companies need to even predict what customers would want or need next. So, it's not enough to be able to find answer to a customer's present need but also predict and provide for their future need.
To help companies with this, predictive analytics comes into action. But for even that to be effective, several customer touch points need to be utilized efficiently. It is essential for organizations to create custom content that can be used to tap existing and new customers.
So, the question is how can a company channelize its data to serve customers better? There are multiple ways to do this, let's find out:
1. Personalization:
Till some time back (and even now in fact), companies used to send out bulk emails and SMSes to potential buyers. While companies were able to convert some of these recipients into leads, it wasn't a very effective method as most wouldn't even check those messages.
Which is why, the concept of segmentation gained prominence. So instead of having one message fit all, the thought changed to creating communication that fits segments. Through segmentation, companies were able to deliver personalized messages to customers, leading to better focused campaigns.
2. Behavior tracking:
Do all customers use the same mode of communication? Not really. Some prefer to read articles online, some rely on social media, while others prefer consuming content in the form of videos or perhaps infographics. With numerous content dissemination formats – emails, blogs, videos, SMS, ad banners, brochures – it is critical to know which medium your audience prefers.
Suppose you send mailers to a customer who rarely opens them but is a social media addict. You would be better placed to tap this customer via social channels than your run-of-the-mill CRM strategy.
Using machines to get insight
Using clustering analysis, machines are able to group customers on the basis of behavioral and demographic pattern. For example, Target Group 1 (TG1) could comprise married individuals aged 30-35 years, living in a metro city and careful about finances, whereas Target Group 2 (TG2) could be young professionals aged 23-26 years for whom financial planning is not a priority.
Further, TG1 likes to read mailers and blogs while TG2 is more active on social media and likes to consume content in video format. When you are able to cluster consumers in such detail, it becomes easier to communicate with them. Engaging with TG2 via videos and FaceBook or Twitter will be more fruitful than directing them to blog posts. Similarly, TG2 will prefer reading a company's blog section than the company's social media posts.
Let's delve deeper by extending this example to a sample of 4 people – Rahul, Priyanka, Varun and Janaki. By visualizing customer engagement touch-points, it is easier to devise the right strategy. Companies will be able to tailor their mode of communication and content owing to behavior tracking and content consumption formats. So, an SMS will work well to connect with Priyanka but will backfire in the case of Rahul.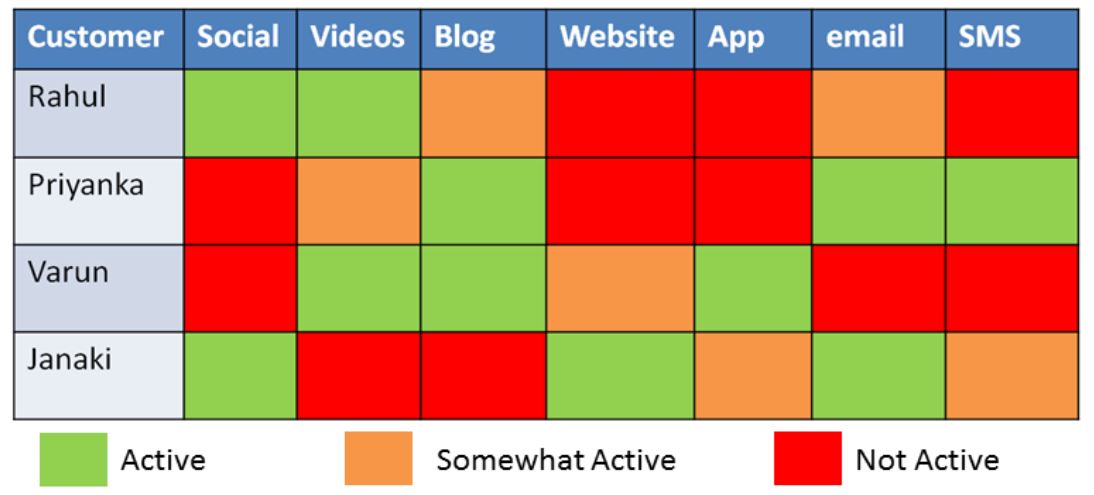 Customer analytics in action
It is important for companies to join the conversation rather than impose one. For instance, bombarding a potential customer with emails on "how to get a loan" would be meaningless unless you have data informing you that he actually is looking for a loan.
Let's see how predictive analytics can help a personal finance marketplace engage with a potential customer.
A customer logs in to the portal to access his credit report. The report shows that he has multiple credit cards and is running behind on his payments. It further shows that the customer applied for personal loan twice in the last 6 months.
In such a scenario, the company can prompt the customer to opt for a credit card balance transfer which will lower his interest amount and help him repay more efficiently. They can also push communication that will help the customer improve his credit score.
So, in essence by educating and advising a customer, you are more likely to acquire mind space than just offering the credit report. The next time he is looking for a personal finance product, say home loan or best credit card in India, he knows where to log in.
Similarly, if someone is searching for a brown handbag on an online marketplace, the latter can recommend an entire ensemble with the bag as the centerpiece. So, while you are taking care of the customer's current needs, it's important to know what they would need next. Once you have the data on what kind of purchases a customer makes, you will be able to show them products similar to their liking, thus increasing conversions.
Benefits of analytics
Here's how analytics can help a company:
Greater return on investments
More satisfied customers
Higher business contribution
Stronger brand image
Customized strategy
It's important to monitor customers' purchasing habits: what is it that they are looking for, what kind products they are likely to purchase, and what kind of benefits or perks will catch their attention. Once you amass all this information, the key is to push the right communication at the right time.
The focus should be to create proactive content rather than reactive. And with data analytics, companies can use different simulation models on the same cluster or segment to get useful insights and better results.
At the end, it is not just about scattered interaction with customers but the whole. Companies have to take into account the entire customer journey to be able to integrate all the interactions. Once you are able to use analytics effectively, customers will benefit from an improved experience while you create a stronger brand image.
Also Read:
Reasons Why Customer Retention Is A Key Formula To Success For F&B Businesses
5 Ways Government Can Best Leverage Big Data For Nation's Progress
(Disclaimer: This is a guest post submitted on Techstory by the mentioned authors.All the contents and images in the article have been provided to Techstory by the authors of the article. Techstory is not responsible or liable for any content in this article.)
Feature Image: inma.org
About The Author: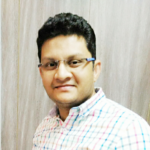 Rajiv Jain, seasoned analytics professional, currently heads the Credit Intelligence & Analytics for Paisabazaar.com.
In this role, he is setting up 'Analytics' as a different capability to enhance the customer experience and identify hidden business opportunities within acquired data from multiple sources.He has spent 10 years in this field particularly in Credit & Risk Modelling, Scorecard development and Sales Analytics.