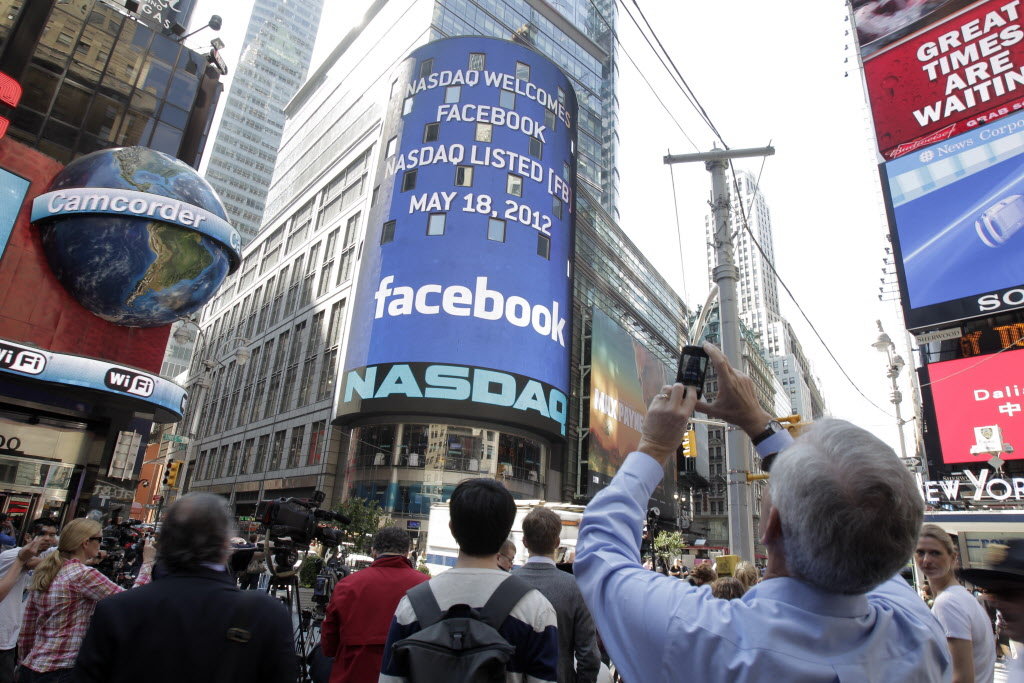 The biggest social networking company Facebook held its initial public offering (IPO) on Friday, May 18, 2012.This IPO was one of the biggest in the history of Internet, with a peak market capitalization of over $104 billion.It is explicitly known as the "cultural touchstone".
Also Read : Everything You Need To Know About Facebook F8 2017 – Facebook Spaces, Camera Effects Platform, 360 Capture And More
Let's take a quick sneak peek into 2012 Facebook IPO.
Feb 1, 2012
Facebook announced plans for its IPO in an official Form S-1 SEC filing.Facebook had 845 million monthly active users (MAU), 2.7 billion likes and comments per day, 250 million photos uploaded per day and 100 billion friendships till then.
March 7, 2012
Facebook filed Amendment No. 2 to Form S-1 this day.
April 9, 2012
The announcement of the $1 billion acquisition of Instagram, the popular photo-sharing service.
April 23, 2012
Filing of Amendment No. 4 to Form S-1 for Facebook IPO took place.Q1 net profits fell 12% to $205 million due to higher expenses.
By this day, Facebook had 901 million monthly active users, 3.2 billion likes and comments per day, 300 million photos uploaded per day and 125 billion friendships.
May 3, 2012
Filing of Amendment No. 5 to Form S-1 for Facebook IPO where it sets a price range of $28 to $35 for its IPO.
May 7, 2012
An investor roadshow in Manhattan took place and facebook nailed it.
May 8, 2012
The road show headed to Boston. Michael Pachter, an analyst at Wedbush Securities, made a fuss over founder and CEO, Mark Zuckerberg, showing up wearing a hoodie rather than the typical WaStreet-appropriate a suit and tie.
May 9, 2012
Filing of Amendment No. 6 to Form S-1 expressing caution about revenue growth due to the rapid shift by users to using mobile devices to access Facebook where they are not making much money from advertising.
May 10, 2012
A bank of America analyst, Justin Post, held a conference call with big investors where he revealed the lower estimates.
May 11, 2012
The road show went on to its last destination, Palo Alto, California.According to the Associated Press, the company "signaled" that it may start showing ads on websites other than Facebook,
May 15, 2012
Filing of Amendment No. 7 to Form S-1 increasing the IPO price range to $34 to $38 per share.
Total Shares which were to be Offered = 421,233,615
Apparently, the day before Facebook established the initial price of its shares, General Motors announced that it is withdrawing its advertising from the social networking site.
May 16, 2012
Filing of Amendment No. 8 to Form S-1 for Facebook IPO increasing the number of shares offered by 84 million shares to a total offering of 421,233,615 shares.
May 17, 2012
Facebook IPO priced at $38 per share which would raise $16 billion.
Also Read:  Valentine's Day Special: Why You Should Stop Sharing Relationship Status On Facebook
May 18, 2012- THE FACEBOOK IPO DAY
At 9:30, the regular U.S. stock market trading day began. NASDAQ informed traders that Facebook IPO will start trading at 11 am.  The next 30 minutes sees confusion all around as no-one seems to know what is going on.
At 11:00 am  NASDAQ says the Facebook IPO will start but still, no trading took place. At 11:28 am an unnamed NASDAQ staff announced that shares in Facebook trading will begin in two minutes.
At 11:30 am share trading of Facebook began at $38. More than 80 million shares got traded in the first 30 seconds. There were complaints from some traders of unfulfillment of their facebook orders.Others faced the problem of getting shares at a higher price than agreed.Several traders made requests for NASDAQ to suspend trading in Facebook while problems were sorted out.Finally, at 4:00 pm  NASDAQ closed Facebook IPO. Its stock peaking at $42 but closed the first day at $38.23, up 0.6 percent from IPO price.
Below table will describe the significant price moves post Facebook IPO.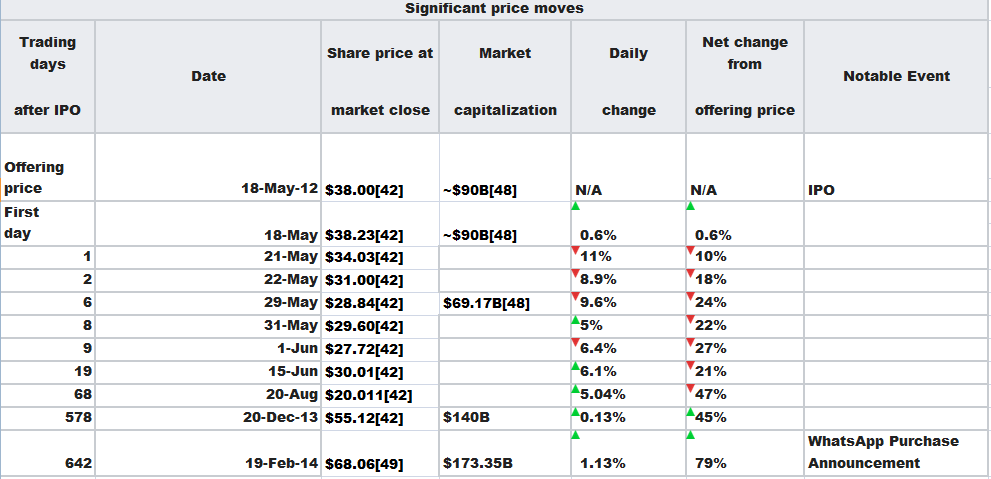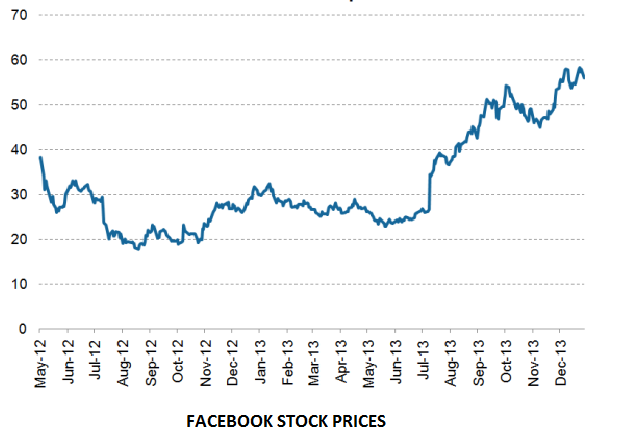 Facebook IPO- Constructive Or Obstructive
From the technical glitches to the mobile guidance controversy, it is pretty difficult to characterize Facebook's IPO, which occurred five years ago today.
Selling shares on the public market had a clear downside. Also, the headache of releasing a company's financial details to the public made Mark Zuckerberg even more restless.But like any growth-stage company, Facebook needed money, and private companies had certain restrictions on how much stock they can issue for cash.After the Facebook IPO, by Aug. 18 the company had lost about $50 billion in value. But many big investors made huge profits betting against the company, and others avoided major losses by backing out of the IPO just in time.
The ghost of the Facebook IPO disaster haunted the first year with lusterless stock performance and criticisms over its slowness to the mobile trend.But Facebook used its weakness as its biggest motivator. When the company went public it had no meaningful revenue from mobile. By the end of 2013, more than half of Facebook's revenue came from mobile ads. This helped Facebook to get past the disaster of the IPO.
Also Read:  13 Years Of Celebrating 'FriendsDay' To Mark Facebook Inc's Launch