After the rush created by Twitter CEO Jack Dorsey back in February, the spark of that boom can be seen all over again. Yes, Jack does it all over again.
Late Friday afternoon, Jack purchased 5,74,002 shares in the company bringing his total purchase in the year 2017 close to a sum of 1 million shares.According to an SEC Filing, Dorsey has paid $16.6218 for each share he bought. The CEO is expressing a level of assurance in the company.
But one thing which is troubling everyone is the price at which the shares were bought. It is said to be a bargain as compared to the peak share price of twitter which stood at a whopping $70 per share.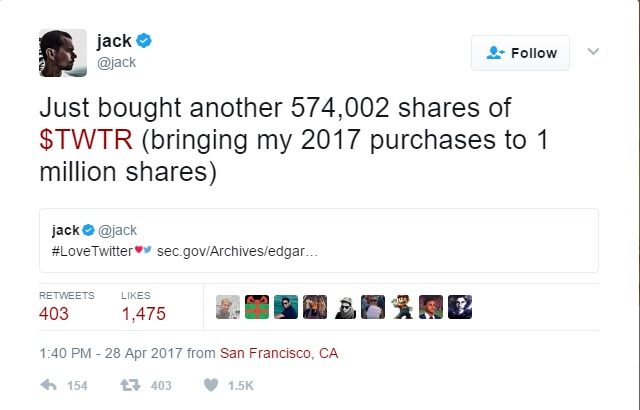 Earlier this week, Twitter gave the revenue report of Quarter 1 2017 to the investors that it brought in $548 million in revenue beating the investors' expectation of $511.9 million.Earnings on a per-share basis were at eleven cents per share as opposed to the expected one cent a share.
This surely stepped-up the twitter stocks directing the benefit to the stakeholders.Despite all the reports and the increments, there is an ambiguity attached to whether the CEO Jack Dorsey was able to fetch any profit from his previous purchase of 400,000 shares in February.
However, despite the obvious positive news, the revenue of Twitter has been declining by 8 percent year after year. The share of the company in the advertisement market between itself and its firm rivals Facebook and Google for the quarter were less than 2 percent, which does not bode well as more and more competitors are entering the digital advertising space now.
But with both the purchases combined, Dorsey is now close to over 1 million additional shares of Twitter stock in this year alone. In line, he has been flooring the stocks from his side-hustle Square. The share price for the Square stocks has been constantly on the rise.
The money from Dorsey's sale of Square stock has previously gone to fund his own Start Small Foundation.Let's see what happens now with all these purchases and flooring in the future.
Related Read: Twitter Is Suing The US Government For Trying To Unmask Anti Trump Account