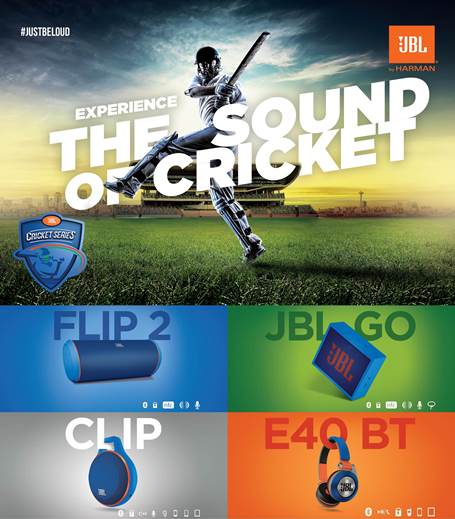 Inspired by the 'Men in Blue' these new speakers and headphones enhance the experience of watching your favorite game
Bangalore, March 16th, 2015 – Indian cricket fans now have more reasons to rejoice, other than India's spectacular performance  at the World Cup : JBL has launched its limited edition audio systems comprising of three portable speakers including the JBL Flip 2 Cricket Series,  JBL Clip , JBL Go and a  JBL E40 BT headphone – inspired by the colors of the Indian cricket team's jersey.
An ode to the men in blue; the new series is a must-have for all cricket enthusiasts who also love their music.
The JBL Cricket series starts at 2,999 and is available online at www.amazon.in, www.jblcricket.in and at all JBL retail outlets across India.
JBL Flip 2 Cricket Series               JBL Clip                                 JBL E40 BT

The speakers have been manufactured by HARMAN.
HARMAN  designs, manufactures and markets premier audio, visual, infotainment and enterprise automation solutions for the automotive, consumer and professional markets. With leading brands including AKG®, Harman Kardon®, Infinity®, JBL®, Lexicon®, Mark Levinson ® and Revel®, the Company is admired by audiophiles, musicians and the entertainment venues where they perform. More than 25 million automobiles on the road today are equipped with HARMAN audio and infotainment systems.  HARMAN has a workforce of approximately 17,600 people across the Americas, Europe, and Asia and reported sales of $5.9 billion for the 12 months ended December 31, 2014.
Comments
comments