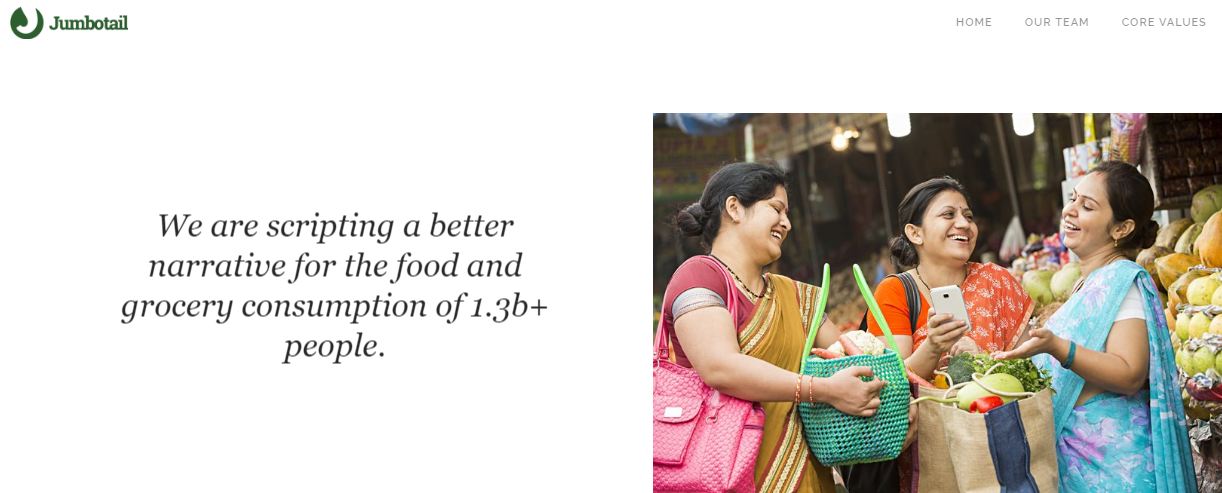 06 June 2017, India:
Jumbotail, a leading online marketplace for food and grocery has raised $8.5 Million funding in Series A from Kalaari Capital and Nexus Venture Partners.
Jumbotail serves thousands of wholesale customers such as Kirana stores and Horeca businesses in Bangalore. The company plans to utilize the funds for building cutting edge technologies and enhance operational capabilities to deliver the best customer experience in the wholesale food and grocery sector.
Founded in Nov 2015 by Stanford alumni S. Karthik Venkateswaran and Ashish Jhina, Jumbotail's vision is to organize the food and grocery ecosystem in India using technology, data science and design. Jumbotail offers a wide selection of products including staples, spices, dry fruits, packaged foods, and FMCG products.
Bala Srinivasa, Partner, Kalaari Capital, adds, "98% of India's food and grocery consumption is via Kirana stores. Jumbotail brings tech-centric innovation to address massive inefficiencies in terms of product discovery, distribution costs, stock outs, and pricing. We are excited by their ability to eliminate information asymmetry, aggregate previously unavailable demand and supply data, and significantly improve economic outcomes for manufacturers, brands, financial institutions and Kirana owners."
Related read- Delhi-based UrbanClap Raises $21 Million Funding from Vy Capital, Existing Investors
"While this is a multi-billion-dollar market opportunity, it requires us to solve challenging problems that are so unique to India that copycat models will not work. We are putting our customers first and building technologies and supply chains that will work for the next billion Indians in distributed, chaotic and unstructured environments", says Karthik Venkateswaran, Co-founder & CEO, Jumbotail.
Sameer Brij Verma, Director, Nexus Venture Partners, adds, "Nexus is glad to have partnered with the Jumbotail team since its very inception. Jumbotail is going after a very large but inefficient market that requires very strong first-principles approach towards solving challenges across commerce, efficient fulfillment, payments and credit via their platform. We feel this team and their technology platform has a shot at solving these challenges to create enduring value for the Kirana/HoReCa segment over the next few years." Nexus Venture Partners had earlier invested $2mn in the company.
Jumbotail provides full stack services including storefront delivery and payments collection for its sellers, as well as working capital credit from third-party credit providers to its customers using rich transactional data and proprietary algorithms.
Also read- Droom Raises $20 Million Funding from Integrated Asset Management, Digital Garage and Others