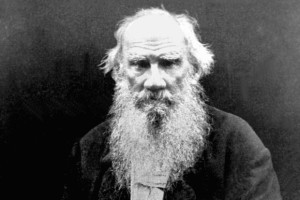 On September 9, 1828, Count Lev Nikolayevich Tolstoy was born at his family's estate, Yasnaya Polyana, located at 12 KM southwest of Tula Province of Russia. Commonly referred as Leo Tolstoy, he is regarded as one of the greatest Russian novelist of all time.
His early publications are acclaimed to be started in his 20s with his semi-autobiographical trilogy Childhood, Boyhood and Youth and Sevastopol Sketches based upon his experiences in the Crimean War.  In the 1860s, Leo wrote his best known novel, War and Peace. In year 1873, Tolstoy was on his second best known novel, Anna Karenina. His other works consists of The Death of Ivan Ilyich, Family Happiness, A Confession, Hadji Murad and many more.
His literary work The Kingdom of God Is Within You is believed to have profound impact on well-known figures of 20th-century including Mahatma Gandhi, Martin Luther King Jr. and others.
Techstory brings to you the thoughts of one of the greatest novelist of all time- Leo Tolstoy!
"If you look for perfection, you'll never be content."
"Everyone thinks of changing the world, but no one thinks of changing himself."
"If, then, I were asked for the most important advice I could give, that which I considered to be the most useful to the men of our century, I should simply say: in the name of God, stop a moment, cease your work, look around you."
"If everyone fought for their own convictions there would be no war."
"The two most powerful warriors are patience and time."
"Freethinkers are those who are willing to use their minds without prejudice and without fearing to understand things that clash with their own customs, privileges, or beliefs. This state of mind is not common, but it is essential for right thinking…"
"If you want to be happy, be." 
"God is that infinite All of which man knows himself to be a finite part."
"There is no greatness where there is no simplicity, goodness and truth." 
"Progress consists only in the greater clarification of answers to the basic questions of life."
More reads:
Read How do great leaders build trust !
Read Quotes From Ferdinand Porsche – Founder Of The Porsche Car Company !
Read What LinkedIn Cofounder Reid Hoffman Has To Say About Running A Successful Company ?
Read Quotes of writer, entrepreneur and youth expert: Rashmi Bansal