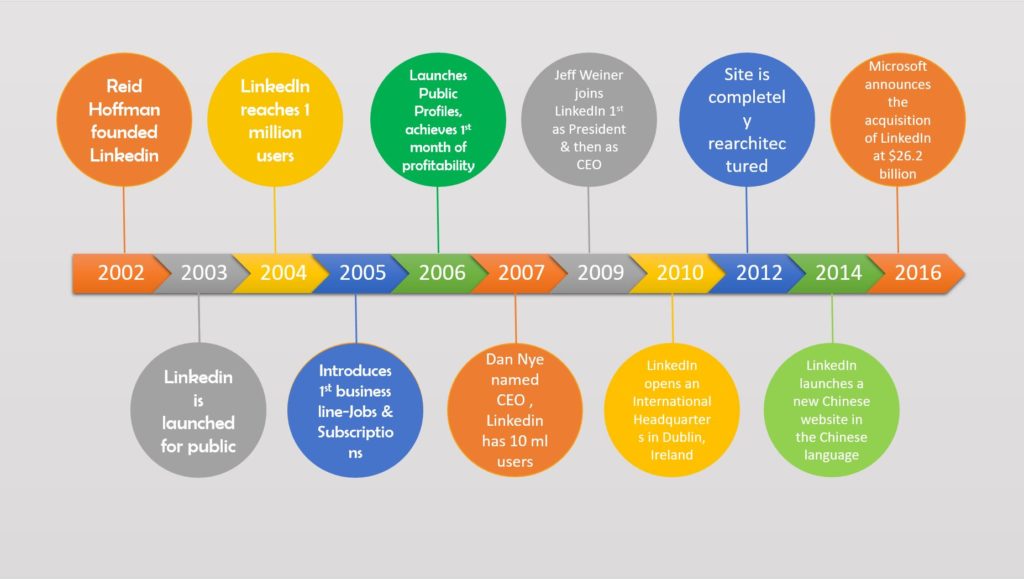 LinkedIn is a business- an employment-oriented social networking service that operates via websites and mobile apps.It is mainly used for professional networking, including employers posting jobs and job seekers posting their CVs.
It has been 14 years since the establishment of LinkedIn.Let's ramble through the growth journey of the company.
Embarkment Of The Journey
2002
It was in the year 2002 when Reid Hoffman, Co-founder, and CEO of LinkedIn started collating ex-employees from companies like SocialNet and PayPal with an agenda to come up with a social platform wherein professionals could interact and connect with one another.
2003
Finally, in the year 2003, Hoffman and his team were set out to build a new, lasting professional network based on identity and connections. Hoffman had already bankrolled the operation at the start to fund the development of the early LinkedIn platform.He already had money from PayPal, so he was financing the early portion of it.
Related Reads: Twitter Turned Ten This Year And Is Still Springing Surprises !
2004
2004 came out to be an year of experimentation for the LinkedIn turks.They started introducing new features like Groups and partners with American Express to promote its offerings to small business owners.This very year, Forbes featured an article summing up the gist of the company "the most critical step towards finding a job, finding an employee or finding a business partner is getting a high-quality referral." Linkedin reached 1 million users in 2004.
2005
2005 marked the introduction of its first business line- Jobs And Subscriptions. This year the company launched LinkedIn for Groups, a premium service aimed at power users like recruiters, analysts and researchers.
2006
Followed by the launch of public profiles in 2006 through which LinkedIn began to stake its claim as the professional profile of record.This was the year when the company achieved core features like Recommendations and People You May Know.This was also the first year when the company started achieving profits.
---
2007
After four years as CEO, Reid stepped aside to run product and brought Dan Nye to lead the company.2007 was the year when LinkedIn moved to Stierlin Court and opened the Customer Service center in Omaha.2007 was also the milestone year for LinkedIn as it reached the pesk of 10 million users.
2008
In the year 2008, the company launched targeted advertising which allowed advertisers to target specific sections of LinkedIn users.The company also enabled an "applications platform" that allowed other online services to be embedded within a member's profile page. Among the initial applications were an Amazon Reading List.
2009
In the year 2009, Jeff Weiner joined LinkedIn first as President and then as CEO. He brought more focus and clarity to LinkedIn's mission, values, and strategic priorities.
Here is a video featuring Jeff Weiner and his views on compassionate management
Related Reads: Google Launching LinkedIn-like Job Search Service 'Hire'
2010
While 2009 was the phase of year of new leadership for the company, 2010 was an year of speeding up. This was the time when the company shifted into hyper-growth. By the end of the year, LinkedIn had 90 million members and nearly 1,000 employees in 10 offices around the world.
2011
This year the company launched a business card scanning application named CardMunch for $1.7 million. This was also the year when LinkedIn went for IPO and in turn traded its first share at $45 per share.
2012
The company went through some transformations in the year 2012 including project inversion and a completely re-architected site which enabled an unprecedented pace of product innovation and transformation — of the site and the company, which focused on three major concepts: "simplify, grow, every day".
2013
The company announced their Sponsored Updates ad service this year. Through this feature individuals and companies were able to pay a fee to have LinkedIn sponsor their content and spread it to their user base.
2014
The company completed its decade in the year 2014 wherein the team sought to create a map of the digital economy, its participants, and every facet of opportunity linking these nodes together.
2015
LinkedIn opened up the Influencer program to everyone in the United States, before bringing it to all English-speaking countries in early 2015. For the first time in the history of the company, users were able to follow members that were not on their network, in order to reach the largest amount of people possible.
2016
2016 was a very big year for LinkedIn keeping in mind the largest social media acquisition ever when Microsoft bought it for $26 billion.
Be that as it may, it has always been the most overlooked social networking site.Yet the company holds no competitors up till now.
Related Reads: LinkedIn Reaches New Milestone, Hits 500 Million Mark!
LinkedIn Future Plans
In the year 2017, the company intends to focus on some key areas. First of which is data.The company is looking for a proper process through which they could allow marketers to bring their own data to LinkedIn so that they could target audience more effectively.
The second area on which the company is focussing is- Reporting and Analytics.The company has a ton of analytics and reporting efforts that they are going to start rolling out including website audience analytics and conversion tracking.
The third area on which the company intends to focus is- Return On Investment. The company intends to help marketers, particularly lead-gen marketers, that are trying to convert their members into the buyer.The company is figuring out ways to help them effectively.