Times they are changing! Earlier the emphasis in matchmaking was a 'well-settled him' and 'well-mannered her'. The 'requirement' has completely changed today. Today compatibility has become the most important factor in selecting a life partner. Yes, Matrimonial industry of India has matured considerably over last two decades. From traditional 'home-visit' propriety to spread into matrimonial ads, ways to make matches have advanced. There exist several players, both in print media and online portals, in the matchmaking industry today. Over and above, many large and small players as well as societies are engaged in this profession.
They say 'Marriages are made in Heaven'! Well! now a days they are made on matchmaking sites online. Interestingly, it appears that share of online portals is increasing at the cost of print media and the potential of Online Matchmaking market in India is humongous.
Matchify is India's First Women Centric App for Matchmaking 
"We are aware of the growing need of young Indians for meaningful relationships matching their interests and near their current location. As young people move out of their hometowns, individuals spend time alone away from family and work takes up most of the week, the need to find romantic but meaningful relationships is increasing but quality solutions are hard to come by" says Sai Chithra, Business Head – Matchify.
Matchify was launched to address this specific need and offers an easy way to discover new relationships. Launched in April 2015, it is India's first women-centric mobile app for finding serious and meaningful relationships. The app that helps singles find "like-minded" people looking for serious and meaningful relationships, with a strong focus on women.
Matchify Services Private Limited is a 100% subsidiary of Matrimony.com Limited. bharatmatrimony.com– Matrimony.com's flagship brand, is one of the pioneers of online matrimony service. It is regarded as the most trusted matrimony website by Brand Trust Report. It also has been featured in Limca Book of records for having Record number of documented marriages online.
Matchify app gives full control to the new age Indian women looking for a meaningful relationship. The app comes with a host of women-friendly features including verified profiles, 'secure chat' where women can initiate an interaction with men directly (unlike men who can do it until there's a mutual like), control over who can see profile and pictures, and abuse report/ block.
Some of the cool women-centric features of Matchify are 'Anonymous chat' that actually helps women initiate a chat in "Mask me" mode where the photo and complete profile details are kept anonymous. Only when they are comfortable, they can choose to reveal the identity. The other feature 'React' helps women know if the profile picture uploaded is genuine or not by letting women ask men to upload instant "selfies" while on a chat!
Success Story and Future of Matchify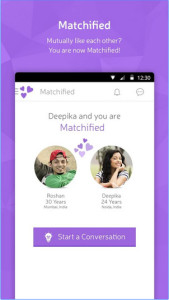 Within four months of launch, the Matchify app has had over 3.5 lakh downloads. Close to 3 lakh "likes" "see later" and "ignore" are happening everyday. The portal is receiving happy stories directly from users regularly.
Talking to Techstory about the plans for product for upcoming months, Chithra says that plans are in pipeline for:
Continuous improvement in user experience to cater to very demanding users with constant improvements in experiencing the discovery of a meaningful relationship.
Improved engagement – Focus on women-centric features and overall user engagement to help users find relevant & genuine matches
We are overwhelmed with requests for iOS version & the same is now under development.
Links:
Web Url: http://www.matchify.in/
Download the Matchify app here.
More Reads:
Read about IITIIMShaadi – In The Crowded World Of Matrimonial Sites ,A Niche Portal With Focus on Education!
Read About Select Shaadi and their 'Like Like' Campaign!
Read About Wymm.in – Matchmaking Site For The Progressive Professional Singles!
Comments
comments