17 July, 2018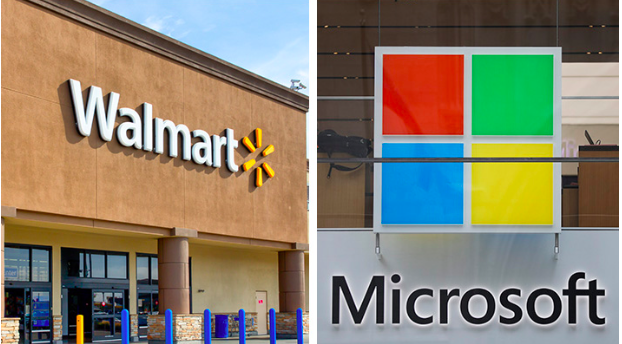 The most awesome tie-up of Microsoft and Walmart is all set take on rival Amazon in both technology and retail. Walmart is announcing today, at Microsoft's Inspire partner conference, that it's partnering with Microsoft to use the company's cloud services.
The five-year agreement will see Walmart use Azure and Microsoft 365 across the company, alongside new projects focused on machine learning, artificial intelligence, and data platforms.
Walmart is Amazon's biggest retail competitor, and Microsoft is Amazon's largest cloud services rival. 
"How do we get more leverage as two organizations that have depth and breadth and investment to be able to outrun our respective competition," says Nadella.
The technology partnership will benefit both the companies in various ways. Microsoft is working on rival Amazon Go technology for cashier-free stores.
Microsoft is reportedly in talks with Walmart for this technology, and the software maker has hired a computer vision specialist from Amazon.
Both Walmart and Microsoft don't reference too many of the future-facing parts of this strategic deal, and it's mostly timed for Microsoft's big partner conference in Las Vegas this week.
This new deal could be a unique test ground for Microsoft's bigger AI ambitions and any future plans it has to push other retailers to use its range of cloud services.
Earlier last year, Microsoft had taken part in a $1.4Bn funding round of Flipkart which was later taken over by Walmart for $19Bn. This joint partnership should bring huge advantage to both firms for competing with Amazon India as well.
(Image:- theverge.com)