If you have been in the crypto space for a while now, then you must have heard about Microstrategy. It was founded by Michael Saylor, who is a big Bitcoin bull and has made Microstrategy the largest corporate Bitcoin holder. They have nearly 130,000 Bitcoin worth more than $4 billion at the current market price. However, Michael is not just all about buying and holding Bitcoin, he is a proper enthusiast. This is why recently, Michael Saylor has integrated his company email addresses with the Bitcoin Lightning network.
What is the Bitcoin lightning network?
The Bitcoin Lightning Network is a layer-2 payment protocol that aims to address the scalability and speed limitations of the Bitcoin blockchain. It allows for off-chain transactions, which are processed instantly and with lower fees compared to on-chain transactions.
The Lightning Network uses a network of payment channels established between users. These channels are off-chain and enable direct transactions without needing to record every transaction on the Bitcoin blockchain. Transactions within the Lightning Network are private and do not require confirmations from miners, making them faster and cheaper.
To use the Lightning Network, users set up a payment channel with a counterparty through a multi-signature wallet. They can then transact with each other by updating the channel's balance, and these transactions are recorded off-chain. Users can also route payments through multiple channels to transact with parties they do not have a direct channel.
The Lightning Network has gained popularity as a solution to Bitcoin's scalability issues, as it enables faster and cheaper transactions while leveraging the security of the Bitcoin blockchain. However, it is still considered experimental, and users must be aware of its limitations, such as the need to keep channels open and monitor for potential channel closures or disputes.
Integrating emails with Bitcoin lightning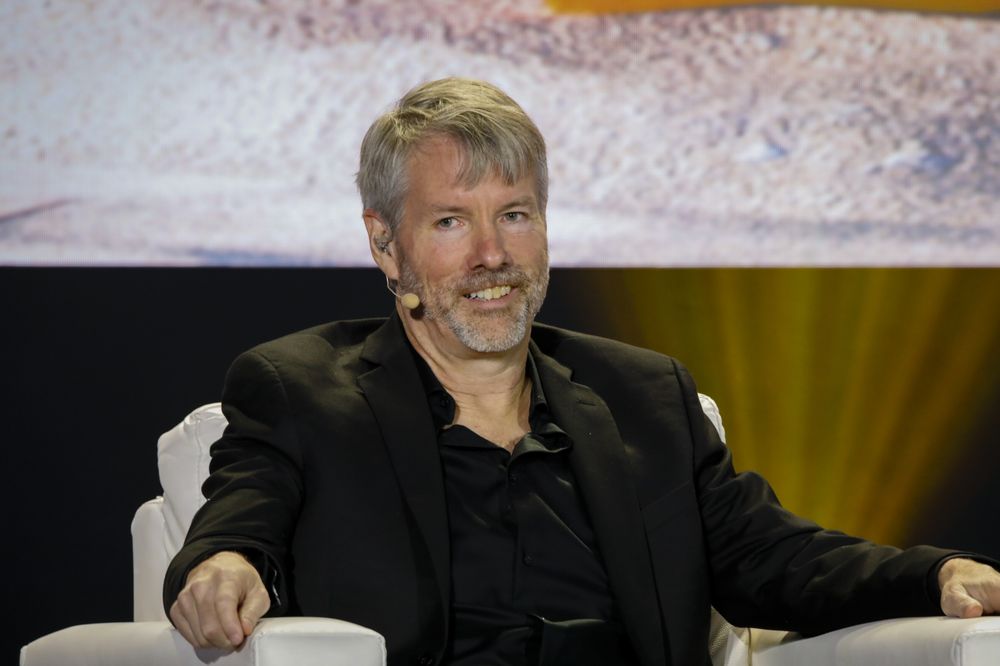 Michael Saylor recently tweeted how he has converted all company email addresses to Bitcoin lightning addresses. So, now anyone can send Bitcoin via the lightning network to these addresses. Michael said that people keep sending him 21 sats where 1 sat is 10 millionth of a Bitcoin. This integration has been made possible with an identifier linker which allows for the transactions to happen without using a wallet address or other methods like QR codes. It has not been clearly stated whether all the work email addresses of the company have been integrated into Bitcoin Lightning. However, considering Michael Saylor, it doesn't seem too far-fetched.
It means in the future, MicroStrategy employees can do Bitcoin lighting transactions and also receive their salary on their work email addresses. Again that is something other crypto companies could take inspiration from and implement themselves.
Bitcoin's price action
Bitcoin is at a very critical juncture right now. Its price recently jumped above the important support of $30,000 but has now fallen again. Currently, it is trading at $29,500, and it will be important to see if the price jumps back again and maintains the support. It will also help the altcoins rise up because, till now, they have been pretty silent, except Ethereum.
However, if the price falls back to $28,000 or lower, it will immediately create a very negative sentiment in the market. And considering that the market is currently in the greed stage with a 58 score, that is also a likely scenario.
---
What are your thoughts as Michael Saylor has integrated his email addresses with Bitcoin Lightning? And do you think this is a good idea, and can we integrate our personal emails into the lightning network for easy transactions? Let us know in the comments below. And if you found our content informative, share it with your family and friends.
Also Read: Who is Bitcoin's secret founder? We might have found him!