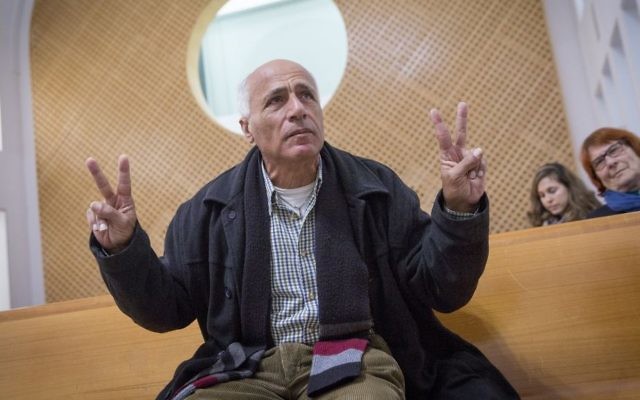 Mordechai Vanunu (who also goes by the name of John Crossman) is an activist and nuclear expert and technician. He is the man who was responsible for blowing the whistle on Israel's nuclear secrets.

Vanunu's History
Born in a Jewish family, he completed high school with partial matriculation. In October 1972, as per the Israeli Government's mandates for most of its citizens, he was enlisted in the Israeli armed forces.
Here is where he tried to join as a pilot for the Air Force but was rejected and was thus, conscripted to the Combat Engineering Corps. Here he became a sapper.
After basic training and completing a non-commissioned officers course, he was ranked as a Sergeant Major. After serving for a brief period in the Yom Kippur war, he was honorably discharged and so, he returned to Tel Aviv University to study Physics.

However, he had a hard time passing the examinations and soon, realized that he needed a full-time work opportunity in order to pay his (now extended) college tuition. Vanunu returned to Beersheba and applied for a job at Shin Bet – the Israeli domestic intelligence and police service but didn't secure a position.
In 1976, he applied to the Negev Nuclear Research Centre located in the Negev Desert in Dimona, Israel. Here, he finally secured a position as a trainee.
While his stint at the Negev was going on, Mordechai Vanunu joined the Ben Gurion University, which influenced most of his political thoughts. After showing an acute interest in philosophy and economics, his political stand has switched to the center and then to the left.

Politics of Dissent
Vanunu's left politics was showing in the causes and activities he was a willing contributor of. In 1982, in the Lebanon War, he refused to serve and also refused to perform field tasks. He was, therefore, assigned kitchen duty, since participation was mandatory either way.

In March 1984, he formed a left-wing group in his university, called "Campus" with five Arab and five Jewish students and was also associated with the "Movement for the Advancement of Peace". Equal rights for Arab-Israelis was also high on his political priority list.

The Negev Research Institute made continuous efforts to not give him access to sensitive tasks because of his political affiliations. They barred him from performing any high-end tasks and were against and keenly aware of his political activities. They also interrogated him for his political affiliations which they found problematic. This is the reason why he left the job in 1985.

The Expose
After leaving his job, Mordechai Vanunu embarked on a backpacking trip across the Far East. He went to Myanmar and met Fiona Gall. Gall is the daughter of the British journalist, Sandy Gall.

He then further went on to meet Colombian journalist, Oscar Guerrero. Guerrero persuaded Vanunu to sell his story and assured him that his story and photographs would be worth USD 1 million. Going on this advice, after being rejected from the Newsweek, Vanunu approached the Sunday Times and their journalist, Peter Hounam.

On September 10th, 1986, Vanunu, in complete violation of his non-disclosure agreement with the Negev Nuclear Institute, divulged confidential details about Israel's nuclear ambitions. This included the photographs he had secretly taken at the institute in Dimona.
There were detailed descriptions of the bomb-making processes, the plutonium processing, and the fact that Israel had enough plutonium to make 150 nuclear weapons. This was problematic from an international relations perspective, as Israel had always maintained nuclear ambiguity, i.e., no one definitely knew whether they had the potential to participate in nuclear warfare.
This would have major repercussions on Israel's defense policies, international ties of the country, and the affiliations it partakes in. For the entire duration of the expose, Vanunu was not present and he did he return to Israel.

As the story neared publication, the Sunday Times also approached the Israeli embassy in Britain to defend the allegations. Their response was to deny the allegations and say that Vanunu was not qualified to know or understand the details he had divulged.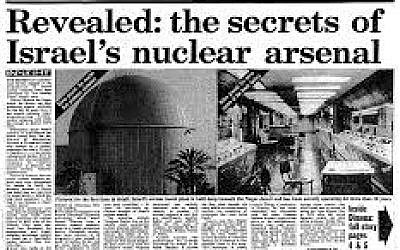 The Attack on Vanunu
As the allegation made by Vanunu became threatening to the government, the Israeli Mossad agent – Cheryl Bentov befriended him under a false identity and both decided to take a holiday in Rome together.
As they reached Rome, three other Mossad agents joined Bentov and induced a paralyzing drug to Vanunu. They boarded him onto the ship Noga which was on the Italian coast and departed for Israel.

On November 9, 1986, when the gossip about Vanunu's abduction was going around, the Israeli government confirmed that they were holding him prisoner.

The Trial and Prison
On 30th August 1987, Vanunu's trial began and he was charged with "treason, aggravated espionage, and collection of secret information to impair state security". On 28th March 1988, after a taxing trial, Vanunu was convicted and sentenced to eighteen years in prison from the date he was abducted in Rome.

He was kept in solitary confinement for 11  years and then was let out into the general population. During this time, he also pleaded the Supreme Court to revoke his Israeli citizenship but was consequently denied. He was released from jail on April 21st, 2004, but a number of restrictions were placed on him. They included the following –

He shall not leave Israel.
He shall not speak to any foreigner unless granted approval to do so by Shin Bet (the Israeli security service).
He shall not come within 550 yards of a border crossing or airport.
He shall not come within 100 yards of a foreign embassy.
His phone and Internet use shall be subject to monitoring.
He shall notify authorities of any change in his place of residence and whom he intends to meet.

Seeking Asylum
While in Israel, Vanunu appealed to the Norwegian and the Swede governments for asylum but to no avail. Global requests for the mobilization and freedom of Mordechai Vanunu fell on deaf ears of the Israeli government. By 2015, Vanunu had sent eight petitions to the High Court to lift the movement restrictions on him.

In 2017, the man was finally allowed to live in Norway by the Norwegian government on the pretext of his wife being there – who is a Theology professor in Oslo.
However, the Israeli government has still not granted him any permission to leave. For this, Mordechai Vanunu had only one thing to say, "After 18 years in prison, it's enough and more… they should let me go. All I want is freedom, that's all."

Comments
comments