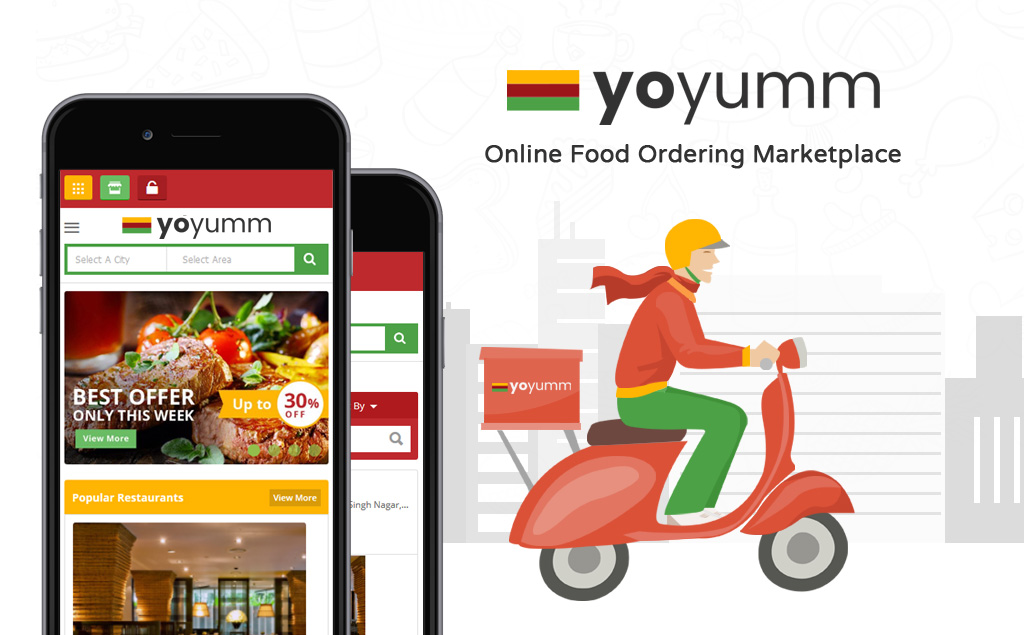 The food-tech industry is on the rise. With the increasing number of online food orders, the food ordering space looks promising for entrepreneurs who have lately entered this market or planning to start an online food ordering marketplace soon.
As per reports, the food delivery market is all set to witness a growth of 25% each year till 2020. This industry forecast, signals great scope for new food tech startups as we know existing businesses too have less market penetration as of now.The perfect example can be the case ofJustEat, which has only 25% market penetration rate in a developed nation like UK.
Lower penetration rate can be seen as an opportunity by entrepreneurs who want to start their own venture in food delivery space.Websites like FoodPanda and GrubHub offer more than just an option to order food online. These businesses push forward the society's advancement through innovation and enhance the convenience level of the user.
Food-tech startups are mostly popular as portals that save people from standing in long queues to takeaway their ordered food and waiting for their turn at a restaurant. Furthermore, home delivery of food creates less pollution through less fuel consumption.
The consumer demand for new players in food ordering space is only going up. However, for an entrepreneur, starting an online food ordering business can be full of risk and heavy on the pocket.
This is where the online food ordering system, YoYumm fits perfectly. With this food ordering focused e-commerce solution, entrepreneurs have got a chance to build a feature rich food ordering website and run it successfully without facing the common issues that all startups have to usually face due to unplanned marketplace structure or technical glitches. On the top of that, they get conducive options to start, support, and scale up a business painlessly at every point with a very neat pricing.
We will get into details of YoYumm later, but now, let's look at the industry specs of online food ordering space.
Food Ordering Space Has Unbound Potential for the Gritty Entrepreneurs
Entrepreneurs, who want to explore the food-tech industry, the food ordering space looks promising as there are only a handful of players. Due to the potential packed in this segment we are to more food ordering startups in next five years.
According to a research conducted by NPD, 1.39 billion people placed orders through phone call in 2010 and by 2015, that number dropped to 1 billion in the US. In the same period, the number of online orders grew from approximately 403 million to nearly 904 million.
The sheer profitability in this sector is evident from the growing number of people ordering meals online. Looks like a perfect time for entrepreneurs to jump in!
Why YoYumm for Food Ordering & Delivery Sites (And, No other e-commerce solution) 
First and foremost, YoYumm is a dedicated solution to launch online food ordering & delivery platforms.
Different business models associated with food-tech industry vary significantly from the perspective of complexity. With the online food ordering portal, the entrepreneur only needs to worry about marketing and business operations as most of the other nitty-gritty can be managed within YoYumm.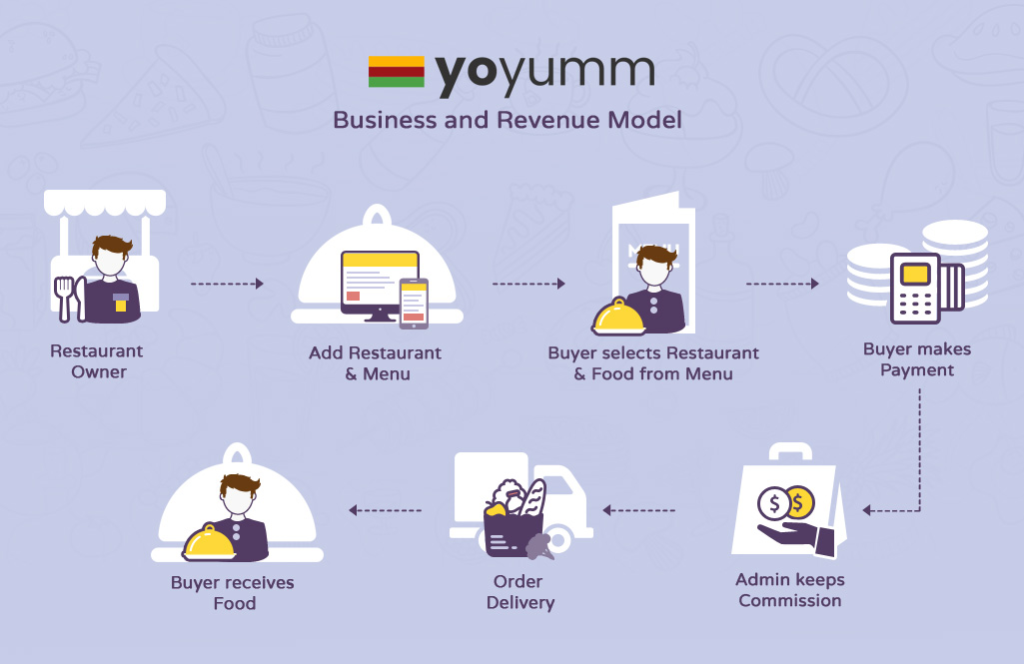 With YoYumm, an entrepreneur can save on mobile app development cost with its responsive design as users can browse and order on website seamlessly across devices like desktops, tablets, and smartphones of all screen sizes.
Running a startup in sustainable fashion means not wasting time on technical glitches. YoYumm has been thoroughly tested and is being used by several food tech startups around the world. However, even if you need technical assistance, the team provides free support for an entire year.
How YoYumm makes it easy for businesses to engage a wider audience?
Advanced features in the system and a top notch work process backed by brilliant developers ensure ease to customize everything required to meet all sorts of business plans. Know about its best features below:
Advertising Options
The online food ordering industry has really big players and competing with them requires a brilliant advertising strategy.Also, people prefer getting discounts and deals that can save them some money, so YoYumm is built with all such considerations that are important to present day entrepreneurs who own a food delivery portal. The websites built on YoYumm come with a feature that enables the admin to display ads and let the visitors know about latest deals and offers.
The attention offered to details is evident in YoYumm. And, its advertising feature is a perfect example of that. It's easy to manage and takes into account all aspects of user experience so even the smallest decisions (like position and size of each advertisement) don't affect the overall experience of a visitor.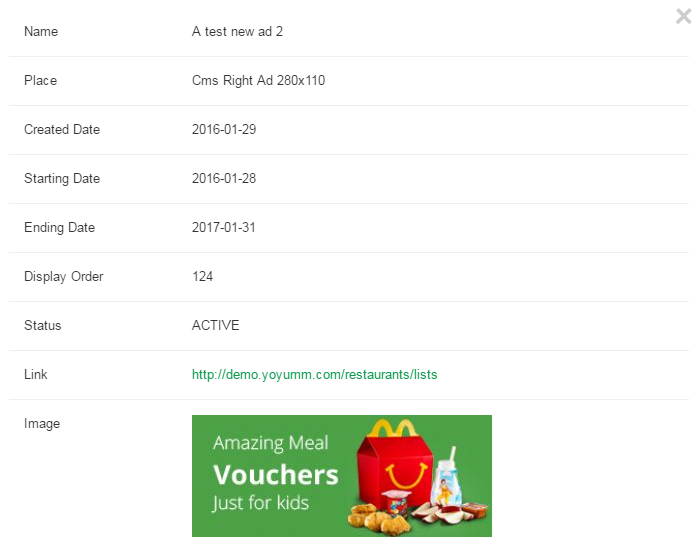 Search Engine Friendliness
Landing on the right spot in search results is one of the prerequisites to reach a wider audience. To help businesses achieve this, YoYumm comes with essential features that enable one to change the page title, meta description, and make more of similar on-page adjustments which make the path of search engine ranking easier for its food ordering websites.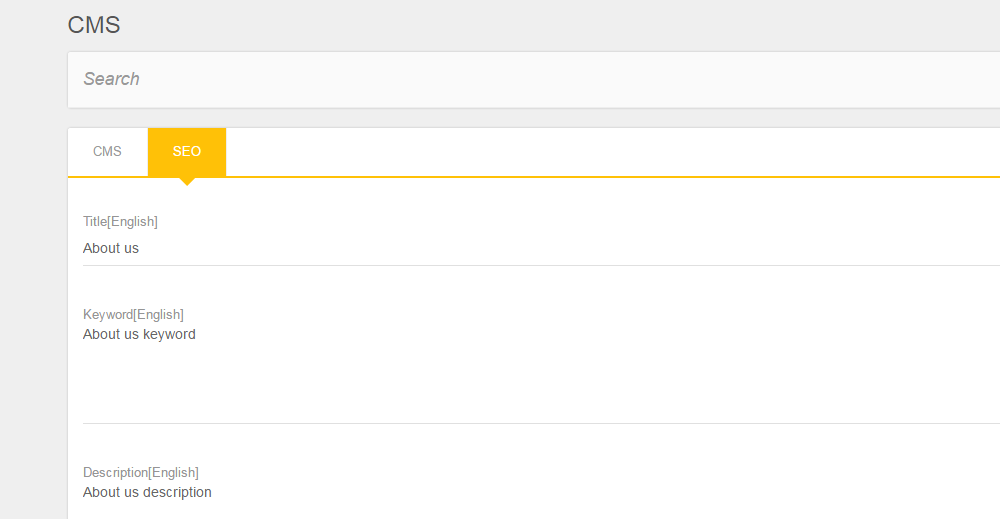 Localization Feature of YoYumm
The Internet has made the world a smaller place. Food based online businesses like FoodPanda and GrubHub have expanded to multiple countries in a few years. With YoYumm, businesses can scale up and expand to different countries without facing the problem of localization. Currently, YoYumm comes in three different languages.
Other Features
YoYumm comes with several other features, which make managing the food ordering website much easier. The YoYumm admin dashboard offers important statistics, such as:
Number of new users joined
Number of new merchants joined
Number of orders placed in the current month
Monthly sales
Yearly sales statistics is shown on graph
Comments/reviews and new subscribers
Most recent 5 orders
Furthermore, YoYumm offers management of reviews, newsletter subscriber, content management system, advertisement, email templates, notification templates, users, location, packages, translation, and more.
YoYumm is developed by the makers of YoKart, a popular eCommerce solution. CEO of the company, Manish Bhalla says, "Ecommerce ecosystem is full of opportunities and YoYumm is there to make food tech startups achievable, stronger & scalable businesses".
His zeal to enable entrepreneurs took him on a journey to offer an entire range of e-commerce products including YoKart, FunAway, Growcer, and more.Being an entrepreneur himself, Manish knows the problems faced by entrepreneurs and YoYumm is the solution to most of those problems.
Whether it is about getting insights into sales, launch a new offer, marketing or reviewing performance analytics, running a food-ecommerce business smoothly is effortless for entrepreneurs riding on the back of YoYumm.
Also Read:
Growcer, The Perfect Grocery eCommerce Solution To Launch & Scale Up Startups
Yo!Kart Checkout For A Multivendor Ecommerce Marketplace !