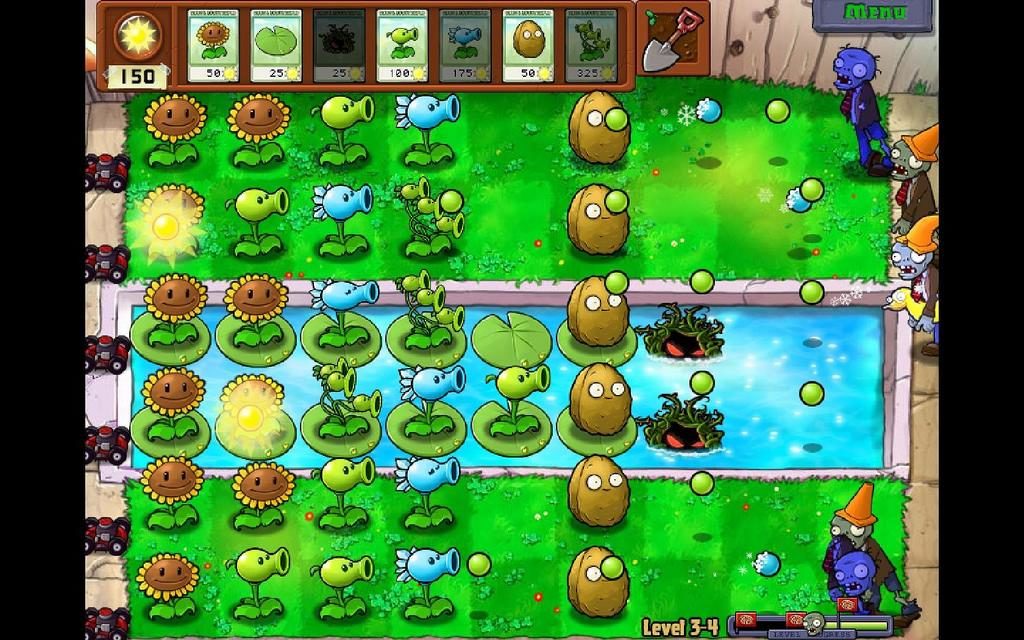 The mobile gaming revolution has brought about all kinds of fascinating titles, and has also introduced countless new game developers. From Words With Friends to Pokémon GO, there have been many sensations that have captured millions of players' attention seemingly overnight. But as much as the mobile branch of the gaming industry has spawned new ways to play, it has also proven to be an ideal place for the resurrection or continuation of existing games.
In fact, a lot of the very best games you can find in your mobile stores originally thrived as browser-based experiences online. These are just a few of the best.
Plants vs. Zombies
There's almost no need to cover Plants vs. Zombies given that it's become one of the most popular browser/mobile games out there. It was originally available online through Popcap and other arcade sites. But because all it requires is the point-and-click placement of defensive plants on a grid, it's perfect for mobile touchscreens. PvZ was a mobile hit, and promptly led to PvZ 2. The sequel earned its share of criticism due a paywall that Macworld's review said left its critic feeling dead inside, but it was still a popular game that offered plenty of excitement even for those who didn't make in-app purchases.
Bloons TD
The Bloons Tower Defense series from Ninja Kiwi was another mainstay at internet arcade sites and had four or five versions before it ever became a mobile game. Now this series has become a major app too. In this case, the series has even been improved on mobile platforms thanks to the introduction of Bloons TD Battles, a sort of versus version of tower defense allowing players to compete over WiFi.
Betfair's Casino Games
This isn't just a single game, but rather a collection of them. Nevertheless, Betfair's online games include a range of popular slot, jackpot, and table gaming experiences that fall under the lager casino umbrella. As of a few years ago, the bulk of these games have been made available to mobile players through Betfair's casino app. They're not the only casino games available in app stores, but the argument can be made that they're the most sophisticated of the bunch.
Robot Unicorn Attack
This is one of the most outrageous browser games of the last decade. A ranking by Stuff counted it among the 30 best browser games in the world. Structured as an endless runner where you control a leaping unicorn bursting through stars, it was another game that was easily adapted to mobile devices. Now it's among the more addictive gaming apps you can find.
Agar.io
Agar.io is an exceedingly simple game where you control a blob drifting around a grid. The only real goals are to consumer smaller blobs (thus making your own larger) and avoid being consumed by the blobs controlled by other players. However, it's oddly competitive and engaging, which made it a natural fit for mobile gaming once online multiplayer became more common.
Sid Meier's Civilization Series
Then there are also the Civilization games. Originally built for the PC, Sid Meier's strategic conquest series has now become a sort of high-end browser game, or at least a game that's easily downloaded via Steam. It has to be dumbed down a little bit for its mobile versions, but the app iterations of Civilization are still among the best strategy games you can find for your mobile devices.
Also Read:
A Game Publisher's Marketing Guide To The Indian Market
The Future of Gaming – A Look into Virtual Reality and Online Gaming Industry!