Amazon, one of the world's largest E-commerce giant has picked up stake worth Rs. 375 crore in online financial services marketplace BankBazaar. Andormeda, the biggest offline loan disbursal company acquired ApnaPaisa.com recently to get a hold on online market.(Read full story of acquisition here.) Personal finance space is witnessing interest drawn towards it from a large chunk of entrepreneurs for quite some time now. Earlier this year, Snapdeal acquired RupeePower – a digital financial distribution platform; similarly, Policybazaar raised $40 mn , earlier in April, this year.
Scenario of Personal finance space in India
Personal Finance on Debt Side is becoming massive every day.
Total Retail Assets Portfolio – 22 lakh crores with expected CAGR of 21%
In terms of loans, the market size is:
Home Loan – 20-25k Crore
Personal Loan- 5-7k Crore
Loan Against Property – 6-10k  crore Excluding TERM Loans by Nationalized Banks
Moreover, Online Loans Market is worth around 4500 Crore, as per Last published figure of 2014 and is expected to exhibit growth of 90 % Year-Over-Year.
Additionally, India Consumers are hungry for online Search and Consumption and want to shift from ATM Banking to online banking, Branch-network Heavy banks are also shifting to online platforms. Consider the data below to substantiate:
125 million smart phone users and 6 million smart phones every month and 200 million is the number expected in 2016
45 million already doing Transactions online and increasing to 100 million
' Transition' from offline to online to become Fin-tech Companies
350 million Internet Users in June 2015 expected to grow to 500 mn in 2017, as per IAMAI and half of them will be using on Mobile
60 % of searches online happen through mobile
SBI- the sleeping Giant is waking up to expand its Mobile platform
All banks are shifting gears to go Digital- HDFC bank has introduced 'Watch Banking' and 10 seconds Digital Deliverance of Personal Loans
More insights on the landscape:
Alternative Lending Tech can potentially address a market of $800B of SME loans and $400B of personal loans in India
$30M investment has gone into B2B loans while $1.77M has been invested in P2P loan lending firms
What are the factors triggering growth of Personal Finance and 'The Transition'?
Personal Finance has been a big Hit in the US. 60+ funded companies in Personal Loans vertical with a funding of $ 2.8Billion and more such as SoFi (student loans) and Lending Club in P2P space which went for IPO in 2014.
Vineet Jain, Co-Founder and CEO, LoanStreet.in, explains this inclination by stating that Investor Community is realizing a similar potential in India, and are also drawn to this space as it is a high engagement product. All e-commerce companies are finding it extremely difficult to run customer acquisition front-ended by Discounts strategy and will have to recognize financial services as a High Revenue per Transaction Business. He expects that lots of adoption will take place in this respect and is likely to trigger few more acquisitions.
He believes that the need of the hour is to have online financial services companies who have the potential to service customers till the customer gets the loan.
"Lenders will continue to engage Distribution partners as it decreases their overall COA, they will look beyond Lead Generators and Look at Fulfillment of Leads by their Partners. Customers will look beyond Plain Comparison Sites and at Value adds such as Recommendation of Lenders and Complete Hand Holding by the Originating Online Platform" says Vineet Jain.
Vineet observes that today, consumers, particularly in urban and metro areas, have higher disposable incomes and are open to taking loans to meet their lifestyle needs and buying insurance to secure their future. However, with the increasing number of over-eager lenders and insurance companies, consumers are also faced with the daunting task of choosing the right product since the decision usually has a long term impact on domestic cash flows. That's where consumers tend to turn towards advisory bodies to make right decision. However, large space is with lead generators who pass on the lead to industry channels or lenders for fulfillment. Very few players like LoanStreet.in are into fulfillment and Experience Creating domain. LoanStreet.in uses its algorithms to recommend the Right Loan and Backs it up with its on-field Team as support to the customer, to be with the customer throughout the life cycle.
About LoanStreet.in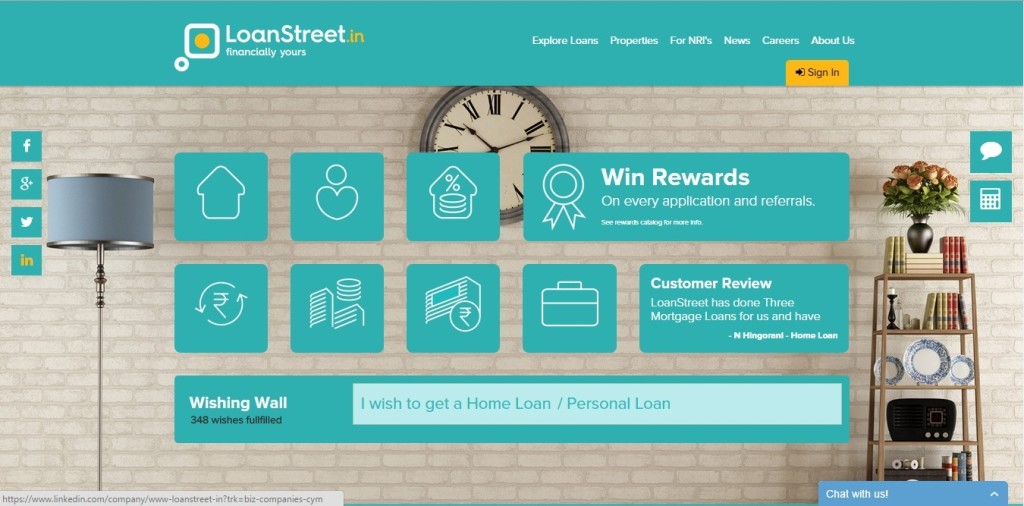 LoanStreet.in is an online marketplace for financial products and services which gives a prompt and customized solution for various financial needs of customers. Serving as the virtual counterpart to Finstreet Financial Services Pvt. Ltd, it is driven by the core belief that consumers in India seek three essentials: The right lender, the right price and the right experience. At LoanStreet.in, a customer gets all this and much more! The company's back-end algorithms, superlative recommendation engine and predictive analysis ability ensure that there is 100 % accuracy in suggesting the appropriate lender to the consumer, in terms of pricing and overall experience.
Customers can use the online platform to avail of a variety of products like home loans, loan against property, personal loans and business loans, lease rental discounting etc. They can either secure a fresh loan or transfer their existing loan to a more ideal lender. The Benefit Calculator makes it very easy to decide whether one should transfer a loan or not. LoanStreet.in has solutions for all segments and profiles of customers, from salaried, self-employed, private or public limited companies and partnership firms.
What makes LoanStreet.in stand out is its unmatched support system with professional relationship managers who ensure a hassle-free experience for loan documentation. The superb CRM system gives complete charge of the transaction to the customer through status updates on mail and SMS. Additionally, the online chat facility and on-call financial advisors ensure that customers have ready access to help and assistance at all times. Its association with all the top-notch financial institutions of the country enables LoanStreet to offer a broad range of choices to customers. Once the loan is disbursed, LoanStreet rewards the customer through the internal rewards platform which also encourages referrals.
Based out of Mumbai, LoanStreet has a branch office in Bengaluru.  It is pioneered by an eclectic Group of Founders – Vineet Jain, Prashant Hedge, Ramendra Mishra and Ajit Pandey. Vineet and Prashant have a profound experience in managing customer processes and distribution of retail loans in India, Ramendra is an Operations Man and Ajit is the Techie with sound e-commerce Experience. The combination of skills gives them the ideal prowess to head LoanStreet. Through their professional experience, they identified that online facilitation of loans is a pressing requirement for end customers as well as banks and financial institutions. Customers need an advisory platform, beyond the normal comparison sites, with a hand-holding approach and lenders need an online distributor with a presence in major cities.
The company began as a partnership firm with a small online presence as www.homeandloan.co.in. It represented 12 banks for the mortgage business in Mumbai. Now, it has evolved into a full-fledged online platform which represents all Top lenders across the country with a product basket enhanced to include unsecured loans as well.
Currently focusing on India alone, LoanStreet's strategy is to expand its digital and physical footprint in the country and work on fulfillment of leads generated. It is also targeting expansion of its product portfolio in the space of financial services, such as insurance. Additionally, it aims to build tools for quickly calculating online eligibility in the self-employed segment. The key target markets of LoanStreet include Mumbai, Ahmedabad, Pune, Bangalore, Chennai, Hyderabad, Jaipur, Indore, Bhopal and Chandigarh. The overall vision of the founders is to establish LoanStreet as the ultimate destination for all financial products and as the premier consumer-focused online lending platform.
About Author:
Vineet Jain is the CEO and one of the founders of LoanStreet.in.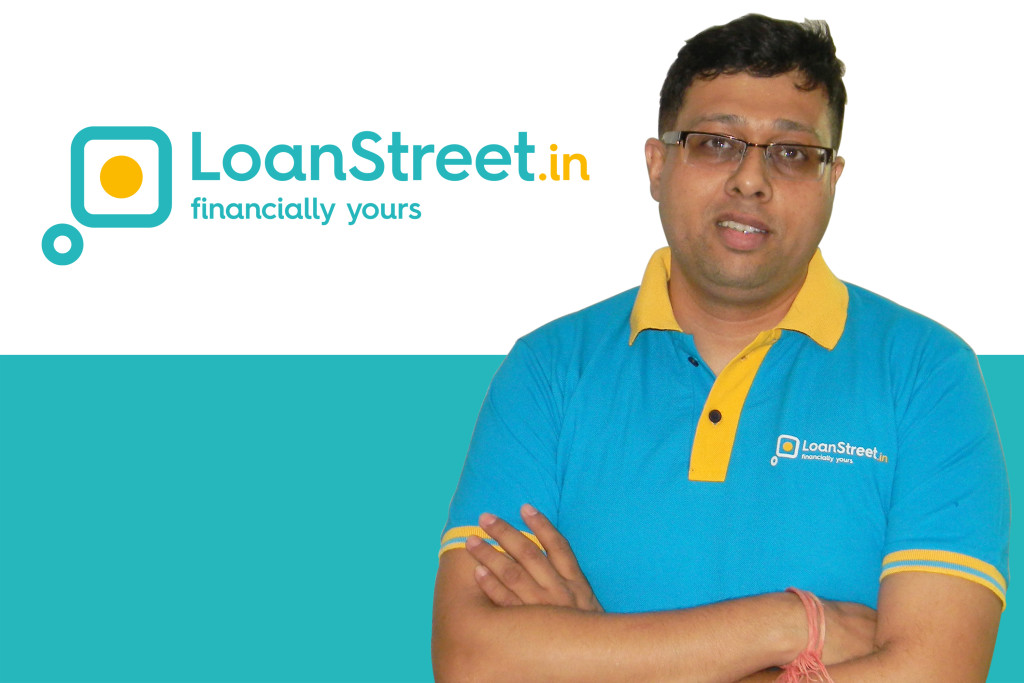 He is at the forefront of Strategy, Investor Relations and Digital marketing for the company. Vineet has been in senior leadership positions helming sales and distribution in top institutions in the banking sector. He carries a rich experience of process management, leading high-performance teams and setting up new business geographies. Managing retail distribution channels and customer centric businesses has given him the ideal blend of acumen and expertise to lead a customer-focused distribution network such as LoanStreet.in
Vineet has an MBA from Goa Institute of Management and a Bachelor's of Engineering in Mechanical from Bhilai Institute of Technology.
(All the data figures and facts, images and views are provided by LoanStreet.in)