Pinterest Inc., the popular social media and image-sharing platform, recently reported its quarterly earnings, missing its revenue estimates. According to a report by Reuters, the company's revenue for the fourth quarter of 2022 came in at $706 million, missing the expected $710.2 million.
Despite this miss, Pinterest's growth remained robust, with the monthly active users growing by 37% year-over-year to reach 478 million. Additionally, the company's advertising revenue also increased by 39% to reach $641 million, driven by higher engagement and demand from advertisers.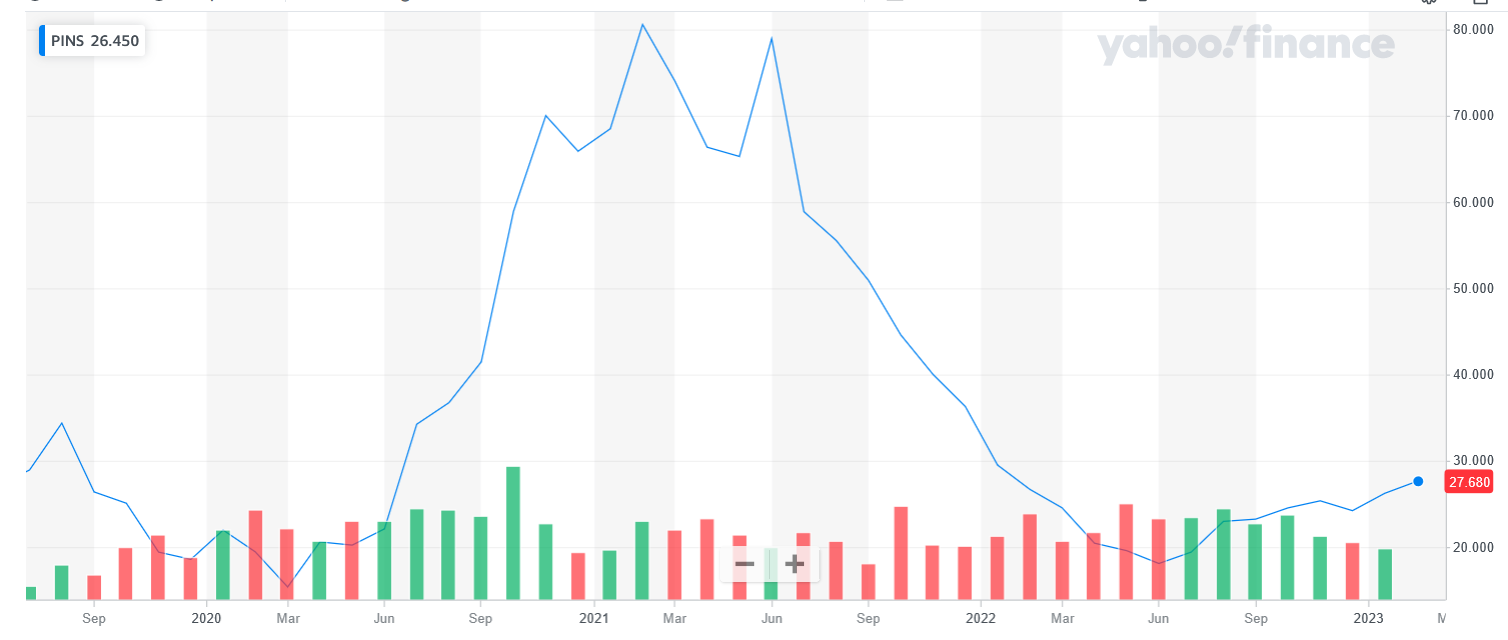 Despite the impressive growth, the revenue miss has raised concerns about the company's ability to monetize its user base effectively. Pinterest has been working on expanding its advertising offerings and targeting new markets, but these efforts have yet to pay off.
Looking ahead, Pinterest is facing a highly competitive landscape, with more prominent tech companies such as Facebook and Google dominating the advertising market. However, the company's unique image-based platform and growing user base could give it an edge in attracting advertisers looking for new and innovative ways to reach their audiences.
Pinterest's business model
Pinterest's business case study highlights its success in creating a platform that connects users with their interests and provides businesses with an advertising and marketing opportunity. Some key points include:
Unique user engagement: Pinterest has a highly engaged user base, with over 250 million monthly active users who spend an average of 14.2 minutes on the platform. This level of engagement creates a valuable audience for businesses to reach.
Targeted advertising: Pinterest uses image recognition technology to understand the content of Pins and provide highly relevant advertisements to users. This technology has enabled businesses to target their ads to specific demographics, interests and purchase behaviours.
E-commerce integration: Pinterest has integrated e-commerce features into its platform, such as buyable pins, which allow users to purchase products directly from the platform. This has provided businesses with a new sales channel to reach customers.
Strong mobile presence: Pinterest has a solid mobile presence, with over 80% of its users accessing the platform through a mobile device. This allows businesses to reach customers where they are spending more of their time.
Pinterest's combination of user engagement, targeted advertising, e-commerce integration, and strong mobile presence has made it a valuable platform for businesses to reach and engage customers.
In conclusion, while Pinterest's revenue miss is a setback, the company's robust growth and expanding advertising offerings suggest that it still has a promising future. The company will need to find new and innovative ways to monetise its user base if it wants to stay ahead of the competition and maintain its impressive growth trajectory.