As electric vehicle (EV) adoption gains traction across Australia, one state is leading the pack with consistently high EV sales. The Australian Capital Territory has maintained a significant lead in EV sales, with New South Wales following closely behind. However, Queensland is now set to challenge this lead with the launch of the country's richest EV incentive scheme, which will offer a means-tested rebate of $6,000 to EV buyers. While industry experts suggest that this growing competition among states is a crucial factor in driving EV adoption in Australia, some argue that government incentives for EV buyers should be redirected toward infrastructure development. This is especially true given the falling prices of EVs as their popularity increases.
Australia's first state-based EV incentives were introduced in 2021, offering modest discounts on vehicle registration and home chargers. The schemes have since expanded to include cashback on new EV purchases, stamp duty exemptions, free registration, and zero-interest loans of up to $15,000, depending on the state. The ACT's EV incentives, which include stamp duty and registration discounts, and a ban on the sale of petrol cars by 2035, have been highly effective in driving up EV sales. In the first quarter of 2023, almost one in every five new cars sold in Canberra were electric. Queensland's revised scheme will be launched in July and will be available on a wider range of cars, including 23 different models. The purchase threshold has also been raised to $68,000, making more EVs eligible for the rebate.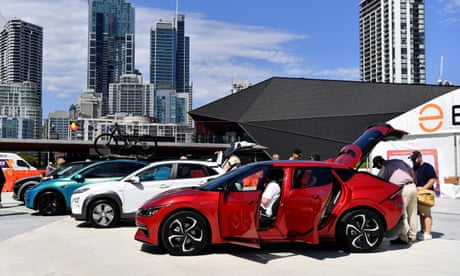 EV adoption
According to Dr. Jake Whitehead, head of policy at the Electric Vehicle Council, the increasing competition for incentives among Australian states and territories will benefit both motorists and Australia's efforts to reduce pollution. He believes that this competitive tension has a long tradition and it encourages states to push each other to do better, which is ultimately what is needed to achieve the goal of reducing emissions by 43% in 2030. Despite the growing sales of electric vehicles in Australia, the country still lags behind many others in terms of electric vehicle adoption. The International Energy Agency has reported that electric vehicles accounted for 14% of all new car sales worldwide in 2022, which is much higher than the 3.8% recorded in Australia.
According to Dr. Whitehead, the difference between Australia's electric vehicle adoption rate and that of other countries emphasizes the urgency of speeding up Australia's shift to zero-emission vehicles and the importance of financial assistance. He said, "Incentives will continue to be essential, especially as the supply grows. No major economy in the world has been able to rapidly increase electric vehicle sales without some sort of incentive. I anticipate that once we surpass, say, 20 to 25% of all new vehicles being electric, we can begin to examine phasing out some of these incentives."
Incentives
In 2022, the federal government launched fringe benefits tax cuts for electric vehicle purchases, potentially reducing the cost of buying an electric vehicle by $4,700 for individuals and $9,000 for employers. However, Curtin University's distinguished professor Peter Newman believes that Australians will continue to buy electric vehicles regardless of incentives and that more people will invest in the technology as manufacturers produce more affordable and accessible models. He believes that it is necessary to move beyond subsidies to promote electric vehicle adoption and that companies need to take on this challenge beyond the role of government. Newman cites BYD's Seagull as an example of a car that could change Australians' purchasing habits.
Peter Newman, a distinguished professor at Curtin University, believes that while government incentives are helpful in encouraging electric vehicle adoption, it is ultimately up to companies to take the lead in producing cheaper and more accessible models. He points to the Chinese-made BYD Seagull, which has attracted over 10,000 pre-orders in 24 hours and could potentially change what Australians buy. Newman expects more small, inexpensive Chinese electric vehicles to come to Australia over the next two years, allowing governments to invest in charging stations to support their use.