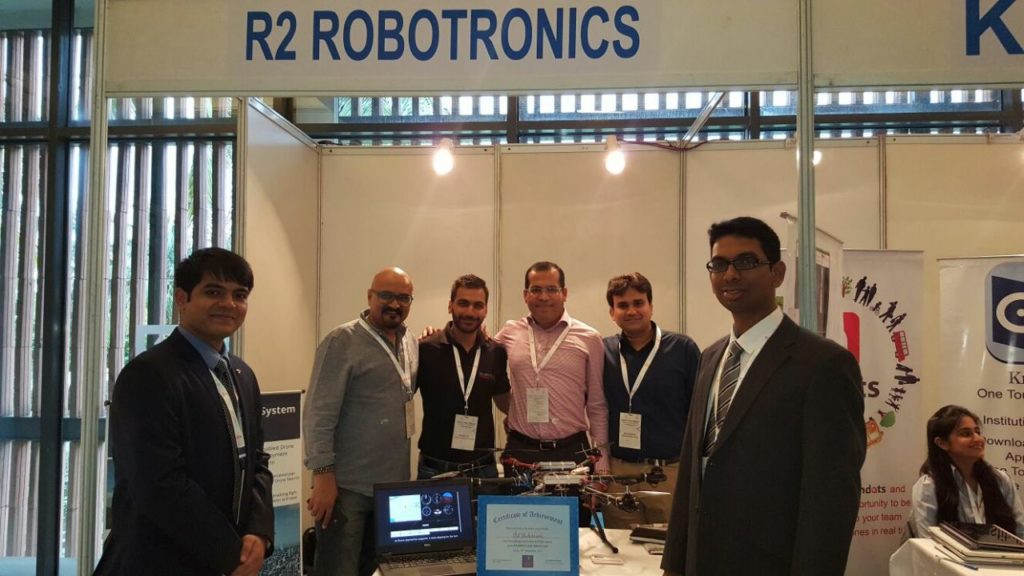 R2 Robotronics is a platform independent, application independent, cloud powered enterprise drone swarm management platform. In short, it is the Android to one's drone. It lets one use one's drone with any sensor one wishes, in any mode one likes, without any limitations on the range of operation, ability of the pilot.
The Droning Market
A drone, in a technological context, is an unmanned aircraft. Drones are more formally known as unmanned aerial vehicles (UAVs) or unmanned aircraft systems (UASes). Essentially, a drone is a flying robot. The aircraft may be remotely controlled or can fly autonomously through software-controlled flight plans in their embedded systems working in conjunction with onboard sensors and GPS.
Drone market in India is still very young. The legislation is yet to come on the regulation of this industry, although the draft was circulated by the DGCA in April 2016. There are players who mostly supply drone based services to corporates and the government. The corporate usage of the drone is yet to see its full potential. Also, many people are completely unaware of the terminology. The lack of a legislation hampers not only absorption of the product by prospective consumers but also the investment into the product by Indian as well as global investors.
Since a lot of what goes for deals in these markets is not on the open market, deals for commercial and investment purposes rely on the reach of companies. India also does not have many companies working on UAV's system themselves, most of them simply procure drones from outside and render services, or are involved in making the airframes for other companies, which has also led to a slower pace of R&D in this field.
There are firms ranging from small in-house startups to large conglomerates doing something or the other in this sector. That is also dependent upon which sector are these companies targeting – Military or Civil. Although a lot is driven by military, civil usage has been picking up.
The market will see a tremendous change once the draft becomes a reality. A lot needs to be seen about provision for R&D in that draft. In U.S. there are areas marked for UAV testing, we need those things in India too.
The Distinctive Feature Of R2 Robotronics
Unlike the companies in the market today, R2 Robotronics is not a service provider. They have the DROSNAS or the "Drone Swarm Navigation System". It is a platform independent, application independent, cloud powered enterprise drone swarm management platform. In short, it is the Android to one's drone. It lets one use one's drone with any sensor one wishes, in any mode one likes. The dual-AI system makes sure that even if the server loses touch with the drone for a second, the system will have no problem navigating its path.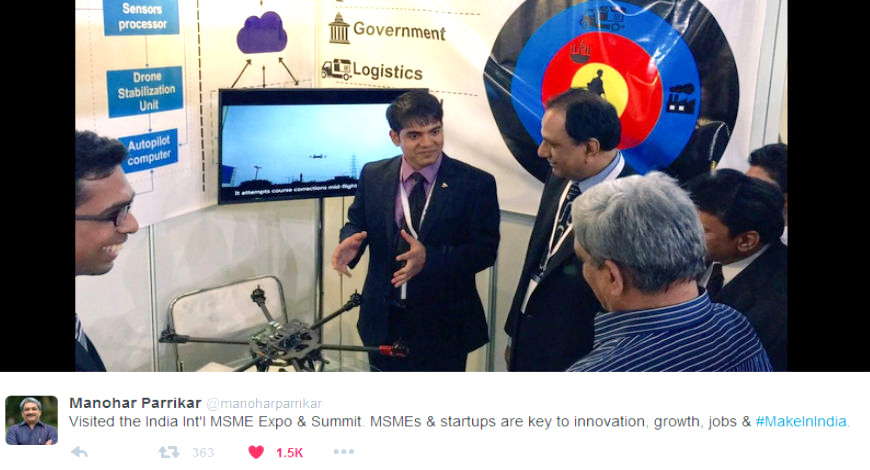 Since it is a centrally monitored system, all the information is available at one place about one's drone fleet. One can monitor one's drones operating anywhere in the world, from anywhere in the world. This technology enables even regulatory bodies to maintain supervision over the flights that have been logged into the system.
The power of Cloud and APIs makes this system extremely dynamic and powerful. Data can be shared while on the move with software for processing while making sure that the user doesn't need to worry about the OEM's compatibility with his system.
The Dunking Journey
When the team at R2 saw what was happening to cabs with Uber making travel ridiculously simple, they thought what if the same happens to drones.
Then they spent a couple of months researching why it hadn't happened, what were the hurdles from a technology standpoint, from a business standpoint. After researching for a few months they started experimenting to find how to realise the idea.
Unlike the startups one see today, their development costs were huge. When an app crashes one can reboot one's phone, but when a drone crashes, one has got to start afresh.
They spent about 8 months doing that until they could say that they were close to accomplishing their dream. It took them another 4 months to say they are ready.
Challenges And Market Strategy
"The biggest challenge while working with drones was the legal aspect. No investor wanted to give us money to work in a sector which was seen as 'illegal'. We were really grateful to Jaarvis Accelerator when they invited us for a discussion. We were able to convince them that this is the product of the future."
Post that it was securing the hardware for the work. Since almost everything on the electronics front is made out of India, getting the specialised UAV sensors and boards was extremely tough. For startups with R&D based funding, the import duties can wreak havoc. The company spending more on duties than we would on the development team's stipend!
"Moreover, as UAVs is still a field that is evolving, it becomes a little difficult to find people who would be willing to work and start from scratch. We had to unlearn a lot before we started learning the basics of flight. Our developers Prashant, Shreyas, Sailesh and others literally spent nights together going through flight logs, lines of codes to find small bugs that would occasionally creep into the system."
The GTM has always been focused towards attracting the Businesses who are looking to adopt automation in jobs which need extraordinary amounts of human effort in open area tasks, such as Security surveillance, Crop analysis, Logistics, GIS, etc. The company also started tying up with companies who specialise in the application software of the respective sectors, so as to enable them to work over the cloud with the system.
One such company is Esri, one of the biggest GIS providers globally. We pitched our idea to them to take their systems on our platforms, and they liked our idea, that is how we managed to get the tag of "Emerging Business Partner" from them. We are continuously talking to more and more software vendors on how efficiently can their systems reach the end customer.
Funding And Future Expectations
They have already launched the "DROSNAS for GIS" variant, automating the entire concept of drone deployment and GIS data gathering. Soon, R2 will be launching "DROSNAS for Agri" variant, which promises to change the way decisions are taken in farms regarding spraying or dusting of crops. The system is currently under final phases of tests. They have been in touch with various govt. and pvt.agencies for the trial of the product.
Later this month they will be heading to Sao Paulo, Brazil, to participate in the 100 Open Startups, Global ranking event, for which they have been selected in Top 8 startups from India, out of more than 1000+ startups. Soon one may be visiting one's native village and one may find the farmer looking at a report with a map and some color codes while a drone hovers over the field. That will be their system in action helping them understand the crop better.
Also Read: The Force Is Strong With You – Mind Controlled Drones !