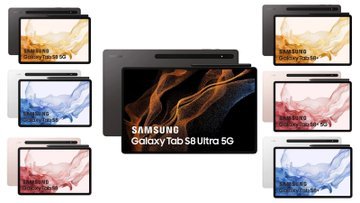 The Galaxy Tab S8 series will be available in Europe soon. The reported listings on Amazon Italy of the Galaxy Tab S8, Galaxy Tab S8+, and Galaxy Tab S8 Ultra have only contributed to this. These alleged listings were only online for a brief period of time before being taken down. They did, however, reveal all of the tablet's properties.
While we wait for the debut of the Samsung Galaxy S22, fresh renderings and specifications for the forthcoming Galaxy Tab S8 series have surfaced.
According to Samsung, the enhanced Galaxy Tab S8 tablets will be available in the following weeks. Several speculations and stories concerning the launch have appeared, including one that claims it would coincide with the release of the Galaxy S series of phones.
Samsung recently announced that the Galaxy S22 series will be available in February, but no specifics on the tablets were disclosed. The next-generation Galaxy Tab S8, Galaxy Tab S8 Plus, and Galaxy Tab S8 Ultra specs have finally been released.
Samsung Galaxy Tab S8 Series – New Leaks
The Galaxy Tab S8 series was advertised on Amazon Italy's website, however, it was swiftly withdrawn as they discovered their mistake. Fortunately, the people at Pocketnow were on the case and snatched up anything they could. The e-commerce site included images and details for all three Galaxy Tab S8 variants.
The ordinary Samsung Galaxy Tab S8 and Galaxy S8 Plus will come in three colors, while the Ultra variant will only come in black. The Ultra will have a notch on the front for its selfie camera, and the other two tablets will have minimal bezels.
The latter was already well-known due to the exclusive renders provided. Furthermore, Samsung has officially launched the Galaxy Tab S8 Ultra's support website, which includes a design of the gadget.
Leaked Specifications for Samsung Galaxy Tab S8
The Samsung Galaxy Tab S8 will sport an 11-inch display with a resolution of 2560 x 1600 pixels, according to Amazon Italy. The Snapdragon 8 Gen 1 SoC will power it, and it will enable 5G. It sports a 13MP rear camera as well as a 5MP front-facing selfie camera. It features an 8,000 mAh battery and runs One UI 4.0 on Android 12.
The larger 12.4-inch Samsung Galaxy Tab S8 Plus display has a resolution of 2800 x 1752 pixels. It also has a 13MP back camera and a selfie camera on the front. The tablet includes a 10,090 mAh battery and a magnetic S Pen attachment on the back.
The Samsung Galaxy Tab S8 Ultra will have a 14.6-inch screen with a resolution of 2960 x 1848 pixels. It will feature a single 13MP back camera, but it will also have two selfie cameras disguised behind a notch.
All three tablets will be powered by the Snapdragon 8 Gen 1 processor and will be available in both 5G and Wi-Fi-only configurations.
Also Read:
Comments
comments