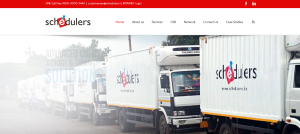 June 22, 2016:  Schedulers Logistics, a Mumbai-based cold storage warehousing and transport solutions provider, has raised its Series B round of funding of 40 crore from GVFL Trustee Company Private Limited. Schedulers is a young supply chain solutions company focused exclusively on the handling of temperature sensitive products for the Food and Pharmaceutical Industry.
Founded by Industry Veterans Akshay Sharma and Colonel Arvind Gangoly in 2012, Schedulers raised seried A capital from Aspada Investment Company. Schedulers is planning to grow aggressively by growing its current fleet of  200 vehicles to over 500 withing next two years. It also plans to reach to 18 cold storage locations with 35,000 MT capacity by year 2020.
Arvind Gangoly, Co-founder & CEO of Schedulers said, "The funding will help Schedulers to get on an exponential growth curve by getting aggressive in capacity additions and furthering pan India presence including Gujarat by augmenting reefer fleet as well as cold storage capacity."
Sanjay Randhar, MD, GVFL remarked, "The demand-supply gap is working in favour of the cold chain sector. There is a huge opportunity to build-up capacity and cater to the burgeoning demand which will have positive social implications too".
The requirement for reefer vehicles is 62,0000 but the existing capacity of vehicles is 9000 as per the National Centre for Cold-chain development.  The temperature controlled warehouses growth is expected to be propelled by 15-17% five-year CAGR. Support from government policies and schemes in the form of capital subsidy, grant of infrastructure status to the industry and viability gap funding is expected to boost this industry's growth.
Image Source:crunchbase.com
Also Read:  Drone Delivery : A Game Changer for Logistics Space?
Alibaba In Talks With Delhivery And Xpressbees Logistics For Investments
Comments
comments