Sonali Minocha is an entrepreneur and a co-founder of OSSCube. She has more than a decade experience in the IT industry. Sonali is Asia's first Woman Certified MySQL DBA and India's first MySQL authorized instructor. Currently, she holds the position of Vice President, Operation in the organization. She believes if you love what you do, you will remain curious to learn and your passion will be contagious.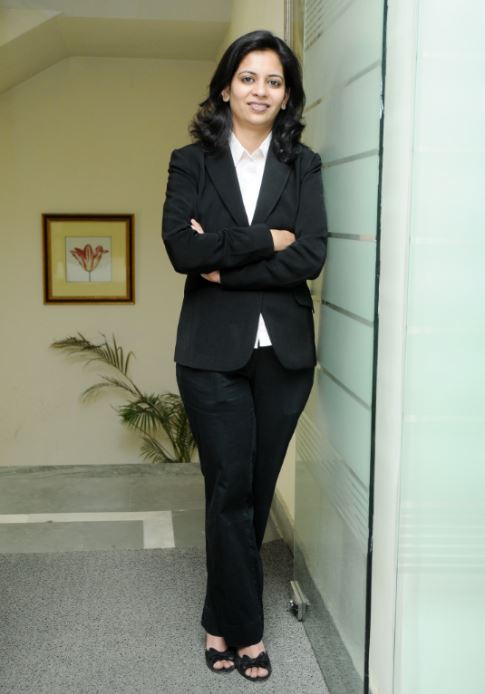 Tell us a bit about your journey to OSSCube.
I joined OSSCube as a trainee during the last semester of my post-graduation. The start-up scenario in India was barely in its nascent stages back then and OSSCube was still known as "Value One". Having scored well in MCA, I had plenty of choices, but what drew me to OSSCube was the dynamism and positivity of the individuals running it. They had a vision and a relentless zeal to move the needle for their clients. At that time very few people in the industry understood the nuts and bolts of technology like they did. I had to hit the ground running, as work was in plenty, but resources weren't. But, at the same time I got a lot of guidance and plenty of room to make mistakes.
How did you get where you are today, and who/what helped you along the way?
I honestly never imagined that I would be leading the Delivery Center of one the fastest growing organizations of India. I think it's a combination of luck, hard work, destiny, passion and the unparalleled support of my leaders, colleagues, and every person in my organization. The encouragement I received from my family was indispensable, and of course, my better half—my husband—who has continued to be my pillar of strength and without whom this journey would've been inconceivable.
There are many other things that help you along the way which we often take for granted. I think I also owe it to all the successes, failures, circumstances that I have collectively faced along with the people of my organization.
[box type="shadow" align="aligncenter" class="" width=""]Related Read:
Parul Bhargava's Learnings From Being A Content Writer To The CEO Of vCommission ![/box]
Tell us about your role. What are some of the responsibilities and challenges that you face on a daily basis that make your job attractive? Why should the younger generation aspire to be in this role?
Currently, I'm leading the complete operations of OSSCube's Offshore Centre in Noida. This entails managing the Software Engineering Process Group (SEPG), Technical Assurance Group (TAG) as well as process excellence and people practices. On a daily basis my focus is to stay ahead of the curve in technological transitions, and to make OSSCube an Incubation Centre of innovative practices. We're striving toward achieving new heights when it comes to operational excellence in order to better adapt to technological disruptions.
There are many challenges to having a job like mine, most of which have to do with the fast-paced nature of the technology industry. I feel, challenges don't come alone; they always come entwined with something exciting. For instance, talent management can be difficult and daunting, but what makes it attractive is that I get to work with scores of brilliant individuals. Lending a hand in their efforts to develop exciting new capabilities, and helping them succeed is deeply satisfying.
For those thinking about entering this field, I would say that the avenues in technology are going to grow exponentially. This is arguably a transformational period in technology. Traditional roles are changing and expanding, making the industry more attractive. So, it's an exciting time to test yourself, challenge yourself, plus create new opportunities to grow.
What have you learned about leadership, entrepreneurship and mentoring others?
There's a quote by Mark Twain that's very close to my heart. It goes like this, "It isn't what you don't know that gets you into trouble. It's what you know for sure that just isn't so."
Leadership, I think, is about putting in a persistent effort in everything that you do. There's no room for complacency. At the cost of sounding clichéd, I'm tempted to invoke the catchphrase 'success is 99% perspiration and 1% inspiration' and so is leadership.
As I see it, entrepreneurship and mentoring are two sides of the same coin. People succeed faster if they're mentored by someone. If every leader starts working like a mentor, people would reach unmatched heights much more effectively and effortlessly. I also think entrepreneurs should remain entrepreneurs. They should keep building businesses. After finding success once, they should hand over the reins to their capable lieutenants and move on to their next pursuit.
Personally, I feel there's a deep sense of satisfaction associated with taking something to the next level, launching it and finding a market for it. So, my mantra when it comes to entrepreneurship is: define, invest, build, succeed, and repeat.
[box type="shadow" align="aligncenter" class="" width=""]Related Read:
In Conversation With Belinda Johnson On Being A Leader At AirBnB And Mentor For Women Entrepreneurs Across The Globe ![/box]
What are some of your key priorities for your people?
We're focusing on building new capabilities in our technology practices which means evolving our processes and tools to better equip ourselves for the current market conditions. We are strengthening our customer insights arm so we're be able to offer cutting edge products and services to our clients in the fields of digital transformation, application modernization, cloud, mobility and the Internet of Things (IoT). Personally, I want to act as an enabler to keep the leadership in my organization engaged in mentoring the teams. A huge chunk of our talented workforce are millennials, so it's vital to address their aspirations. And that would only be possible if we keep aiming for better sustainability. Consequently, it is our ability to sustain and adapt that will drive us towards innovation.
After all this success, what do you struggle with even now?
More than finding success, the struggle lies in sustaining it. It's like taking a flight; you take time to get on board, then once you're settled in your seat, and the plane takes off, turbulence can occur at any point, until the time you land.
Similarly in the IT industry, struggle can crop up at any stage of the project, from understanding the client's expectation to the delivery. And these challenges don't knock on your door, they just barge in. All you can do is adjust to them and prepare for the next one. I think to be able to do this effectively, and maintaining the same level of success is the greatest struggle for me on a daily basis. Besides, a part of you is also constantly engrossed in setting up higher benchmarks.
What are the most important values you stand for as a leader? What is the most difficult part of being a leader?
The foremost value I stand for as a leader is integrity: doing what I say and saying what I do. For me, integrity is in agreement with my heart, my world view, my work, my ties within the organization, and my larger role in the society.
As a leader, you have to take balanced decisions at every step. You can't live in extremes. You can be opinionated, but not overly so. I think that's the most difficult part of being a leader. Because you see, your judgments can be only as evolved as you are. Besides that, you need to take the onus of anything that fails. And share with your team every success that you achieve. People sometimes get disillusioned or disoriented; as a leader you have to reinstate their belief in themselves. That's what I hope to achieve as a leader every day.
[box type="shadow" align="aligncenter" class="" width=""]Related Read:
One Of The Biggest Learning Of My Entrepreneurial Journey Is That 'Nothing Is Impossible' – Shainaz Jussa of Phonickids.com[/box]
Being a woman, was it more difficult for you to climb the ladder? What would be your message to all the women trying to climb the corporate ladder – especially in terms of striking a balance?
For me, climbing the ladder has been a rather natural process. I guess I've been really fortunate to have great people on my side both personally and professionally.
But I know that my story is not a common one. I think getting ahead and making your mark professionally is a lot more difficult for women in every field, not just in a corporate setting. Sadly, the prejudices and stigmas that pervade our society have affected the mindsets of people in the business world, too. Now, it's increasingly changing for good.
I believe strict guidelines need to be put in place. Through your channel, I'd like to urge all the leaders and professionals to keep an eye out for biases against women.
As for balance, you have to work towards it constantly. It's not a one-time thing, it's an everyday effort that also requires sound cooperation of the people around you at every step, or else it can become difficult for you. I like to take a lot of notes and maintain task lists. That's what works for me, but to each his own.
Technology as a field is predominantly dominated by men. Are you seeing this trend changing?
I do feel the trend is changing. Although women are still a minority in the field of engineering, their percentage has gone up from 10-12% to about 25-30%, which is promising. I think organizations are embracing this change with open arms. At OSSCube too, we have a sizable representation of women at every level. We have an active women's council supervised by some dynamic female leaders. Our perpetual emphasis is on offering equal opportunities to men and women. I strongly feel that technology, since it presents a plethora of opportunities, has a big part to play in freeing women from their conventional roles in the society. I find myself at my wits end when I see women being rejected on conformist grounds such as 'they have trouble working for long hours' and the likes.
[box type="shadow" align="aligncenter" class="" width=""]Related Read:
8 Top Women Entrepreneurs Spearheading Women Empowerment In India ![/box]
What excites or interests you about Information Technology these days?
What really fascinates me about IT today, is that business owners are changing their perspective towards customer experience, competition, 'go to market' strategy, revenue generation, and even their internal team's collaboration. Current technologies and platforms are making this happen quickly and smartly. The best part is, even the decision makers in businesses have begun trusting heavily on technology solutions, such as digital transformation, IT modernization, DevOps, IoT, and other related fields.
So, whenever our prospects share with us the challenges their customers face, we offer them the most suitable solution to their problem. The IT landscape is extremely dynamic and complex, but the way it's transforming the customer experience these days, is just incredible.
What are some of the biggest tech challenges that the world faces today? What do you think are some of the most important tech related problems that the world will end up working on for the next 20 years?
In the next 2-3 years, almost everything will be moved to digital. This transformation will—in many cases—mean increasing or shifting budget space. At least, for traditionally run organizations this is going to be a big challenge.
As for the next 20 years, there's a strong desire within the industry to raise the standard of living. Products like driverless cars, mobile headset image recognition for the visually impaired, wearable and smart medical devices already exist, and more are on the horizon. And this is just the tip of the iceberg as Internet of Things (IoT) is still relatively new. A whole new market is in the offing. Cloud computing and open source technologies are helping in opening up a world of possibility for gadgets. Seeing the current trend, I think technology companies will focus on using IoT for social and economic good.
[box type="shadow" align="aligncenter" class="" width=""]Related Read:
Shaping Innovation and Future of Technology at Dell – Mini Shah, Director of Engineering @ Dell Networking R&D Center ![/box]
What would be your message to youngsters trying to get into the field of technology?
The early bird catches the worm. Don't wait for your college to come to an end. Magic won't happen when your work life begins. There's no dearth of young tech entrepreneur who started really early. Find a real problem that affects the world and just go after solving it.  Conversely, only enter into the field of technology or into any field for that matter if you have a passion for it, otherwise the chances of excelling in that field plummet naturally.
What would be your advice now to your 20 year-old self?
I'm very happy with how my life has turned out and where I'm heading; so, I don't really have any advice for a 20 year-old me. But, I do sometimes wish that I could get back to the technical stuff I used to do— delivering projects, racing against time, managing servers for the clients. I miss that part of my job.
Tell us about your hobbies/interests outside of work. How do you achieve work-life balance?
As I said before, I love to read; a good fiction novel can make my day. Of course, finding the time is a luxury now, so I make do with reading anything and everything I can lay my hands on. There are some technology blogs and bloggers that I follow quite regularly. Apart from that, I like to spend time collecting artwork; all of the art on my office walls was handpicked by me.
[box type="shadow" align="aligncenter" class="" width=""]Related Read:
Women Entrepreneurship – Steps Taken By The Government To Promote Women Entrepreneurs ![/box]
Feature Image Source: flickr.com