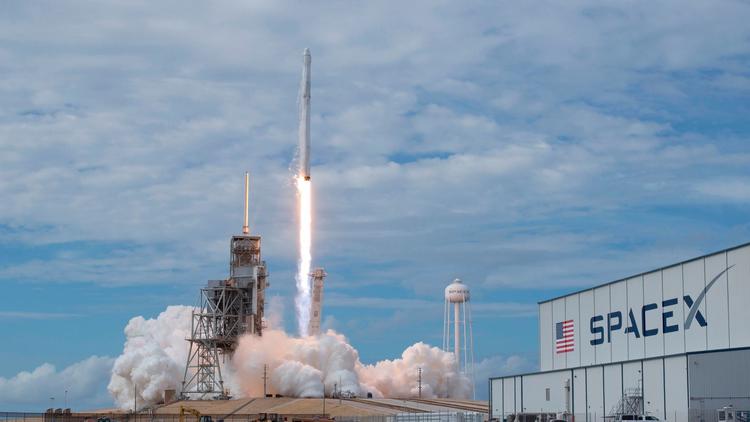 24 June 2017, India:
Elon Musk-led SpaceX has successfully launched and landed a recycled Falcon 9 rocket for the second time in a row. The rocket's first stage — the 14-story-tall core that houses the fuel and the rocket's main engines — touched down on one of the company's autonomous drone ships in the Atlantic Ocean shortly after taking off from a launchpad at nearby Cape Canaveral, Florida as per the report by The Verge.
The mission on Friday was to delivery Bulgaria's first ever geostationary communications satellite into orbit, so that it could begin operations broadcast communication networks and HDTV signals for clients on Earth in parts of Europe. The satellite was built by SSL out of Palo Alto, California.
Rocket is extra toasty and hit the deck hard (used almost all of the emergency crush core), but otherwise good

— Elon Musk (@elonmusk) June 23, 2017
Falcon 9 first stage has landed on Of Course I Still Love You—second successful launch and landing of a flight-proven booster.

— SpaceX (@SpaceX) June 23, 2017
"Falcon 9 will experience its highest ever reentry force and heat in today's launch. Good chance rocket booster doesn't make it back," Musk tweeted an hour before the scheduled launch. After the BulgariaSat-1 mission, the next in line is a June 25 launch of 10 satellites for Iridium Communications Inc. from Vandenberg Air Force Base on California's central coast.
SpaceX's Falcon 9 record now stands at 36 successful launches, one in-flight failure, one on-pad failure and 12 successful first-stage recoveries in 17 attempts, including the last eight in a row.
Also read- Flying Car FAQs: When Can Your Car Really Fly?
"The project is of a big size for small country, and a relatively small company by world standards," Maxim Zayakov, CEO of BulgariaSat and Bulsatcom, told Spaceflight Now. "We now have about 900,000 subscribers between Bulgaria and the adjacent country of Serbia, and that is something, but in the grand scheme of things, compared with large companies, we're not that big."
He said SpaceX's ability to recover and relaunch boosters will lower costs across the industry and that "really is a big deal."
"People don't realize that, for small countries and small companies like us, without SpaceX, there was no way we would ever be able to even think about space," he said. "With them, it was possible. We got a project. I think, in the future, it's going to be even more affordable because of reusability."
So how much is SpaceX actually saving by not sending a rocket to its doom after a single launch? A lot. The current advertised price for a SpaceX commercial launch on a brand new Falcon 9 rocket is around $62 million. SpaceX President Gwynne Shotwell said the company expects almost a 30 percent cost reduction when reusing a Falcon 9 booster. (Image- LA Times/ Bill Ingalls)
Also read- Google Will No More Customize Ads by Reading Your Mails
Comments
comments