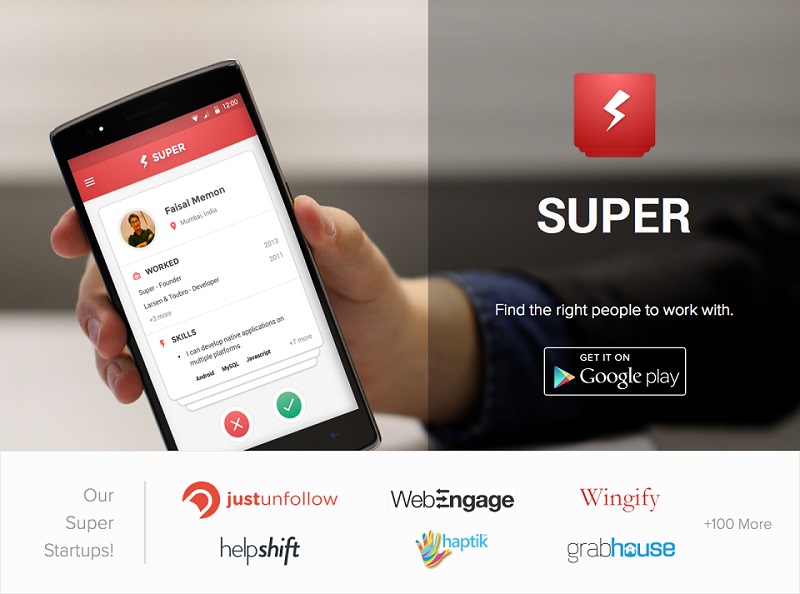 Job hunting platform Super has discontinued job search and hiring apps on April 30. Super was dubbed as the tinder for jobs in India, as it helped job seekers and companies connect in a similar way like the popular dating App.
The Mumbai based company Super Jobs was founded in September 2013 by Faisal Memon, a computer science engineer, who has previously worked at L&T as a software developer. Super was first launched as a mobile resume builder which saw good traction with 250k downloads from all around the globe in the first few months of its launch.
The founding team was later built by acquiring Viraltrics in May, whose founder Bhavna Muraleedharan later joined Super Jobs as Co-founder as a part of the acquisition. The duo also went on to acquire CrunchCommerce led by Dayson Pais, who later joined the Super Jobs team as CEO.
In a recent mail to Super users, Dayson stated, "around two years ago, we set out to inspire and shape a new future for job hunting and hiring. Our mission was to make your job search simpler, faster, and even fun – and empower both job seekers and recruiters to create amazing teams together. We came quite far and created quite a few life-changing matches – but we also faced our set of challenges. We gave it our all, but it is time to say goodbye."
Super Jobs was trying to take over the $100 billion industry with a mobile first approach, although there are no clear evidences to what went wrong, there is still a vast opening for tech startups to fill in the space with a seamless user experience to both the candidates and companies.
Also Read: Flipkart-Snapdeal Merger and its Complications!
Image Source: inc42
Comments
comments