As a part of the tech in Techstory, we bring you the latest in the technology from around the world under "TECH THIS WEEK!" every Sunday! This week began with Blue Origin's attempt to land the New Shepard with two parachutes after its fourth successful launch and China topping the list of most powerful supercomputers. We also saw Xiaomi unveiling its latest electric bike and LG's plans to release mosquito-repelling television in India. In case, if you've missed any of those, along with the latest Boston Dynamics' SpotMini's capabilities, don't worry just keep reading!
Blue Origin Attempts to Land New Shepard; Used Two Parachutes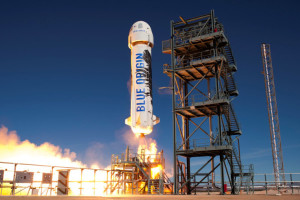 Blue Origin has successfully launched its fourth test flight of New Shepard. During the 10-minute flight the rocket and spacecraft performed as anticipated, and the New Shepard capsule made a reasonably soft landing given that one of its three parachutes intentionally failed.
The New Shepard vehicle consists of a capsule for passengers or cargo, and a reusable rocket booster. The company has successfully launched and landed this same rocket hardware three times since November 2015.
In the statement, Bezos said this Sunday's flight would be used to test a scenario in which one of the capsule's landing parachutes fails. "On this flight, we'll intentionally fail one string of parachutes on the capsule," wrote Bezos, who is also founder and CEO of Amazon.com.
"There are three strings of chutes, and two of the three should still deploy nominally and, along with our retrothrust system, safely land the capsule. It works on paper, and this test is designed to validate that. We'll also use this flight to continue pushing the envelope on the booster.
"As always, this is a development test flight, and anything can happen," he added.
Bezos noted the capsule is fitted underneath with retro-rockets, which fire right before the vehicle hits the ground. These help to push against the surface and slow the capsule's fall a bit further. The spacecraft also has what is called a "crushable structure" that helps absorb some of the blow of landing.
Source: techstory.in
Xiaomi's Newest Gadget Is A Foldable Electric Bicycle
The company best-known for its affordable but high-quality smartphones recently announced its first drone, right afterlaunching a smart rice cooker, and now it has unveiled an electric bicycle.
The Mi QiCYCLE Electric Folding Bike is — as you can guess from the name — also foldable. It comes with a 250W, 36V motor and packs 20 Panasonic lithium-ion batteries — the same type you'd find in a Tesla — alongside Xiaomi's own battery management system that, the company said, all told will take you 45km on a single charge.
The bike looks like an interesting option for anyone who has an urban commute, and doesn't fancy an electric skateboard — we've seen them in China and the U.S., but not from Xiaomi — or one of Xiaomi's own electric scooters to cover the last mile/miles home or to the office.
As you'd expect from any Xiaomi product, it is 'smart' — which means it has a companion app that displays information about your ride (speed, distance, calories burned, etc), GPS data and the status of the bike. There's a little more than that. Xiaomi said it has a system — IDbike Torque Measurement Method — that uses sensors to optimize the effort you are putting into pedaling so that you don't have to overdo it to get to your desired speed.
Like the Mi Drone, the bike will initially be crowdfunded inside Xiaomi's Mi Home app. That essentially means that the product won't be fully released until a target number of users have signed up and agreed to buy it first, in a similar to way to how Kickstarter projects have a threshold before they are fully funded.
The initial price Xiaomi is touting is 3,000 RMB, which is around $455, and — as Xiaomi fans will be expecting — the bike is limited to customers in China at this point. This product is part of the company's new Mi Ecosystem, which is designed to help Xiaomi market products — generally hardware — from partners. Xiaomi has traditionally tapped third parties to provide products that it rebrands and sells via its own channels, including its Mi.com site, but Mi Ecosystem is designed to broaden that program to accommodate more products, just like this bicycle.
Source: techcrunch.com
SpotMini Shows Off His Capabilities; Acquires Attention in No Time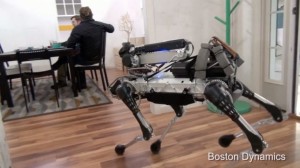 SpotMini- one of the quietest robot Boston Dynamics has ever built, can do wonders. It can be seen doing household chores and slipping on a banana peel (Yes, check the video!).
The motive to build SpotMini seems to have been to make a robot quiet enough, small enough, and clean enough that it can be used as a house robot. It's shown indoors walking up steps and ducking under tables.
According to the description, SpotMini is all-electric (no hydraulics) and runs for about 90 minutes on a charge, depending on what it is doing. It has a variety of sensors, including depth cameras, a solid state gyro (IMU) and proprioception sensors in the limbs. These sensors help with navigation and mobile manipulation. SpotMini performs some tasks autonomously, but often uses a human for high-level guidance. Who won't adopt such a puppy!?
Currently, Boston Dynamics is owned by Alphabet, but rumors suggest that Google's parent company is looking to cut the division loose over concerns that a domestic-scale robot is still too far out. Amazon and the Toyota Research Institute were both being considered as possible buyers. A price for the deal has not yet surfaced, but the ink was "nearly dry" last month — so things are probably pretty close to becoming official.
Source: techstory.in
LG Electronics Sells Mosquito-Repelling TV In India To Help Fight Malaria And Zika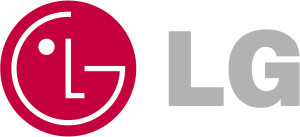 The Indian arm of South Korea's LG Electronics Inc has begun selling a TV with a feature that it says repels mosquitoes, which can spread diseases such as malaria, Zika and dengue.
The TV's "Mosquito Away Technology" uses ultrasonic waves that are inaudible to humans but cause mosquitoes to fly away, according to the company. It was released in the country on Thursday, LG said.
The same technology, which was certified as effective by an independent laboratory near Chennai, India, has been used by LG in air conditioners and washing machines, the company said.
The technology, which also functions when the TV is switched off, is available in two models, priced at 26,500 rupees and 47,500 rupees ($394 and $706).
The TV is targeted at lower-income consumers living in conditions that would make them vulnerable to mosquitoes.
It will go on sale next month in the Philippines and Sri Lanka. Kim Sang-yeol, an LG Electronics official, said there are no plans for now to market it elsewhere.
The company began developing the set before the outbreak of the Zika virus in Latin America, which has fueled concern over safety at the Olympic Games set to begin in August in Rio de Janeiro.
LG said on its website that the TV is not intended to replace other mosquito-deterrent devices.
Source: venturebeat.com
China Tops the List of Most Powerful Computers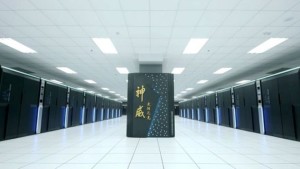 For the last three consecutive years, China has topped the Top500 list of the most powerful supercomputers with its massive Tianhe-2.
Today, the Top500 group announced that Tianhe-2 has been ousted by another Chinese supercomputer, 'the Sunway TaihuLight.' The new machine, which is based at the National Supercomputing Center in Wuxi, can perform a key benchmark test called Linpack at 93 petaflops (a thousand trillion floating point operations per second)—nearly three times the speed of the Tianhe-2.
Titan, a Cray X40 system installed at the us Department of Energy's (DOE) Oak Ridge National Laboratory, is now at the third position, with 17.59 quadrillions of calculations per second.
Sequoia, an IBM BlueGene/Q system installed at DOE's Lawrence Livermore National Laboratory and Fujitsu's K computer installed at the RIKEN Advanced Institute for Computational Science (AICS) in Japan are at the fourth and fifth positions respectively.
According to the Top500 site, Sunway TaihuLight will be used for research and engineering work, including weather modeling and advanced manufacturing.
"Considering that just 10 years ago, China claimed a mere 28 systems on the list, with none ranked in the top 30, the nation has come further and faster than any other country in the history of supercomputing," said Top500.
For the first time since the list began, China has overtaken the US with 167 computers in the top 500 while the US has 165.
Source: techstory.in
For regular updates on Tech, check out Techstory's Technology Space!
(Image Credits : feature Image From Freepik)