As a part of the tech in Techstory, we bring you the latest in the technology from around the world under "TECH THIS WEEK!" every Sunday! This week we saw Samsung opening pre-orders for all its all new stylish Gear S3 and Facebook gearing up to promotes its ad features now on TV. We also saw Whatsapp to come up with its own Snapchat like feature very soon and updates on latest Samsung Galaxy S8. In case, if you've missed any of those, along with reasons why Google disclosed a Microsoft vulnerability, don't worry just keep reading !
Samsung's surprisingly stylish Gear S3 lands November 18th
Samsung's latest Gear S3 that was released to the public view a few months ago is all set to be available on November 18th. Pre-orders start  on November 6th and it comes in two models, Classic and Frontier. Both sport a stainless steel chassis that are IP68 rated for water resistance and 1.3-screens coated in scratch-resistant Gorilla Glass SR+. Dual-core Exynos chipsets, 786MB of RAM, 4GB of storage, GPS and 380mAh batteries that apparently last about 3-4 days between charges. Frontier has additional advantage of sending a mobile SOS through its LTE feature.
The new watches will also sport the additional advantage of Samsung Pay in-built where users can now use the feature to pay instead of swiping their credit cards every time. It also enables you to stream over Spotify and control your Nest thermostat.
Source: engadget
Snapchat Stories-like Feature on WhatsApp Soon!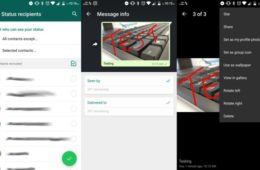 Whatsapp is going the Snapchat way ! It is currently testing a feature where the chat sent gets automatically deleted after 24 hours. This is one of the popular reasons for the success of Snapchat.
Off late, Facebook Inc. has been pretty strict about staying on the top after looking at the alarming number of millennials preferring Snapchat over others to communicate. Previously Facebook-owned released its own Snapchat like feature of Insta stories. Now both whatsapp and Instagram will be rolling out the 'Memories' feature.
This is the latest move from Facebook as a part of video-first strategy post its third quarter earnings earlier this week. Mark in his statement said, "So I can talk about shifting to put video first across our whole family. There are two broad sets of improvements that I think we need to make. One are to the capture and sharing tools that we offer. So the example of that is the new camera that we're working on and all the creative tools around that."
Source: techstory
Google reveals unpatched Windows bug that hackers are exploiting
Google recently revealed a vulnerability in both Adobe Flash and Windows and a this latest move has put more Microsoft customers at potential risk as people are actively trying to exploit the vulnerability in Windows.
The flaw was reported to both the companies and Adobe immediately rectified its issue through a Flash update while the time was too short for Microsoft to act upon. According to Google, the company was acting according to its existing policy for actively exploiting critical vulnerabilities merely seven days after reporting to the developer.
Microsoft clarified it to VB that the flaw can be exploited only through the Flash bug and are urging users to fix their Flash soon to avoid any critical exploits until Microsoft releases a better patch.
Source: venturebeat