Tesla Cybertruck video was released on LinkedIn stating it to be "Robot Dating". It shows that a robot is lifting the Cybertruck's frame. Potentially indicating that early production is already underway. The video was posted for the Valentine's Day holiday, where it appears that Tesla employees are having some fun amid some hiring process.
However, there is no saying whether the early production started. Especially as the automaker doesn't usually officially announce these things. The US EV maker's Valentine's Day video is about "Robot Dating," and it's actually a recruiting video of sorts, and doesn't mention anything about the Tesla Cybertruck. The subtitle reads, "Find your perfect match in Robotics," and contains a link to Tesla's Careers page showing all jobs related to Robotics.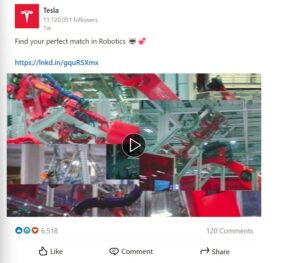 Words don't really do the video justice, so we suggest you take a minute to watch it. However, we will share that it begins with some arguably romantic music while showing various robots introducing themselves as if they are on a dating show or dating app. The robots are supposed to appear to be talking during vehicle production.
Cybertruck reveal
As stated in a recent article published by Electrek, Tesla's Valentine's Day video may briefly reveal the Tesla Cybertruck's frame. One of the robots – Joey 2000 – is shown carrying what seems to be a massive frame that doesn't appear to be the frame of any of Tesla's current EVs. Joey 2000 is the second dating robot revealed, and the potential Cybertruck frame is shown starting just 11 seconds into the video. Interestingly, Joey says that he's always working out and can lift 40,000 pounds with no problem. Tesla does of course use front and rear castings in the Model Y, but this frame is much too large to be that of the electric SUV. You can see in the image below the passenger compartment for the frame of the Model Y is much smaller than what we see above.
Further, it is known that the size and configuration of the frame shown in the video seem to be a good match for the Cybertruck. It also adds that robots look like they're at Giga Texas, which is where Tesla will produce the electric pickup truck.  Maybe, Tesla could have just produced the silly video for fun and to get people's attention on its recruiting efforts. However, it could have also been published to continue generating talk and speculation about the upcoming Cybertruck and to indirectly keep everyone apprised about the ongoing progress of Cybertruck production efforts.
Comments
comments