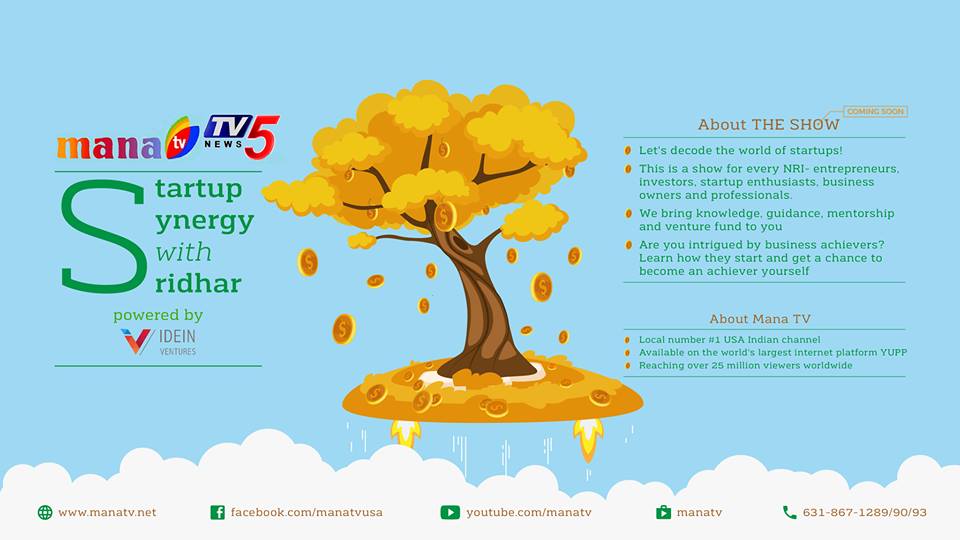 Idein Ventures, a private equity firm headquartered in UAE, with India offices in Hyderabad and Mumbai, in association with Mana TV in USA, is launching a new TV show that dives deep into the startup ecosystem globally. The show is called "Startup Synergy with Sridhar", and will be hosted by media icon Sridhar Chillara.
Chillara is the recipient of "Indian Media Icon" award by the United Nations and is the President and CEO of Mana TV and TV5 USA. He is widely known for hosting shows such as "Pride of India" focusing on NRIs in the USA.
It will air on Mana TV and TV5 on 8 pm EST on Thursday with repeat telecast on Sundays at 4 pm, and will start from the month of August. The content will also be distributed digitally through Youtube and other live streaming and digital platforms such as Yupp.
Srivastava, co-founder of Idein Ventures, says about the show, "The show will be hosted by global media icon Mr Sridhar Chillara himself, and will also have guests from the venture capitalist industry, including our representatives in the USA and other parts of the country. We will allow elevator pitch from selected startups, and we will also interact with potential investors and general startup enthusiasts. Most importantly, we will deep dive into the ecosystem and bring to the world interesting and entertaining facts about this industry. We hope to target existing and aspiring startups as well as general audience who would love to watch and learn about an ecosystem they may not be well aware about. Target is audience in US but we will also talk to people in India, UAE and other parts of the world."
Also Read: Ashwin Srivastava of Idein Ventures Talks About The Road To Forbes' 30 Under 30 List
Sridhar Chillara, the host and creator of the show adds, "I chose to host this myself because this is something exceptionally huge and can reach out to an audience globally, while redefining startup ecosystem."
Srivastava further adds, "There have been many shows such as Shark Tank that focus on startup pitch, but this shows goes many steps beyond and educates people on startups as well. It moves through an interactive session with industry experts."
The show claims to be first such show in India or USA focusing on global startups. It also invites startup enthusiasts to touch base with them on s3@ideinventures.com for more details.