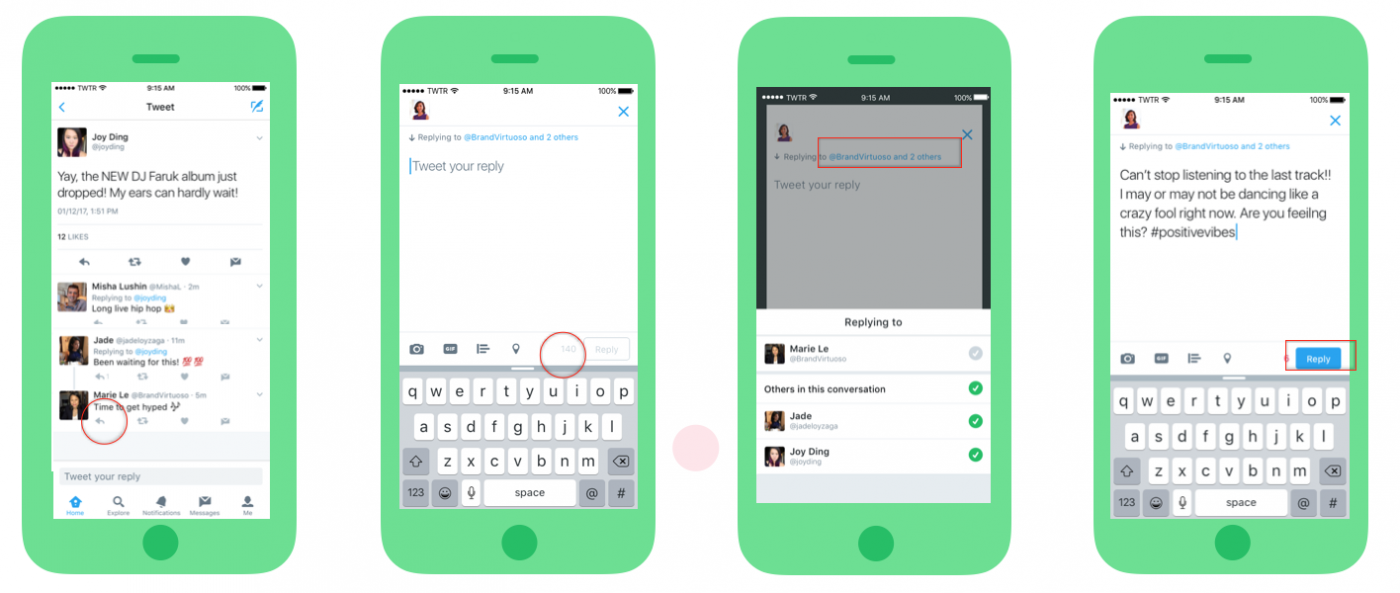 31 March 2017, India:
Twitter has finally updated 'Replies'! Now, when you reply to someone or a group, those @usernames won't count toward your Tweet's 140 characters.
It's now easier to follow a conversation, so you can focus on what a discussion is about, and who is having it. Also, with all 140 characters for your replies, you have 'more' room to participate in group conversations. 140 characters! That's a lot!
Rolling out today: use all 140 characters for replies, and a cleaner focus on the text of a conversation instead of addressing syntax https://t.co/qAHQy1UtWu

— jack (@jack) March 30, 2017
Under this change @realDonaldTrump would get a whole **seven extra characters** to blast the Times https://t.co/JsddD25AZD

— Brian Fung (@b_fung) March 30, 2017
Making the @ not count against 140 is fine. Visually minimizing who the reply is to IS NOT. I swear, Twitter has little idea of its product. https://t.co/20enj047B1

— Zeynep Tufekci (@zeynep) March 30, 2017
Hi @twitter @tweetdeck @jack why did you make it basically impossible to know who's replying to whom now? https://t.co/0Pk7zYuxG4

— Mike Masnick (@mmasnick) March 30, 2017
So here's how Twitter's replies redesign looks on a third party app ? pic.twitter.com/yqM3zjZS9V

— Casey Newton (@CaseyNewton) March 30, 2017
Prior to today, Twitter users couldn't take advantage of the 140-character limit in replies. Usernames would count against the limit. It was particularly annoying if the user you're responding to had a lengthy username. But that's no more. You can (almost) run wild with your replies moving forward. With usernames no longer counted, you get more space to speak your mind with others. (Image- Twitter blog)
Comments
comments