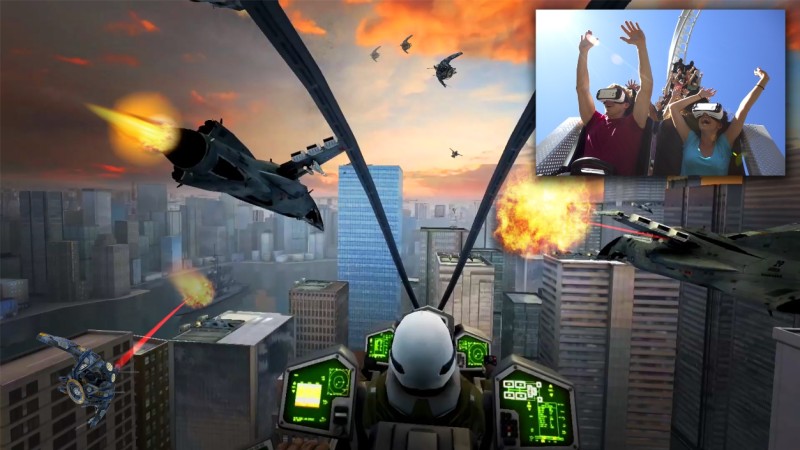 7 March, 2016, USA: One segment of any theme park which gets the maximum number of visitors is its ride section. Customers are always looking for some new adventurous rides which can take them for a toss. 'Virtual Reality Roller Coaster' is the recent addition in the theme park's ride list.
Lots of big names have been experimenting with virtual reality to give its customer an entirely new world. Recently, renowned players such as Disney, Landmark Entertainment etc. have been trying their hands with virtual reality to allure customers. But now, Six Falgs Entertainment has come up with a unique  idea of 'Virtual Reality Roller Coaster' and it will be installing these rides across its six theme parks by the end of the month.
In its recent development, company has joined hands with Samsung America to use its latest gadget, Gear VR into virtual reality rides that were designed to take advantage of every twist and turn in the roller coaster track. With this deal, Samsung is now the 'official technology partner' of Six Flags, and its Facebook Oculus technology is powering two new virtual reality rides, reports Fortune.
Speaking about the subject, Brett Petit, senior vice president of marketing for Six Flags said, "The expertise and hardware that Samsung provides, with the Gear VR and their partnership with Oculus, is really what took this to the next level and made virtual reality on a roller coaster possible."
Image- venturebeat.com
Also Read-
Meta Launches Its AR Headset Meta 2 Which Brings Virtual World Into Reality
HTC Might Get Into Mobile VR In Future
Palmer Luckey Wants Mac To Build Powerful Machine To Gain Their Support
Comments
comments