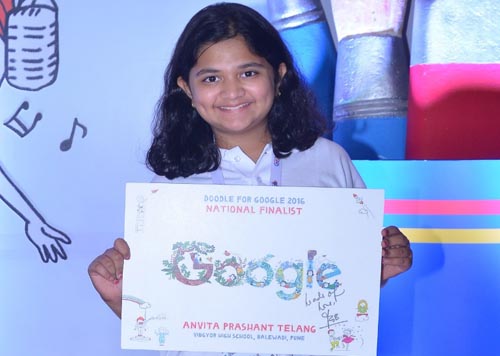 11 November 2016, India :
With participation from over fifty cities across India and ten days of voting, the anticipation for the winner of this year's Doodle 4 Google competition is finally over. Eleven year-old Anvita Prashant Telang from Vibgyor High School, Balewadi, Pune has been chosen as the national winner for her imaginative, thoughtful and inspiring doodle, titled "Enjoy Every Moment." Anvita's doodle will be featured on the Google India homepage on November 14th to celebrate Children's Day.
Taking about the contest, Sapna Chadha, Head of Marketing, Google India said, "We are overwhelmed to see great participation from talented and creative young artists year-on-year since 2009. With Doodle 4 Google competition, we aim to celebrate and promote creativity, passion, and imagination in our younger users. The designs for this year's theme "If I could teach anyone anything, it would be" were incredibly creative across all grade groups. It's heartening to see the messages that these young minds wish to communicate with such creativity. It was a tough competition. Our heartiest congratulations to Anvita for being judged as the winner this year."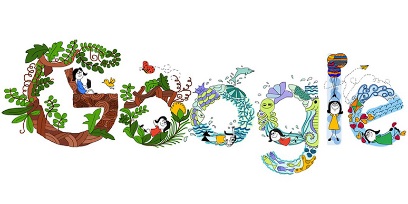 Anvita Prashant Telang, submitted her Doodle around this year's theme, 'If I could teach anyone anything, it would be'. Her creativity and vision towards developing 'a better world and healthy lifestyle' is well reflected through her colorful doodle where she has showcased how everyone should 'Enjoy Every Moment' and appreciate the simple things around us and live stress free lives.
All the entries were evaluated on the criteria of artistic merit, creativity and theme communication as well as their unique and novel approach to the Doodle. This year's jury, political cartoonist, Ajit Ninan, Art Director Savio Mascarenhas, popular creative artist Rob and Doodle team lead Ryan Germick had a mammoth task at hand; first, to shortlist from the submissions received, and then to choose the national winner and regional winners from across the nation, with each piece of art as competitive and as compelling as the other.
Also read-
Comments
comments