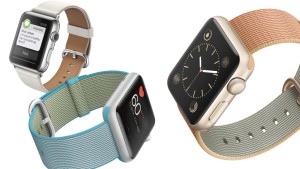 22 July 2016, USA :
Apple is all set to promote it's brand identity during Olympics. Like any other major sporting event, the Olympic games are going to inspire a ton of clothing brands and accessory makers to produce stuff you can wear while rooting for your favorite team. When the games start in August, the tech company will be selling Apple Watch bands that reference the national flags of 14 major competitors, meaning you can symbolically cheer on Team.
The list of countries represented on the bands includes USA, Great Britain, The Netherlands, South Africa, New Zealand, Mexico, Japan, Jamaica, Canada, China, Australia, Germany, France and, of course, Brazil.
Ready for rio ! pic.twitter.com/p8PKJ3o5Fs

— IamTrayvonBromell (@TrayvonBromell) July 21, 2016
At least one athlete has managed to get his hands on one of the straps early. Trayvon Bromell, an insanely fast sprinter for Team USA, has been spotted training with the strap in recent days. It's what's on his wrist in the image above.
Apple significantly expanded its lineup of Watch bands in March, when it introduced new nylon straps. In April, the company introduced new Watch band styles in collaboration with luxury fashion house Hermes, following the overwhelming popularity of the first collection.
The bands will cost $49 (£37) but it's likely they'll fetch considerably higher resell prices as Apple fans and collectors rush to try and get their hands on these one-off items.
Also Read-