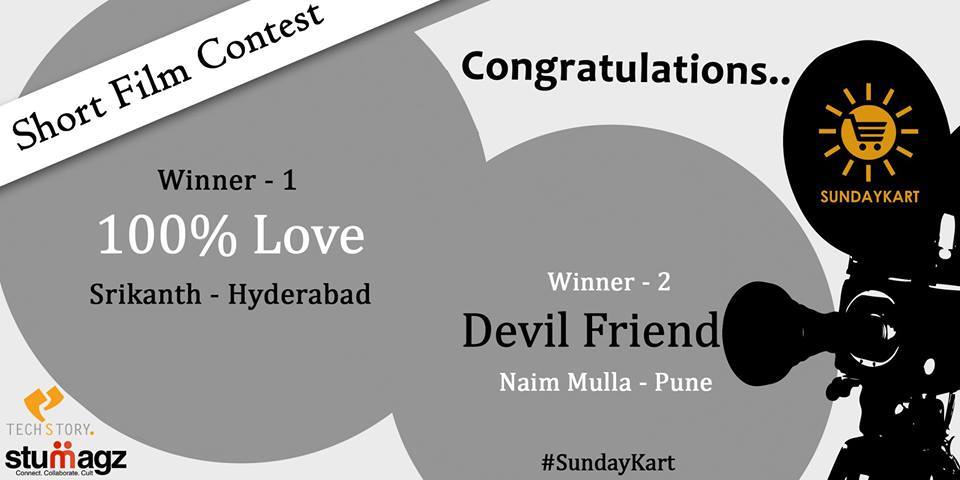 29 August 2016, India : 
SundayKart has given an opportunity to all the short film makers through SundayKart Short Film Contest  to showcase their skills towards Film making.
It was started on June 25th,2016. The concept of short film was based on what convenience SundayKart is providing to the people.
SundayKart is shortlisted for NASSCOM 10,000 Start-ups and was appreciated by The Federation of Telangana and Andhra Pradesh Chamber of Commerce of Industries- FTAPCCI. The company got an opportunity to showcase the start-up in DHI labs – NDTV and was also shortlisted for TV5 Business Awards 2015. SundayKart invited all individuals / College students through mails, calls, print media and social networks etc.,
Short Films were submitted on 10th August 2016 across India. Out of all eligible submissions, Two short films are selected as the winners and Two are runners up.
The Winner Short films:
Winner 1: 100%Love – Srikkanth Yadav, Inept Team (Hyderabad)
Link:  https://www.youtube.com/watch?v=GmOkvBqC50k
Winner 2: Devil Friend – Naim Mulla, Krazy About Movies (Pune)
Link: https://www.youtube.com/watch?v=VWg2bHzKXpg
Runners up :
Runner 1 : Wildlife Photographer – Pavan Kumar Sai, Film Insanes  (Visakhapatnam)
Runner 2 :  Angel – Rohit Kawle, Fun WhatsUp  (Latur)
The startup thanked Media Partners stumagz and TechStory for the support through for the articles and social networks. It stated, "Short Film Contest success has been shared with stumagz and TechStory. With the requests from Short Film Makers , we are starting  Phase – II very soon."
Also read-
Comments
comments