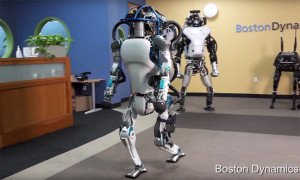 30 May 2016, USA :
Toyota will soon buy Boston Dynamics, the military robotics arm of Google's parent company Alphabet, which Google had acquired in 2013.
According to the sources, the deal is almost finalized. However, the price of the acquisition has not been disclosed, but Tech Insider's source claims that the "ink is nearly dry" on the deal.
Within the company, the robotics division has been a source of tension since its co-founder Andy Rubin, left the company in 2014. Rubin, who also founded Android and led Google's smartphone business for many years, drove the purchase of Boston Dynamics and brought in a bunch of other robotics companies as well. But after Rubin left, the company lost its direction.
Boston Dynamics is an engineering and robotics design company that is best known for the development of BigDog, a quadruped robot designed for the U.S. military with funding from Defense Advanced Research Projects Agency (DARPA).
According to the earlier report, Alphabet executives did not believe that Boston Dynamics will be able to create a consumer product within the next few years, leading to the decision to look for a buyer for the unit. In addition, tension has arisen between Alphabet and the team of Boston Dynamics.
The Toyota Research Institute was established to concentrate on research on artificial intelligence and robotics, which has Gill Pratt as its CEO. Pratt used to work with Boston Dynamics CEO and founder Marc Raibert at the Massachusetts Institute of Technology.
The sale to Toyota would be a good situation for both Google and Boston Dynamics, as Google will be getting rid of a source of tension, and Boston Dynamics will not be pushed to create a consumer product, as the Toyota Research Institute is focused on research.
Check out the video below!
Also Read : Google In Robotics: Everything You Need To Know!
Read More : DARPA Urges Help To Develop Messaging App