Just after a phenomenal evening at the ET awards show, Swiggy is under scrutiny. The award winning startup has been accused of cheating, lying customers as well as investors by couple of current and ex employees.
Swiggy is a food ordering and delivery company based out of Bangalore, India. It was inspired by the thought of providing a complete food ordering and delivery solution from the best neighbourhood restaurants to the urban foodie. A single window for ordering from a wide range of restaurants, It has exclusive fleet of delivery personnel to pickup orders from restaurants and deliver it to customers.
But, out of the blue, employees of Swiggy went berserk and shared all the deep, dark secrets of the startup in a blog post which puts the customer in the dilemma, what is the reality? Here is a small excerpt from the blog.
Dishonesty — we cheat restaurant owners
"We are made to lie about our market share, as well as order volumes to restaurant owners. The worst part is that instead of helping these restaurants grow their business, we are trained to arm-twist them to increase our commissions every couple of months.
Some restaurants are paying us more than their net margins because Swiggy in some areas in Hyderabad and Bangalore has been able to become a significant portion of their revenues."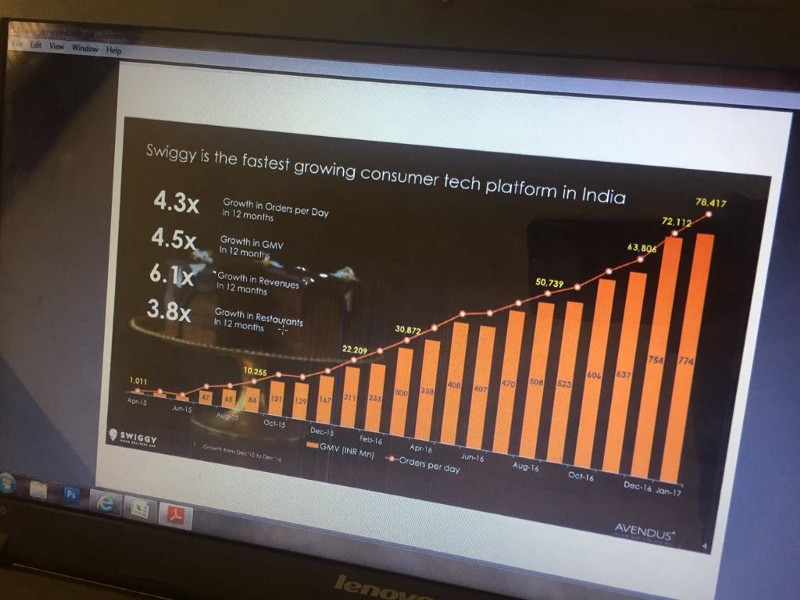 "At first it was 5%, then 10% and now nearly 25%. The management wants us to take this to an average of 30% in the future. While we all know that we are building a business, none of us thought it would be at the expense of the livelihood and dreams of others by arm twisting them to pay us for their mistake. What mistake? By trusting Swiggy in the first place."
We cheat our users
Did you know that most of the good reviews for Swiggy on the app stores are planted and paid for? Also, on social media, genuine reviews (which are usually bad) get immediately removed and buried since they are mostly negative. Instead of working on customer support, we hide customer reviews on social media. Instead of offering customers redressal, we hide behind TnCs and clauses to protect ourselves.
We lie to our investors
We know for a fact that our management has lied to investors about our order volumes during the latest fundraise. Our January 2017 order volumes were less than December 2016 volumes. Yes, we had a decline of order volumes in January. But we have seen the investor presentations, and they have shaved off the December numbers in the slides in order to show a linear growth curve across all months of our existence.

We lie to our employees
A lot of us were made false promises about equity and bonuses that were never paid. They just need bots who are available 24/7 and if you are not, you will be put on a PIP in some pretext or the other and be out of the door before you know it.
Related Read: 5 Questions To Ask That Will Reveal The Employee Satisfaction Quotient Of Your Company!
At any given point in time, 10–15% people are always on PIPs and showed the door. There's so much churn, and so much dissatisfaction. The job market is bad, and the management is making the most of it. All the hiring in the last year is done just to cover up the numbers for the press.
Our senior management's ego is out of control
The senior management is always plotting against each other. We are always on the run, but none of our questions are ever answered. We have lost a lot of good people because of this. Everyone is leaving the company.
All the good engineers, head of engineering, VP product, head of recruitment, many good managers and team leads have already left. I have also heard that our VP, Gunjan has been recently fired quite unceremoniously. I probably know why he is getting fired — maybe because he disagrees with the management on a lot of things.
We treat our delivery fleet personnel like cattle
I think even cattle doesn't deserve this treatment. We keep changing our delivery boy incentive structures every now and then.
A lot of these delivery boys moved to the city with the promise of a job, and now their monthly payouts are dwindling. There are no background checks. They have no health insurance. They have a dangerous job, and nobody takes accountability for them.
There are unions brewing inside Swiggy's delivery fleet and there's a lot of trouble coming — all for genuine reasons. If someone meets an accident, Swiggy doesn't take any liability for it. Why? Because they are freelancers.
We lie to the media
All the posts you see about food trends found on Swiggy are fake. There was no study conducted on how many people order chocolate based desserts on Swiggy. Don't believe us, ask them for data to support these claims. Well that's the least of our lies to the press.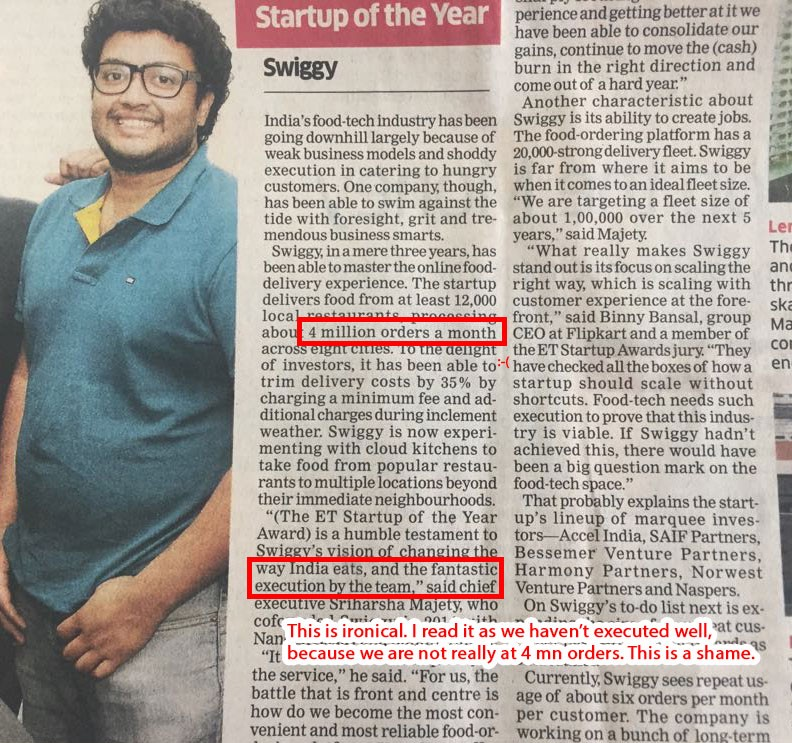 Just a few days ago our access to the order volume tracking dashboards was revoked for everyone, and the next thing is that we read an article that says we have crossed 4 million orders a month on the front page of ET. When we had the access to the dashboards a few days ago, the order volumes were less than 3 million orders a month then how can that change suddenly? That kind of order volume growth is just not possible.
Swiggy had recently raised $80 million in Series E funding from Naspers. The round also saw the participation from existing investors including Accel India, SAIF Partners India, Bessemer Venture Partners, Harmony Partners and Norwest Venture Partners.
Swiggy has over 12,000 restaurants on its delivery platform and delivers meals within 37 minutes of an order as the startup claims.
Comments
comments