The Union Budget of India for 2017 amidst its huge expectations touched upon various pressing issues the country has been facing recently. The main focus was on energising youth to reap benefits of growth and employment. "It was expected that the budget would give subsidy and more autonomy to universities adopting cutting edge tech like the rest of the world. However, the announcement is silent on how India will be made a world-class education destination with campuses adopting AR/VR/NLP/AI solutions and services. The initiative to open 350 online courses can be of a huge impact if the post-program assessment is solid and transparent. Digitisation of proctoring with help of government budgets will make the move realistic." said Rishi Kapal, CEOEdugild
Speaking on the fronts of budget's support to startups and ed tech companies, in particular, Rishi pointed out that the budget was silent on sector based support to startups. He added that though giving Indian youths access to global jobs, the social – political environment overseas is not in our control, creating great Edtech companies from India to the world would have been very much possible with government budget and support. "We anticipated announcement where the government would open international centre's to give global access to Indian ed tech companies. Overall the budget is constructive but initiatives have to go a long way before Indian ed tech and education system seems to be globally competitive. The demographic outlay is in our favour, we need to leverage it now" he continued.
Highlighting the discussions on real estate sector, Sunil Mishra, Chief Strategy Officer of PropTiger quoted, "budget has been cautious albeit balanced for the real estate sector. One of the standouts for the real estate sector was definitely the affordable housing segment being granted infrastructure status." Housing for All by 2022, is not just a dream but a necessity for a country like India that's urbanising at a rapid pace. "The new Metro Rail Act which is to focus on innovation, and the government's decision to focus on MMTS, would augur well in creating connectivity for peripheral locations – something that's a must if developers and buyers are to be incentivised for investing in emerging locations" he added.
The two major policy moves that would further lift up sentiments in the start up business are tax exemption to foreign portfolio investors in start-ups and push to rural digitisation. Speaking of the move where foreign investors will not have to pay tax after exiting a company on their cash income, Ajay Laddha, Co-founder of YMS Mobitech stated, "this initiative from the government is aimed as a massive push for increasing foreign investments. As investments in the tech and e-commerce sector showed signs of drying up, the policy change will shore it up."
On the 'Digi Gaon' initiative set to be launched to provide telemedicine, education and skills through digital technology will give a major fillip to mobilising broadband in rural area, he added that increased digitisation in the rural areas will give rise to more demand for smartphones thus warranting a significant investment push in the handset industry and its ancillary units.
"This budget right now has met only a few demands of today's startup world. However, as mentioned by the finance minister, the government would further liberalise FDI policy and will eagerly wait for that announcement in the near future. Maybe, the government will consider foreign direct investment (FDI) in inventory based e-commerce companies as well" said, Ameen Khwaja, CEO, LatestOne.com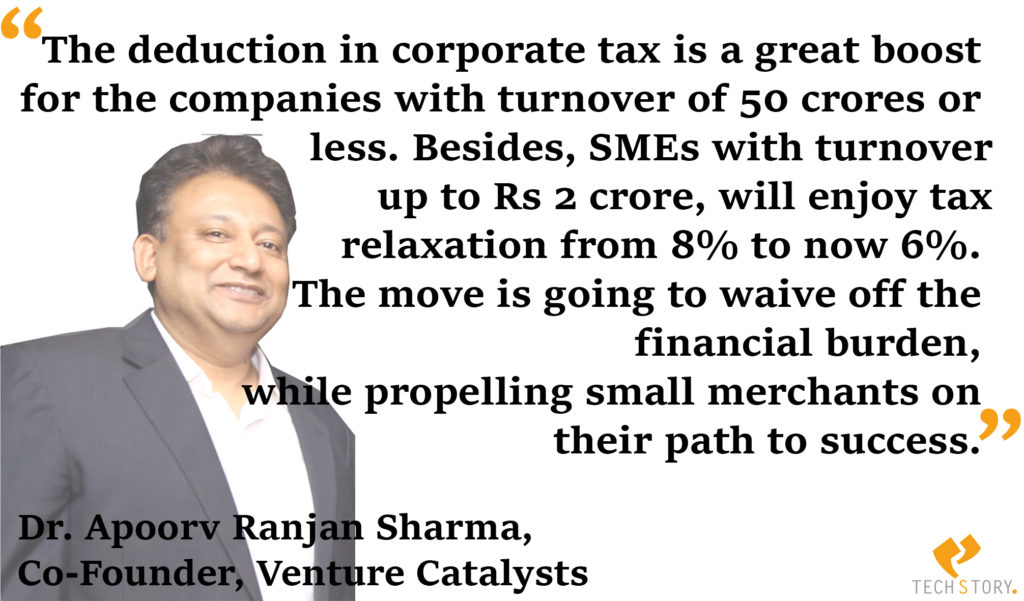 Being a woman entrepreneur, Swati Bhargava of CashKaro appreciated the special emphasis that has been given on women empowerment in the Budget as the FM has allocated Rs 1.84 lakh crore for women skill development. The budget is focused on propelling the digital economy of the country through benefits to startups could certainly have been more. "Concessions to startups have been limited and only startups which are recognised by DIPP will pay tax on profits for three out of seven years, increased from three out of five years. The budget has not offered big tax sop to corporates but has announced a reduction of the corporate tax rate from 30 per cent to 25 per cent for those with an annual turnover of up to Rs 50 crore" she added.
SMEs form the bulk of the middle class and employ more than 40 percent of India's workforce. For a holistic growth of the economy, it is essential to bring in reforms in the sector.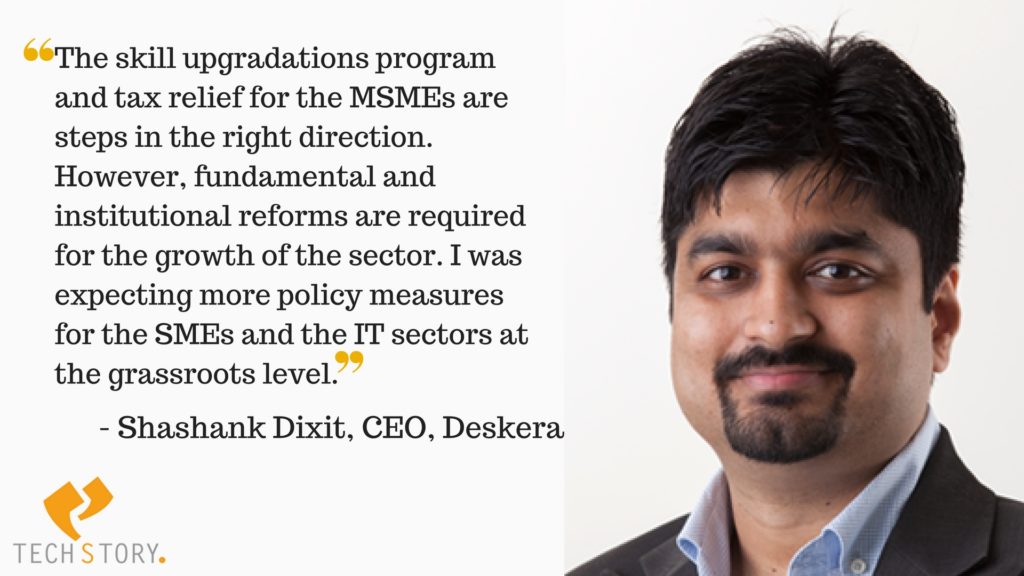 Increased spending on the rural economy would help the country in the long run. The Finance Minister stressed on a Digital India encouraging the cashless economy.  Digital transactions have been encouraged by offering small businesses the presumptive income scheme. "For all income through digital transactions under this scheme, the presumptive profit would be 6% and not 8%. I am hopeful that this budget would provide the much-needed boost to the economy and help it register better growth than the past year' he added.
Also Read: Budget 2017: Push For Cashless Society Is Good News For Cloud Technology
Feature and Cover images: The Indian Express