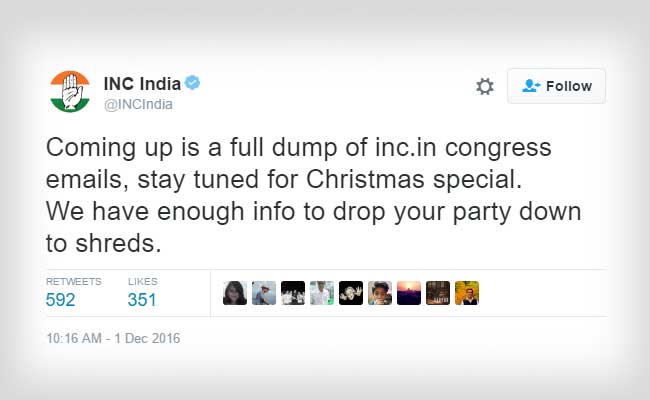 01 December 2016, India :
Looks like Congress is not learning from their mistakes. First Rahul Gandhi, Now Indian National Congress' Twitter account was compromised and abusive, funny tweets were posted.

After Rahul Gandhi. Congress account hacked. PM asked to declare Bank Account details, But Congress declaring their Twitter Account details.

— Anshul Saxena (@AskAnshul) December 1, 2016
Instead of grabbing popcorn and sitting in front of the social media, we need to consider the threat we aren't seeing here. INC was hacked within few hours of Rahul Gandhi, and the hacker has posted "We've enough info to drop your party down."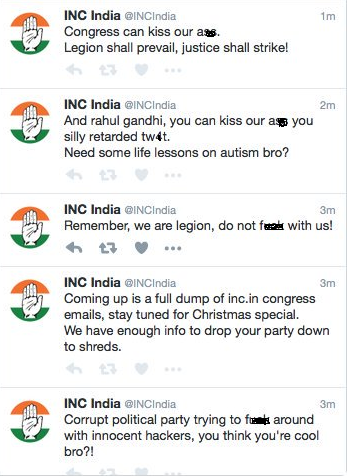 The Congress party filed a case against the hackers with the Delhi Police Cyber Cell at New Delhi's Tughlak Road police station today as per ToI report.
Dear INC & RaGa, its also not a good idea to provide purely numeric password like "2002" for both accounts

— Arnab Ray (@greatbong) December 1, 2016
And congress guys are such morons that they did not change passwords of their other social media accounts after Rahul Gandhi was hacked.

— right wing page3 (@indiantweeter) December 1, 2016

Usually, most of us keep the same password for all the accounts, so it is easier to get into our digital life. My advice would be to change that now, Yes you might not be the known public figure but why risk? Credit/Debit card numbers can be acquired if you have saved it. Every App asks you for Permissions, READ what you are allowing the App to do!
So far the hacker seems to be targeting Congress Party and based on the Tweets, it seems this is just the beginning! So who's next?
Also read-
 P.S-
As promised in our Fireup event announcement, we are hosting the event on December 3rd, 10:30 am at @Works KRDS, 4th Floor, Pinnacle Building, Ascendas IT Park, CSIR Road, Taramani, Chennai – 600113 to enable you the PR experience much bigger !
Tickets selling out fast ! Hurry up, grab them here soon and #Fireup !
Comments
comments